Setting the Stage
Lapdiang Syiem, Meghalaya's first NSD graduate, brings Khasi contemporary theatre to the fore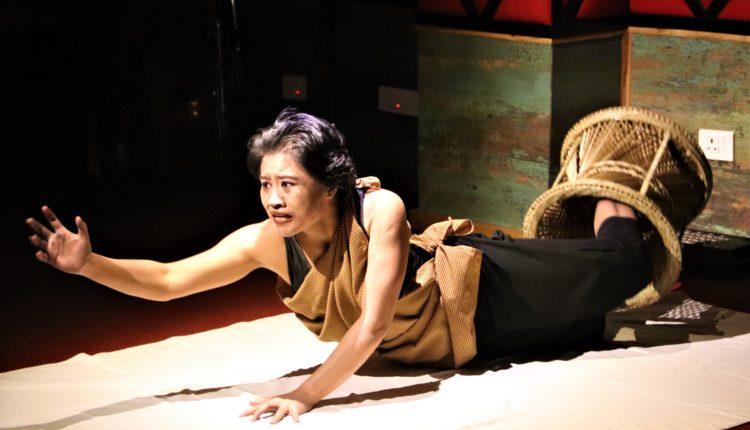 Meghalaya's first woman to graduate from the National School of Drama in New Delhi has been working towards creating a theatre scene that is both contemporary and rooted in what once was. Sunday Shillong spoke to Lapdiang Syiem about theatre in Meghalaya – her journey and the unique challenges that accompanied her in her travels.
Born and brought up in Shillong, Lapdiang has always been interested in performing arts. Extremely shy in her early years, she found solace on stage where she could express different sides to her. The school concerts and her brush with theatre in Chennai later proved to be the turning point in her life.
Life at NSD and Denmark
Lapdiang graduated from NSD in 2013 with acting as her specialisation. Being the first woman from Meghalaya to study at NSD had its own flavour. When she decided to pursue theatre, there was no one to mentor her. In a way, that taught her to trust her intuition. She said her cousin helped her in her journey; he not only encouraged her to take the plunge but convinced her parents that NSD was the place to be in. The training session was very intense as she was exposed to theatre forms from around the country and the world. That most people associate acting with glamour is just one facet; an artist needs to fully immerse in the rigorous training, she says.
Once home, she began to study Iewduh as a performance space – women merchants and customers themselves became actors for her. Their stories became an intriguing exercise in the process. The busy marketplace gave her the space where the remnants of the past coexist with the contemporary.
Lapdiang went on to study physical theatre at the Commedia School in Copenhagen, Denmark for two years in 2014. Scandinavia was a different experience – solitary, cold and tough – but a beautiful monochromatic photo album of sorts. The European experience further shaped her as an artist.
Since 2016, she has immersed herself in creating her own space as a performance artist.
Learning through collaborations and challenges
A few personalities from the world of theatre have shaped her journey – V Balakrishnan from Theatre Nisha, the first theatre group she was a part of and the late Prof P. Rajani in Chennai, Anuradha Kapur and Abhilash Pillai in NSD. She was part of two of Pillai's productions that were circus-theatre collaborations. From the late Heisnam Kanhailal and his wife Sabitri Ima, she learnt the importance of her roots and identity. Ole Brekke, her mentor in Copenhagen and Prof Lisa Lewis from the University of South Wales honed her skills. Lapdiang has collaborated with Lewis on a recent project in India and Wales.
"Because I had moved away from home for my initial training years, I find in this mix and influence of different cultures and thought processes a defining role as an artist," she says, adding how the synthesis allows her to experiment and move away from conventions, thus broadening her perspectives.
She believes in taking challenges head on, something that she feels helps her remain relevant in the context of the contemporary theatre scene – one that is engaging and universal in spirit. She reminisces about her struggle in the drama school, one which included learning how to read and make sense of the plays, in particular modern Indian drama. Language, thus, proved to be an interesting journey. There were times when the feeling was that of walking on the periphery – simultaneously performing and observing from a distance – that her identity as an artist from North East India had much to say in this regard. She had to fit in the dominant Hindi-speaking identity as a performer.
Being part of a Bengali play that went to a theatre festival in Pakistan was another experience where she learnt to express in a language she did not think in. At times, the journey was difficult but it also taught her to be more versatile. This made her see how diversity is most notable in the arts. 'Space', and not just the theatre space, becomes relevant to preserve the numerous identities of India. Her identity as a South East Asian artist remained a challenge, not just in New Delhi, but abroad as well.
Oral cultures, written verse, themes
Khasi folklore is something that Lapdiang cherishes, more so because she is trained in reading and writing scripts. The art of listening is an integral element of her storytelling via performance. She grew up listening to the Khasi tales of the riat or the cliff where her grandparents' house stands; stories of spirits and different myths. "Story telling is not just about speaking, but also listening, both of which add an intimate and personal quality to oral traditions. It is as if a secret that's being shared," she says.
The other element interwoven in her performances is "physical theatre" or the body as a marker of performance. The unique challenges of her identity have made her fuse the oral and the physical. Lapdiang feared this would not be accepted in Meghalaya since it was different and new. Her performance goes through stages as a result of this – navigating between text in the initial process and nuances of speech to her body in expressing where words fall short. Direct and intimate interaction is what happens with her regularly breaking the fourth wall.
It is important for her to look back at the oral culture as metaphors and symbolism – their relevance in the present context. It is in her writing process as well. Rather than romanticising a community or portraying minority cultures as exotic, she aims as an artist at understanding how a society evolves. She said she would like her work to address the present time, but also critique and celebrate whenever the occasion comes.
Some of the plays that she has performed in Meghalaya so far are Ka Tiew Larun at the Monolith Festival (2013), Ka Nam at the Junior CALM Festival (2014), Ka Noh ka Likai, adapted from the Khasi folktale, and Speak Up and Act where she mentored and facilitated a performance with three other artists from Shillong, addressing issues of sexual violence, abuse and impunity, funded by Zubaan, New Delhi.
Gender and politics
Lapdiang said theatre in the North East needs a boost where funding and collaborations are concerned. What makes her optimistic is the interest of people in building a theatre scene. "Actors from the film industry can join. Together, they can build a robust cultural life in the city," she says, adding that being open to new radical concepts such as Black Box is the need of the hour.
As a woman performer, she believes in defying and challenging gender norms. While it is important to strive for and work towards equality, there should be self-awareness with respect to privilege and stepping away from comfort zones, she feels. Theatre, according to her, is a mirror to society. She works as a solo artist currently but is hopeful of building a space where the community takes part in the creative process. A two-way dialogue and collaboration between the North East region and rest of India is crucial to break stereotypes since "we are eight different states with more than eight different histories".
The challenge ahead is to foster and grow in a proactive and productive manner, imperative for engaging theatre in Meghalaya, she says.