Gayatri Patwardhan who lives in Salt Lake area of Kolkata was at her wits' end when her gas cylinder got over just two weeks after the first lockdown. She did not what to do.
After the horrific Amphan cyclone  that ravaged West Bengal in May last year and when the lockdown was still on, Hemant Mukhopadhyay lost touch with his children who live abroad due to internet connection failure. "Living alone and not being able to talk to my grandkids was unbearable for me," says the senior citizen .
Mukhopadhyay was not the only one. With children travelling or settled overseas many of the senior citizens live alone in metros these days and face the same sense of isolation.
With the pandemic there was an additional problem.  The seniors are highly dependent on domestic helps to do the chores but now they could not travel to the city from the suburbs where they live due to the lockdown.  Insecure about contacting the virus if they stepped out,  unable to go out to buy their essentials, "Many of us in our building would share our stuff and eat frugally  as going out was a fearful proposition ," confesses Bobby Mahato who stays in multi storeyed building in Kolkata's Ultadanga area.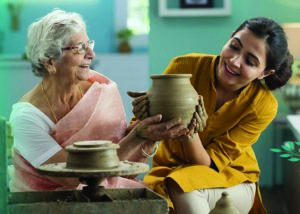 "We haven't seen our children for a long time now as we can't operate Zoom like devices. Today our kids can no longer say that we are just a phone call away," rues 87-year-old Debopriyo Majumdar, whose son is settled in Seattle who also keeps worrying for the elderly father.
While the virus has digitized our lives, most senior citizens cannot handle virtual meets and online platforms without training, and this has led to a kind of digital divide.
But  demand  generates supply, to repeat an old adage in Economics. To cater to needs of senior citizens in such situations, now have emerged many a service and support  start-ups.  Suchint Murali, based in Chennai, grouped with her two friends Puja Jalan and Gayatri Suvesh and decided to provide support to the elderly in 2019.  The  idea incubated into a company, called Sakhi4life,  little knowing that the pandemic was waiting in the wings.
"Before the pandemic, there was resistance as they wouldn't want to spend money and would often say that they had good friends and neighbors who would help them  should there be any requirement for assistance, " recalls Murali. "Now caught off-guard, they realised the importance of caregivers and helpers even though for a chargeas suddenly they were deprived of helps .The friends and the neighbours couldn't do anything about it."
Sakhi4life charges a nominal amount and takes care to tackle problems like social isolation, loneliness, grief, as well as buying household stuff, medicines, arranging doctors' visits, vaccinations- factors that generally make seniors  feel vulnerable and depressed. Many of then have an anxiety syndrome lest they fall ill or get hospitalised during the pandemic. The virus fear has robbed them of their coping mechanism too, according to medical experts.
With the pandemic it became very challenging, says Murali.  "We had to queue up for two hours at least to buy provisions and then supply these at the doorstep as no elderly person was allowed to go outside."
"The children in out-stations wanted to help their parents and were more than willing to spend on this facility since they couldn't be there themselves. This concern for the welfare of their parents multiplied as they suddenly realised the importance of our services, the lockdown being an eye-opener ."
'Cycle Soldiers' was the brainchild of Arvind Kumar, a student of Lakshmipat Singhania Academy, batch 2017, Kolkata. He started this service along with his volunteer friends by providing help to senior citizens during the lockdown. Anything that the senior citizens required like medicines, gas cylinders, daily essentials were delivered by these energetic volunteers on wheels.
Says Arvind, "One day, I was sent by my mother to my grandmother's place with some essential supplies on a bicycle. That  made me think as to how the older population of the city was coping up in these tough times."
He made a pledge to himself whilst peddling, that he would offer services to the geriatric community of the city.
He did have teething problems with the police enquiring why he was out cycling during the lockdown. "But on explaining to them my  aim and objectives, the officer stamped my permit and wished me luck."
Calls from London, Dubai, Doha, USA soon poured in by children seeking assistance for their parents, as they could not visit the city and the flights were grounded.
The cycle soldiers helped the seniors handle bank accounts, enabled them to connect with their children digitally, besides buying provisions and paying their bills online.
Today there are also other organisations  like Delhi-based Emoha Eldercare (now branching out to other places) and Dependablez, Kolkata,  that provide nursing home care for the seniors  with food, medicine and groceries on door step delivery.
Many other organisations have woken up to the need of geriatric assistance beyond these, like, dependable companionship services ,assisted trips, payment of bills, assisting elderly with special needs like Parkinson's and Dementia, taking them out on wheelchairs for movies, a walk in the nearby park or to a mall.
At times the counsellors visit them at home to chat and make them do some exercises. "After every visit many elderly persons seem to forget us, so we have to reintroduce ourselves.  But it's so fulfilling to see them smile and talk that it gives us immense happiness," says Murali.
It was not only age but also gender that come up with specific issues, says Sugato Das, a social activist. "Elderly women have their own vulnerabilities; they need communication support , especially when it is digitalized and virtual."
Similarly, there are other requirements too for the senior citizens that go unnoticed. They have to arrange house help, cleaners, door cutters, fire saving equipment,  oxygen tanks, immediate assistance in case of falls and accidents, electric shocks. These are all emergency measures to assist the elderly.
Someone has to take charge and with time people are realising that a strong support system is needed  for  people in their autumn years. (TWF)