By S. Ravi
The ongoing Ana Romeros solo virtual show on India International Centres website in collaboration with the Portuguese Embassy Cultural Centre, goes beyond aesthetics requiring reflection and deliberation. The Portugal-based artist is a teacher whose passion is painting and has been exhibiting her artworks since 2003.
The exhibition is titled "Eudaimonia" and will be on till April 25.
"Eudaimonia", stands for happiness for the Greeks or the good performance of their demon and this is achieved by doing what they are called or evoked for.
"This word defines in totality my works on display. In simplified terms it means self-realisation, doing what one likes."
Elaborating this point, she says, "I am lucky to be a teacher and I like to teach. And that is to look at the world and interpret it through techniques that can be taught, such as painting.
One can also observe and assimilate the world in another way, through drawing, the primordial form of communication."
The 13 works on display mirror varied and conflicting emotions of life including joy and sorrow. The oil on canvas "Hope" is a positive painting depicting longing and expectation, "Je Suis Ton" is sad and bloody. Likewise, "Hate Me, Hate Me Not" draws attention to conventional norms of beauty, "After the Party" takes the viewer to a different plane as it brings to the fore emotions of a young girl. "In my works there is always contradiction and these help in highlighting emotions," remarks Romero.
Talking about her creative act of painting, Romero says, "the creative act serves as catharsis for the broken dreams, sadness, happiness, inner growth, the ugliness of the world. By portraying the worst, I let the best grow in me. Unlike Oscar Wilde's 'The Picture of Dorian Gray', I am the one who will get old and not my works as they will remain contextual for all times!"
One is simply struck by the repeated use of animals and birds in the paintings. While "Bacon's Orange 1", "Dog" and "Amorperro" show a dog, "Bacon's Orange 2" portrays cats and "Bird" and "Red Alarm" depict avians. "Animals, like dogs and cats are of special significance to the humankind. Even though they have lived next to humans for centuries, yet they are often mistreated."
When asked if these works are symbolic, Romero says yes. "The dog is a symbol for fidelity, something I cherish.
Birds represent freedom and their depiction in 'Red Alarm' and 'Bird' is juxtaposed with a human figure to show dichotomy in our life."
Romero is also keen to highlight self through her works. Both "Ana Romero" and "Alice In Wonderland" in the show are examples of this. The former shows her face partially as the innocent eye looks through you, the latter shows the artist, again with only one eye visible as the other is covered by tumbling figures.
"It is not just in these paintings but in others too I am there, if not totally then at least part of me.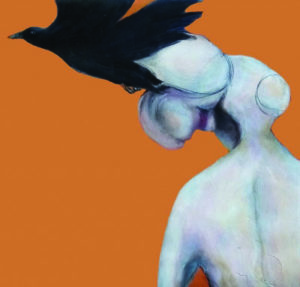 The reason why only one eye is visible is because I don't want to reveal everything about myself," she explains. Elaborating on "Alice In Wonderland" she discloses, "Well, Alice is the exact description of me: I live in my own bubble and create my own people, in my paintings."
Even though her artworks deal with human emotions, Romero wants her creations to draw viewers' attention and make them introspect about different issues. Her "Hate Me, Hate Me Not" showing a fat person wearing black gloves precisely does that.
"I grew up in the nineties when models with hourglass figures were considered perfect. Even in 2021, they are still considered perfect, ideal and supreme. Women can't be perceived as fat and hence they are not allowed to be one, and those who were, were looked down upon," she remarks.
She says reading Islamist feminist writer Fatema Mernissi changed her insight about gender issue.
Romero believes that her works are universal in nature and will strike a chord with viewers all over the world. "I truly believe that an 'artist' has to 'add' something in his/her works, not just imitate reality, because for that camera and mobiles phones are there."
There is more to art than just aesthetics. "I believe in conveying ideas, concepts, fighting stereotypes, defending values, justice. From an early age I felt that being a woman I had to behave in a certain way in society. I'm not a feminist, I'm a person who happened to be born a woman and who always refused to iron a man's clothes. I've never done it! And I portrait what I know the best: the female universe."
Well look at her works, you agree with her! (IANS)