Aspiring law student Joel Blah Kyndiah is the 19-year-old founder of the Shillong chapter of Fridays for Future, a movement working towards environmental activism.
Fridays For Future (FFF) started in 2018 in Sweden when activist Greta Thunberg came to the forefront with her solitary strike against climate change outside Sweden's Parliament.
The movement has different names – Youth for Climate, Climate Strike or Youth Strike for Climate. 
What makes this movement so unique? The answer lies in the wordplay – strikes are held on a Friday. Thunberg started skipping school every Friday of the week to stand outside Parliament and advocate for a sustainable planet.
Global strikes were organised in 2019. More than a million joined the movement on March 15. The second global strike on May 24 was timed with the European Parliament election. The September 20-27 event or the Global Week for Future saw 4,500 strikes across 150 countries.
With the pandemic raging, FFF has gone digital. 
Disha Ravi, a climate change activist from Bangalore is the founder of FFF, India.
Shillong Chapter
FFF started in Shillong in May 2019. Joel and his friends had just given their Class 10 board examinations. They wanted to do something constructive. "We had access to information on climate change. To a certain extent, we all were sensitive to environmental degradation. It became a moral obligation to do something about it. We needed to start a dialogue," he says.
The initial campaign was premature as they had just started. With time, they understood the meaning of context. "It is not just about planting trees or organising cleaning drives. It has to include issues that are socio-economic and political in nature," Joel says.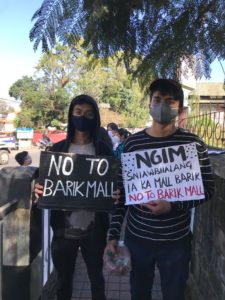 Intersection?
They have been very vocal about intersectional climate justice. Delving deeper into the meaning of 'intersection', he says, "The way we speak about our environment is almost a by-product of our attitudes towards these other issues, seen as more pressing." 
The other aspect is climate emergency. In the European context, it seems relevant and possible. However, it is very Eurocentric. In India, there is no provision for the government to declare a climate emergency. Nor is there enough awareness in this regard.
Raising awareness takes a collective effort. They are working to build a network and reach to people from other remote areas. "At the end of the day, people living in the rural areas will be affected the most. Indigenous communities will bear the brunt of climate change. Look at what is happening in South America, particularly in Brazil," he says, adding, "Countless studies show that indigenous communities who reside in forests are the caretakers of the environment."
It is about social justice.
Work in Shillong
Their first climate strike was held on May 24, 2019. Out on the streets to show solidarity with their comrades elsewhere, their goal was to call out and involve the policymakers in climate justice. More campaigns and strikes followed, along with raising awareness in a few schools.
They have also participated in online campaigns. The most recent one was the Environmental Impact Assessment, 2020 (EIA). Along with various chapters in the country, they have opposed the EIA draft and submitted a memorandum to policymakers in the city.
They have also expressed concerns over illegal coal and limestone mining, and more recently, on the issue of the Barik Mall. Joel says, "In Shillong, there has been a rise in real estate. It serves the interest of a few sections of society." 
Originally, a park was planned. It was discarded for this mall. He adds, "Money had already been allocated for the design firm from Shillong and Bangalore, who bid in the tender."
FFF also supports the conservation of heritage buildings of Shillong. " We wanted to underscore the importance of heritage. Can you imagine the consequence on our heritage properties? The construction of the temporary Assembly House destroyed the residence of Rabindranath Tagore."
The construction would lead to an urban heat island, further adding to global warming.
The Colonial Gaze
There is a difference between conservationism and climate justice.
"If we look closely, conservationists address environmental issues through a colonial gaze. Because they are born and bred in the West, they consider themselves to be more aware. Conservationism started with the Europeans, particularly with the British in places like Africa. They ignore the contribution of the indigenous communities. Sometimes, they are even displaced in the name of conservation. To me, that is neo-colonialism," Joel says.
While he does not necessarily view this in a bad light, conservationists need to acknowledge the efforts of the indigenous communities. 
Joel underlined the contribution of the indigenous people of Meghalaya, who are custodians of their environment. "The living-root bridge, for example, takes years to form and mature. One must see how they work together to have a sustainable way of living that also preserves the environment. Nothing goes to waste."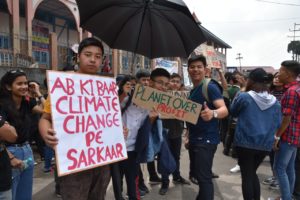 A Movement
FFF is a movement, not an organisation. An organisation has a certain degree of formality and funding. 
Because they are de-centralised, there is no hierarchy in the sense that they do not have a president or a general secretary. Nor do they receive any funding. They have a network of volunteers. FFF is a non-violent movement and everything is done per the law. They seek permission before every planned strike. Once permission is granted, they make posters, send emails to people on their mailing list and draft letters to principals of various educational institutes with a request to allow students to participate in the strikes. Social media is primarily used for disseminating information. They use a method called "Tweet Storm", where they highlight issues about the environment.
Given that the movement is still at a nascent stage, they do not always organise a strike every Friday. Only when there is a global strike, do they come out for solidarity and advocacy. 
Before our conversation came to an end, we spoke about tourism.
Tourism is beneficial for our economy. However, they must take sustainability into account. "We do not intend to stop people from coming here. They can, however, contribute to the economy. Why not take back something as a souvenir? Agro-tourism, for instance, can be explored further," Joel says.
What Next?
He says, "Initially, we had a particular trajectory planned out. Plans have changed now. We are resolute in our goal, i.e., fight for a sustainable future, along the lines of advocacy, democracy and liberalism."
As their pamphlet says, "Prepare. Adapt. Survive", FFF is a perspective and purpose-driven movement towards climate justice.