The snow leopard (Panthera uncia) is a big cat found in the mountain ranges of Central and South Asia. Unlike its cousins, it has thicker fur and a longer tail, that help in balancing its body weight. Interestingly, it is the only member of the big cat family that cannot roar. 
Besides its solitary nature, the snow leopard is also a master of camouflage. It inhabits alpine and subalpine areas with the altitude ranging between 9800 to 14,800 ft.
Medical professional and wildlife photographer, Dr Henry Nongrum undertook an incredible journey to Spiti Valley in Himachal Pradesh to capture the Ghost of the Mountain.
It was only towards the later part of 2016, that their plans were finalized. Earlier ones never materialized into concrete action. They got in touch with fellow wildlife photographer and mentor, Sagar Gosavi. The initial plan was to go to Hemis National Park, Ladakh. In the coming months, however, Sagar found out about Spiti in Himachal Pradesh.
Dr Nongrum says, "Very few visitors had been there. It was known only to hardcore photographers. Only a handful of people had gone there to photograph the animal. And probably no one had gone there in January to shoot the Leopard."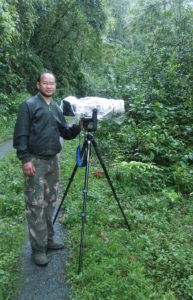 The Journey Begins
The year was 2017. On January 23rd, they left for Delhi where Sagar met them. Together, they headed for Chandigarh and caught up with Bhavin Patel. He had carried a 2 TB Seagate hard drive with him. The next day, they left the hotel at 7am. While their driver picked them up, they met Indrajeet, a young man from Pune, in charge of all arrangements for their journey to and from Chandigarh. 
They also met Ismail Shariff – the "Snow Leopard Man of India", and drove through Shimla and Kufri. They stopped for tea at Narkanda Pass for a few minutes. From there they headed to Rampur. 
On 25th January, they left Rampur at 5:30 am. "We drove through the amazing landscape, with roads cutting through the vulnerable mountain. At some places, there were practically areas with about 1-2ft of safety margin between the road and the endless cliff, beyond the edge of the road", Dr Nongrum reminisces.  
From Spillow, the journey became tough. From donkeys who refused to budge and treacherous roads to weather conditions, the photographers saw it all. They drove through narrow roads which passed under the mountains. 
Man versus Nature
The road ahead was blocked with huge boulders and rocks. The locals from Kaza helped them in clearing the path. Another 2 km drive later, they were greeted by a massive avalanche. Two dozers came at the right time and cleared it… enough for the vehicle to pass by. They headed for the nearest village, Poo.
Because the road was covered in snow, they parked their vehicle in the marketplace. Dr Nongrum recalls, "We took our necessary gears and clothing, trekked with our luggage for a kilometre or more, till we reached a guest house –Shankar Home Stay. The place had no electricity. Being off-season, hotels were not ready to receive guests, especially at 9 pm."
Agitated and frustrated that they may not make it to Spiti, they discussed with Sagar about alternate plans. People told them how certain areas had landslides that had to be cleared. Rapchik Kesang, one of their drivers suggested they head back to Rampur and wait there. 
Once they started for Rampur, more snowfall greeted them and they returned to Poo. The homestay owner provided them with an old gas stove and little kerosene for warmth.
January 27th found the men undecided – only Bhavin Patel decided to head back home. The others proceeded with their plan. More obstacles awaited them when they had to cross Maling Nala, an upslope with slippery snow; they were stuck but managed to cross eventually. 

Towards Kibber
Driving slowly, they reached Tabo and managed to get a place at Tabo Monastery to rest for the night. For the first time, the accommodation was fantastic and the rooms were warm. They took the time to explore the monastery, renowned for being one of the oldest; about 1000 years old. 
On January 28th, they headed towards Kaza. Dr Nongrum adds, "It was not easy during the first 5 odd kilometres as we had to pave our way by clearing the snow. From there onwards, it was a smooth drive. We finally reached Kaza at about 5 pm." 
Once there, they decided to reach Kibber. However, the weather was not on their side and they had to return.
On the support from the local population, Dr Nongrum says, "We admired the strength of the local boys. We trekked in the snow when it was actively snowing. Kee was about 1.5 km from where we disembarked. We stopped at one of the boys; Sushil Dorje's friend's house for tea and food. The hospitality was simply remarkable."
The next day, they left for Kibber on foot. It was 5:45 PM. They started from about 13,500 ft above sea level and had to reach 14,010 ft. 
Dr Nongrum feared losing his balance. "It was a back-breaking, tortuous trek against the heavy snow. There was fog on my spectacles, blocking my vision. I slipped at many places. We stopped at many points to rest. We were sweating. When we took breaks to drink water, the sweat would develop into a cold chill. The temperature then was about -15℃ and it was extremely windy. There was a point when we halted and the boys lit a fire to warm ourselves. We finally reached our destination at 10:15 pm." 
January 30th was the D-day.
Spotting the Ghost
Reaching the spot was difficult. One of the trekkers had to trek the entire day. 
The spot was about 30 ft from where the male snow leopard was resting. The Ghost of the Mountain was on the move once it became alert of their presence and tried to hide. That's when they got a closer glimpse.
"My heart was pounding as I photographed it. It is so elusive and there it was, right before our eyes. He was a majestic creature, with beautiful colours and camouflaged so well with the rocks. When it came out and started walking in the snow, it was like a dream come true", Dr Nongrum says.
He further adds, "The snow leopard walked so calmly in the snow and at the same time, was so cautious. He was aware of our presence. Every 5 – 10 steps, he turned back gracefully to see what we were doing. All along, he maintained his eye contact with us. It felt like we were talking to each other, eye to eye."
The first-day shoot lasted for 15 minutes and Dr Nongrum clicked 400-500 photos. Then, the snow leopard disappeared. All of them celebrated the moment. "Even Ismail Shariff never saw the snow leopard so close, despite capturing them on camera in Ladakh. The whole mountain echoed our shouts of joy", he says.
Back in their homestay, they did not realise how tired they were and got busy checking the images.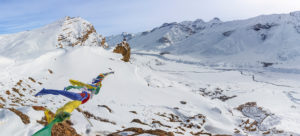 On the second day, it was sheer luck. Sagar opened the window early in the morning and saw something moving on the edge of a cliff. They rushed to capture the snow leopard. Local trekkers helped them and finally saw it resting under a rock. 
The photographers were overwhelmed when they realised that they saw two different snow leopards. Dr Nongrum mentions how the feeling can never be described in words.
On World Environment Day, it is important to remember…
The International Union for Conservation of Nature (IUCN) has been tasked to record the global conservation status of biological species. 
IUCN's Red List of Threatened Species lists this mysterious, strikingly beautiful big cat under the 'vulnerable' category. World over, they number less than 10,000 individuals (approx.) Estimates range from 450 to 500 individuals for India." 
The increase in human settlements, coupled with climate change has been instrumental for their decline.