By Eleanor Sangma
The pandemic has upended the lives of many artists in the creative industries, including the local musicians of Garo Hills. The loss of all outdoor shows and gigs have backed them into the four walls of their home or studio, with little contact with the outside world. The situation has forced these artists to reimagine their relationship with music.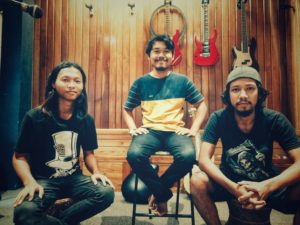 Da Suraka was a fairly new band, formed a few months beforethe pandemic forced all outdoor activities to be suspended. Before the pandemic hit, the band members Ricky Abbott Nokrek (Vocalist), Changteang Ch Marak (Lead guitarist), Chukambe Ch Marak(Bass guitarist), and Janggith Ch Sangma (Drummer)would get together and work on music from morning and stretching on to late at night, till they were satisfied with the outcome. Ricky Abbottsaid, "During the pandemic, we are not able to record any songs. We've just been staying indoors, writing songs." He stated that they have received many phone calls from fans and friends asking for a new song, but the situation does not allow them to do any recording. He added that they are still very much in touch with music and said, "Atleast three days in aweek, we get together in our studio and have jam sessions,compose new songs, maintaining all Covid protocols."
He stated that musicians face many difficulties even without a pandemic and expressed his dissatisfaction with the lack of interest in local musicians by music industries and the state Government. Musicians lack platforms where they can showcase their talents and love for music. "There are lots of talented youth in our state, who are lacking behind because our state Government pays less interest to musicians in Garo hills," he asserted.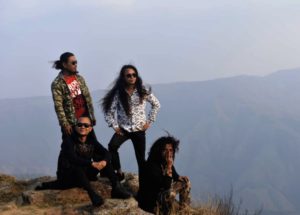 Such disadvantageous situations do not seem to deter the young musicians. They have been constantly working on music. He stated that the band aims to take their music along with the Garo culture and language to international levels. "Our first studio album 'Songsarek' will be all about our Garo culture and tradition. Music has no boundaries;let the world listen to our songs and let them know how unique our culture and tradition is," he added.
The Preacher's Sons consist of three outgoing members Jaksram Cheran Momin (Vocalist), Jordan Sangma(Guitarist) and Tidy Sangma (Guitarist).Jaksram Momin stated that every jam session or song writing session used to be like a weekend party for them. Going with the motto "Do it now or do it next time, but we do it together", Momin stated that each aspect of making music was done through sharing ideas and working as a whole. That has changed over the last two years.
Momin expressed his discontent with the situation and said, "It has been very rough for each one of us, now that we don't get to meet up & share our ideas or jam together often."  He asserted that working through social media and other online platforms is very time consuming. "You don't get that aura or vibe of a person that you get by watching someone when they share it with you so passionately," he stated, talking about how the virtual screen disrupts the whole process of music production. He added that their plans for recording, covers or original, fall completely out of sync. Another difficulty their band faces is not being able to buy accessories when needed since they would have to wait for certain days for music stores to open.
Despite being forced to work in such conditions, musicians still retain their love for creating music. "Just recently I wrote a song called 'Ang Bi'a' for a one-time project 'Good, Bad, Ugly'with Sunny Tengban (Sweet Sugar) & Hardy Sangma (Freelance Drummer) for a folk songwriting competition organised by Jal Jeevan Mission," Momin said. The artist has also been working on his solo EPs. He stated that the pandemic has offered him a chance to discover more of himself and has even changed his music style. "I've seen my vulnerabilities and weak points," he stated. The pandemic had forced him to separate from his bandmates, but also offered time and space to reinvent himself and work on his solo projects. "And cheers to more family time," he added.
The all-female act Haystack Ladies, formed in 2011 consists of Pangkime Ch Momin (Lead guitar), Tarina C Marak (Bass guitar), Cynda Guri Sangma (Vocals) and Chenie S Marak (Drums). Vocalist Cynda Sangma stated that the saddest thing they have to face as musicians is that they can no longer get together to make music. "Since we all depend mostly on music events and concerts, it just breaks our hearts that we're not able to perform like those days," Sangma expressed her sadness at the loss of opportunities to share her love for music.
She stated that the band tries to stay connected to each other and music through any means possible. The artist added that the way they create and share music has changed a lot since the pandemic started. Some of the members are doing online shows, have their own Youtube channels while some have started teaching music online to help kids interested in music.
"A lot has changed in our musical scenario, but we still have hope that this pandemic will end soon and will not change the spirit of music that we have in our hearts," Sangma added.