By Esha Chaudhuri
A beverage extremely popular, the drinking alarm clock to many, an instant mood lifter to others, has been one of our own since times immemorial. In a traditionally tea drinking state, if anyone thought coffee is alien to these hills, think again. Lesser-known history of the prevalence of "indigenous" coffee culture in Khasi Hills stands long established.  In an interesting discovery made by the Co-founder of Smoky Falls Hills Tribe Coffee, DasumarlinMajawsays,"the state has always had tea and coffee both"; sourcing her information from a 1908 book titled "Coffee Cultivation in Khasi Hills" by B.C. Basu.Much like the wine sommeliers, coffee connoisseurs are a generation only growing in new heights.Team Sunday Shillong explores the emergent shift from a traditional 'sha' to a prevailing coffee culture in downtown Shillong
Revival of Home
Known to many, the journey of Smoky Falls Coffee Tribe, as the first coffee roasters in the state dates back to a Christmas tradition in the family, when Co-founder, DasumarlinMajaw's late grandmother would bring Coffee beans from the village every winter, and later pan roast in a cast iron pan and used to pound in a mortar and brewed with hot water. Rediscovering her path back to her roots, Majaw and her father, DondorGiriNongkhlaw advanced by augmenting their knowledge and skills by attending training programs and later commencing their venture.
In another recent offshoot of the same idea, Wild Coffee Roasters began when the Founder, Ralph Budelmanstumbled upon a broken coffee plant branch and decided to bring back a few seeds during ahike in the canyonlands of Cherrapunjee, and brought it back for testing. The taste of the coffee from thebeans made Ralph realize the potential of Meghalaya's coffee and how it can be further developed with proper techniques required to produce coffee. A relatively new enterprise, Wild Coffee Roasters began with a vision of promoting the growing coffee culture that Meghalaya as well as connecting with the local coffee planters and farmers and providing for a platform to make a living from selling their produce.
Thriving coffee plantations in the state from villages such as Mynriah, Pynursla, Nongskhen, Nongnah, Marngar and Nongrynniangare where they are sourced from; presently, both the undertakings sell light roast and medium roast of the Arabica and Robusta blends, encouraging farmers to use organic methodologies in farming techniques as well as supporting the local harvest.
While the two enterprises have carved their niche in the market, there are many other roasters in the state too, and buying local, counts as a propelling force at the outset. This is confirmed by Majaw, as she says "There are many coffee growers in our state in Pynursla region, Nongjri, Ichamati, Shella, Mustoh, little is grown in Tyrna, Khatarshnong, Khonthong, Nongtraw, West Khasi Hills, JaintiaHills in Borato, Amalari and Garo Hills too. We want our community to grow and prosper."
Endorsing the local yield,CEO and owner of Bread Cafe, RashiVaswanistates, "When we started out, we sourced our beans from outside, but now we've switched to local beans. It's a win-win situation for both parties; as we support our local produce and the people appreciate the brew."
Coffee: Pop beverage
As part of the many millennial tidings, coffee is one of the most sought after beverages worldwide. The shift from a product of a chain brand to a locally brewed cup of hot goodness has been a significant one. Pioneer of the café culture in Shillong, Co-founder, Swish cafe, and Nudel, Mary Tariang vouches for this, as she states, "As one of the first ones to start a cafe in Shillong, the young crowds back in the days, were happy to get a regular coffee and a frappe from one of the popular chains. However, in time, we've seen a wave of coffee drinkers who are very particular about what they like to drink."
The growing popularity of the drink has created a new coffee lovers community, locally. In words of Team Head at Wild Coffee Roasters, MalvynKharsynteng, "Coffee has very much become a social drink. That can be seen from the incredibly rising number of cafes and coffee shops in the city. People spend more time in cafes for casual hangouts or even business meetings and so the intake of coffee has beenhigher."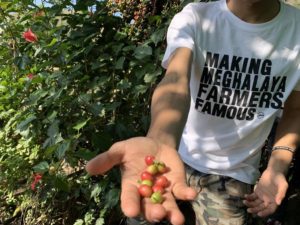 CEO and Co-founder, Dylan's Cafe, and Cafe ML05, DevalTibrewalla affirms, "The uptake of coffee is definitely higher than tea. Running Dylan's and ML05, we now see that there is a rise in the knowledge of coffee. Earlier people would normally opt for a cappuccino, now people know the nuances of coffee – what we call the third wave of coffee, is slowly on the rise. People these days opt for an espresso, Americano, or even a French press. They know what they want. Initially it was the younger crowd, but now coffee is popular across age groups."
While tea remains the soul of the place, from corner tea stalls and shops, the adaptation towards coffee even though gradual has been exponential. Vaswanisays "Going back12 years ago, since we started out, people have readily taken to variations of espresso shots, mochas and lattes." Defining a whole new era with the coffee generation, Vaswani adds, "With high acceptance of coffee, we went beyond beverages and even began a range of coffee based deserts such as mochachino, tiramisu and cookies with coffee blends too."
Owing to exposure to the world of coffee all over, the recognition is seen widely among the millennial, while the uptake has been gradual for age groups older. Observing the rising graphs, Majaw states, "Our retail sales have also improved and we've seen people switching to home brewing of coffee much more now than before. Earlier, our customers were mainly the ones who hadbeen abroad. But now we have many in Shillong too who like to brew their own coffee."
To attract what the youth would call 'fashionable', Vaswaniobserves,"We had even started the trend of selfie coffees, which had become a fad in Shillong."
Times are a changing
Cafe owners vouch for consumption of nuanced versions of coffee. While coffee chains continue to exist, coffee connoisseurs know it all – from the blend, roast levels, colour, texture, smell and the taste.
Sharing his expertise on the technique and the type of beans, Jean Manar says, "I like the local coffee beans. The roast is a perfect medium and the taste is delicious. We let it settle for a few minutes and then it gets to a medium consistency."
Another such coffee aficionado, DaphiLaloo articulates "I'm the only one at home that drinks coffee. Living outside Shillong for many years, I wasn't sure if I would like the local beans, but then I bought a pack, ground it and put it in the machine. Since then, there has been no looking back."
WandashishaWarjri shares with team Sunday Shillong, "I used to be a regular Nescafe drinker, and then when Café Coffee Day (CCD) arrived, I would drink that. After traveling outside Shillong, and adapting to the coffee culture in the major cities of India, I've converted to an ardent double espresso on a daily basis."
"Meghalaya is slowly evolving in every aspect. It is not shying away from trying new things, be it digital banking or online shopping. If ventures like us, and small businesses or shops can create a connection with the people, then we could see exponential growth in the overall consumption of coffee in the state." says Kharsynteng.
As we make a gradual, yet upward ascent towards a better understanding of these rich aromatic beansmuch is yet to be done to amplify our enterprising community of our state. While, the state of Kerala produces 80% of the coffee in the country, fortifying efforts with the local plantations can go a long way in furthering a promising future of what has been existent since 1954 in India, and a few decades old in Meghalaya.