Tales of our Rivers: Gentle and Rapid
Esha Chaudhuri digs into a book on Meghalaya's rivers and the experiences of its three authors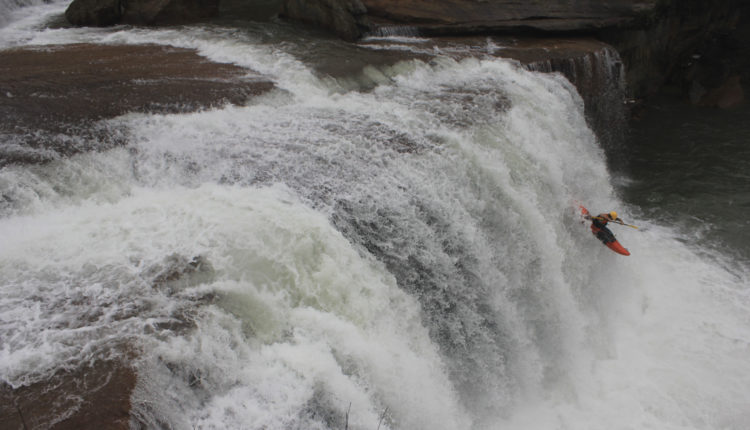 By Esha Chaudhuri
"When arriving by boat to an incredibly difficult-to-reach place, one would be forgiven for being completely convinced that no one could possibly be around for miles. That thought would evaporate when there would be a fisherman quietly smoking a bidi on top of a rock," says local entrepreneur Zorba Z. Laloo Kharkolni.
Awarded a Golden Paddle by American Packrafting Association, Zorba is the co-author of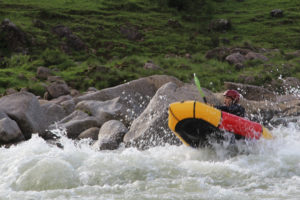 'Meghalaya Rivers' – a work of passion in collaboration with a paramedic and an aerial photographer.
How it all came together
Hailing from different parts of the world and professional fields, a trio driven by the urge to explore their zeal for water sports, converge on a point of common interest.
"We were on a kayaking trip in Uttarakhand, staying with a friend Shalabh who has very extensive knowledge of paddling in rivers across India. We were considering our options of where else in India to go paddling. Shalabh suggested Meghalaya on the premise that the state experiences a lot of rain and is blessed with a steep plateau, which should make it great for kayaking. We also watched an episode of the BBC documentary Human Planet, which showed the living root-bridges and talked of Meghalaya's huge amount of rainfall," recalls co-author Dan Rea-Dickens, a former river guide in Scotland and presently a paramedic in Liverpool.
Joe Rea-Dickens, the third author and a former journalist who runs an aerial photography business, says: "We actually wanted to check out Nagaland but couldn't be bothered getting permits. Our friend suggested Meghalaya was just nearby and, being the rainiest place in the world, should have some good rivers."
Dan says, "In 2012, Zorba had joined a Facebook page for kayakers and Shalabh put us in touch. After a trip in Meghalaya, we found a stand-out river, the Kynshi. After this, we discussed coming back. This turned into working on a six-year guidebook project organising the navigation and documentation of Meghalaya's rivers and sharing them with kayakers internationally to be able to descend a good proportion of these rivers."
Joe adds, "After a long chat, Zorba told Shalabh to pass on an invitation to meet him and grab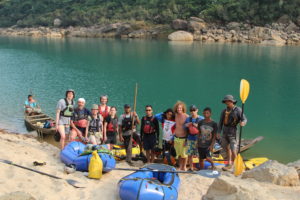 a cup of tea together. One cup of tea turned into six years of research and a guidebook."
"When we started paddling here, it was just my friend Shane and I. We had some basic gear but without any training. With nowhere else to learn from, we turned to YouTube. We learned basic white-water techniques by watching videos. The results were sometimes alright and hilarious other times, where we'd end up with an upside-down boat, one of us swimming and all our gear floating in the water. As we progressed, we were inspired by the pack-rafting videos we found online, especially those from Alaska. We started making our own videos of our river trips and were able to connect with more experienced folks that way. Soon, we received emails from a bunch of university students from the UK on a kayaking trip through India. They knew nothing about Meghalaya except that we received the highest rainfall in the world, had waterfalls and figured we must be having rivers. Since their first trip in 2012, we became friends and found a way to keep exploring fruitfully while documenting it all. Meghalaya Rivers was born from that," Zorba says.
"The book is a collaborative effort from relevant field experts. We're happy to say that the richness in detail in the book is from painstaking efforts from all involved, layered over many years of work. The maps were custom made and the international borders were vetted by the relevant authorities of Survey of India, Dehradun. The images generously peppered throughout the book are extremely rare and hard to recreate – because many of the locations are only accessible by boat! We're blessed that there were some truly talented image creators who contributed their photos," he adds.
Zorba further says, "I feel this intimacy shows through in our book. Hilarious trip accounts of misadventures are present, the heart-breaking loss of loved ones are also included. Details of how a particular riverine village got its name; the lush deep green of a hidden river valley in possibly Meghalaya's cleanest river captured on a double-page spread or info on a little-known bedrock slide with the carnivorous pitcher plant growing on its banks also recorded in our book. In hindsight, I think we really did pour whatever we explored and loved about these unique places of our state into this project. Meghalaya is a truly remarkable place and we're glad we got this opportunity to showcase this side of it."
Local finds
Apart from the perfect pH level of 7 along much of its flow, Zorba narrates one of many folklores that are afloat in the villages. The tale, as told to him at a river village, is of a shape-shifter – a person who could turn into an animal.
"It was a dark evening at the village dukansha when we heard the story of a person who could transform into a crocodile. The storyteller narrating to us was serious and claimed it was all completely true. We asked whether this individual was still around and if we could meet him, we were told it was the person serving tea just a minute ago," he says.
Some of the explorations in the book are centred around Kynshi, Upper Riwang, Upper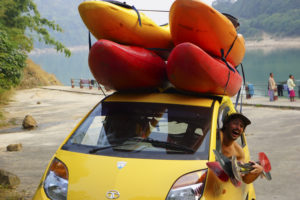 Umngi, and inside the caves of Krem Chympe – each with its distinct characteristics and learning.
In the earliest expedition in 1986, the owner of Ever Living Museum at Mawshbuit, KyntiewBor War describes the Kynshi as the "longest and the mightiest river in Meghalaya that would push anyone to their limits". The account described the team to be physically fit and mentally prepared for the impending dangers and challenges.
One of the more serious sections to paddle in Meghalaya, Upper Riwang with its two class-V gorges offers challenging white-water, many small falls and more than a few nasty traps.
With fun rapids and the characteristic scenery of South West Khasi Hills, the book describes Upper Umngi as a great run for beginners to intermediate paddlers, regarding it 'perfect for warming up'.
The expedition to the "mind-bending" KremChympe requires an expert guide with underground passages in between ancient rock formations millions of years old, making for an arduous one in and out of the caves.
Apart from the sport, discovering nuances and unique finds on each distinctive river, the team also foraged for the distinguished flora-fauna, imbibing the local culture, and its people. Giving detailed descriptions, readers would also find essentials such as the dos and don'ts before the expedition, medical requirements, in case of a snakebite.
Making many friends along the way added to the joyful rides and fun excursions. One such is Banshan Kharkongor, a college lecturer.
Banshan says, "My fascination for rivers and all things aquatic started from a very young age growing up in Ranikor on the banks of the Kynshi where my father was posted in the Public Works Department. Whether it was swimming, boating or fishing, river activities came to me quite naturally."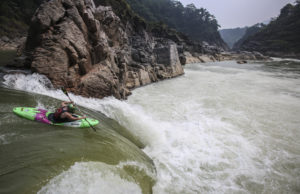 Banjop Iawphniaw, who had worked as a driver and later as a guide with Campfire Trails, has been central to the explorations in Meghalaya. In fact, he was the first Khasi kayaker to learn to roll, taking others paddling too.
Swift-water safety instructor, outdoors journalist from Alaska, Luc Mehl narrates his voyage across continents to Meghalaya in a quest for river exploration and outreach. In his description, he recalls his experience in the Umngotriver at Shnongpdeng along with his friend Brad Meiklejohn, president of the American Packrafting Association in 2013. Inspired by pack-rafting legend Roman Dial's videos, he anticipated that the Alaskan community of boaters could relate to the remote nature of the Meghalaya's rivers.
Storehouse of potential
"When we started paddling white-water a decade ago, there were not many who had boats in Meghalaya. But now, there are quite a few white-water kayaks around and a smattering of locals who are genuinely interested in the sport. There is also the Shillong Whitewater Village run by Ian Vincent on the banks of the Umtrew River, which is the only kayak training set-up in the entire Northeast. We're also proud to say Meghalaya is the only state in the Northeast to have home-grown paddlers who also venture to other places to paddle," Zorba says.
Based on his experience and travels across the world, Dan finds enormous unrealised possibilities in the state's rivers. He says, "My passion for kayaking started in Europe and England where I was brought up, I loved spending time on rivers, messing around and particularly being out in nature and using rivers as a way of having fun. This passion after five years led me to the White Nile in Uganda, where interest in travelling and kayaking combined. This interest led to working as a raft guide in Africa and Europe and going kayaking, off the beaten track in places such as Iceland, Kenya, Uganda, Tajikistan and Pakistan. In recent years, I particularly started enjoying the more expedition side of kayaking, where one can pack their belongings and kayak down rivers over a number of days. Meghalaya is particularly good for this, offering long stretches of river best done over several days."
He elaborates, "Meghalaya is a unique case, as it is culturally rich, with many untouched and at the time in navigating rivers of great quality for kayaking. Offers warm, remote and challenging kayaking with spectacular surroundings. Has an interesting history, in particular the tribes of Meghalaya of which have been incredibly welcoming and hospitable and supportive to us over the years. This combination was a rarity with most rivers of the world now having been navigated and documented."
Having shot, edited and directed the All-India Kayak Expedition, a six-month rolling expedition exploring in-paddled rivers in India, Joe affirms, "We have travelled quite a bit looking for good areas to kayak. There are always a few different things that make a trip special: good weather, reliable water levels in the rivers, interesting culture, friendly locals, good food, beautiful scenery, long rivers. Meghalaya ticks all of these boxes."
Commenting on the potential of water sports, Zorba says, "As a sport, a life skill, occupation or commercial venture, Meghalaya definitely has potential and has started to make some small inroads into these various avenues. Whether training for local youth at Ri-Bhoi, our own explorations with friends, setting up leisure kayaking at village destinations or visiting kayakers taking locals out – the evidence is clear: Meghalaya has a lot of raw untapped talent for river sports. Water and river-based sports of all types can be a real game-changer for many youths and the possibilities are plentiful. Whether it be locally owned commercial tours after proper training; working in the adventure industry in India or abroad; professionally trained search and rescue teams for emergencies; local youth competing in the national or international arena or a multitude of other possibilities. But like all things that start small – support, guidance and honest hard work is the need of the hour from both the public and private sectors to unlock these talents among our youth."
Future of our Rivers
In an ideal visual of Wah Umkhrah, Zorba envisioning a pollution-free and accessible city river catering to the needs of an amicable society, says: "Imagine the WahUmkhrah with clean water, plenty of fish, birds on riverside trees, families having picnics on the banks and children taking a dip after school on their way home. Imagine riverside restaurants, cafes, parks, live music or art venues, and guesthouses lining the river banks through the town. Places with waterfall views in town would be highly sought after by tourists. There would be locally owned tour operators who conduct rafting, kayaking and other river sports. People would be fishing off the bridges, roadsides or quiet spots where the river flowed by."
Citing the example of the river Thames and drawing cues from it, Zorba propounds, "The Thames in London was a river so polluted once, that tens of thousands died from the water pollution. Now it is the cleanest river in the world flowing through a major city. While we are a small cash-strapped State, we also have a river, much smaller and probably with fewer obstacles than a country's capital city. The path would be nothing short of gruelling and fraught with problems, whether created or real. But, just maybe, could it be done."
In a quest to restore, save and revive the rivers, he suggests, "If restoring the Wah Umkhrah to its glory of just a few decades ago is impossible for our society, then at least let us learn from this extremely costly lesson and take care of the rivers in our State. There are many, each magnificent in their own way and each steeped in their own secrets and ancient wonders. If there were a dream to be had, then a vibrant, living and bustling river and river community right in the heart of our dear town would be it. Maybe this is why we love the images of boats floating on "glass" at Dawki so much – it helps distract us from the cesspool under our own noses."
The river explorer, Zorba along with his peers, have done a remarkable pioneering work to introduce Meghalaya's Rivers to the world. It's now only a matter of time for the tourism promoters to take it further.