By Eleanor Sangma
Water is an essential resource for humankind. Yet year after year, the town of Tura still struggles with shortage of water, especially during the drier season.
"The water supply is fairly stable but the quantity of water is quite low and it is not enough for a big family like ours," said Kamkam Momin, a resident from Cherangre who lives in a house with 11 other family members. They receive an hour's worth of water supply per day.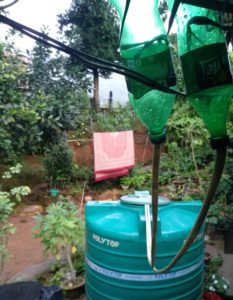 Hestated this issue could be a result of the population in Garo Hills which is ever growing, yet the infrastructure is not up to date to cater to the same. "The storage tank in our area hasn't been upgraded to store higher quantity. Moreover, the water wastage is quite high due to leakage of the pipelines," he said. He added that the amount of water that gets leaked due to broken or damaged pipelines in a single day is more thanthe amount theyreceive in 2-3 days.
Speaking about the difficulties they face due to water shortage, he said they have to make time and drive to the nearby rivers and streams to do their laundry.  "It's not easy for us to drive every week to the river just to wash our clothes. Our time gets wasted this way," he stated.
Families such as Momin's have to resort to other means of water supply. During the dry season, people usually call private water suppliers to deliver water for their daily needs. However, due to high demand, sometimes they cannot deliver it on time and people have to order one day in advance. He said the situation is better during rainy season as the quantity of water is much higher compared to dry season. "We can also harvest rain water by collecting it from our roof and storing it in whatever water containers we have," he added.
Dipse Sangma stated that since there is shortage of water every year, they have learned to live with it. "During rainy season, we get enough water from PHE. But from February to March, we have to buy water at the rate of Rs. 1000 to Rs. 1300 from some other water suppliers (private)," Sangma said. During monsoon season, they also harvest rain water using makeshift water harvesters. She stated, "Rainwater is in abundance. We could harvest more than 200 litres from the pouring rain."Buying water from private suppliers is an added expenditure for many households."Bearing the cost of waterplus rations, it gets really financially draining," she added.
Along with private water suppliers, she said visiting brooks and big streams for laundry and bathing during weekendsare alternative sources of water supply. They also have a community well. She added, "The well also dries up during the dry season. So, the best alternative would be to pay extra Rs.1000- Rs.1300 and get 2000 litres of water."
Marak from Dakopgre stated that their locality has been having water shortage for a long time. "Water supply is unstable. During the dry season, we get water only twice or thrice a week and just once a day," he said. During times when the water supply was stable, they would receive water at least twice a day.
"We have to call for water sometimes several times in a week," he said. This leads to them spending a lot of money just on water. There is a small creek that the entire locality uses for their daily needs. This poses a problem of its own. "Since everyone uses this tiny creek, we have to wait for our turn and this makes us late for whatever work we have for the day," he stated.
Izhar G Momin, Sub Divisional Officer PHE Tura, stated the town requires 25 MLD of water, but during dry seasonthe department receives around 18 MLD of water. There is a shortage of around 7-8 MLD."This is a problem that comes from the source itself as the gravity line during dry seasons is very dry," he said. During this season, due to agricultural practices such as slash and burn and jhum cultivation, there are no trees and vegetation which results in less or no water retention.
He added that the turbidity of water is also high. "In the last two-three years, the turbidity has risen beyond what our systems have been designed to handle," he elaborated.In such cases, the water cannot be supplied as it is too cloudy. "The reason behind this is because there are no trees or vegetation, only the runoff water gets deposited,"he stated. According to him this issue can be solved by improving the catchment areas. "The departments in charge such as Soil and Water Conservation and Forest Departments have to look into the issue," he said.
Mominstated that there have been no complaints during the rainy season besides the occasional damage to pipelines. If there are issues in a certain locality, the development community of that locality visits the office to address the issue. "If there is problem from our side, then we do our part and solve them," he added.
Water shortage has been an issue in town for years, particularly in the drier months. People here have adapted to the situation and found alternative sources of water supply. Many have turned to private water suppliers along with water harvesting practices in order to meet their daily water requirements.