Angling for conservation
Catch-and-release is trending among fishing enthusiasts for preservation of indigenous fish species, says Eleanor Sangma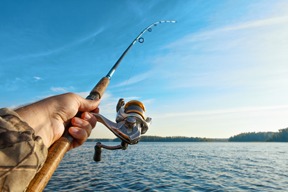 By Eleanor Sangma
Fishing has remained a favourite hobby of people in Meghalaya. While for some it is a sport, for others it is a source of livelihood. A recent development among anglers in the Garo Hills is the practice of catch-and-release (C&R) toward the preservation of the indigenous species of fish.
Many anglers started fishing in the streams and rivers in and around Tura town at a young age, as it was one of the few activities they had access to. "The Garo Hills is blessed with rivers that are home to a variety of fish," avid angler Rem Shira said.
He said they started the C&R practice a few years ago with the aim to conserve and protect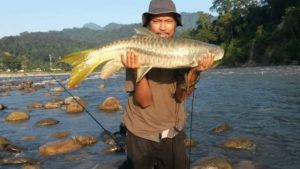 the rivers and the indigenous fish species that live in them. "C&R is a very sustainable fishing practice that allows us to enjoy the bounties of what our waters have to offer," he added.
Chakrak G. Momin also started fishing at a very young age. Armed with just a bamboo strip, a thin sewing thread and some old rusted hand-me-down hooks, he would accompany his grandfather and father to a nearby stream. Stating that the way he sees fishing now is different from before, he says: "Back then, it was just for fun. But now, it has become more of a passion and a hobby that I want to live off."
Momin initially considered the practise pointless. After much research and education, he realised the importance of conserving rare local species of fish. People from outside the country are willing to spend hefty amounts just to admire the sheer power and beauty of such indigenous species before releasing them back to the water. "Being from a foreign land, they are doing every bit to protect this fish. But our people on the other hand are just doing every bit to fish them to extinction," he said.
That made him want to protect the fish and their habitat, while still enjoying the act of catching. According to him, people in some remote villages think the fish found in the Garo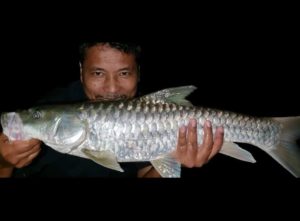 Hills dwell in every other water body in the world, so they care less about conserving. Anglers such as Momin try to educate them about the native fish species and how endangered these are. He added that many villages are now aware of the declining number and started caring for the species and their habitats.
Besides the fish, the sport has also benefited villagers. The anglers adopt certain community reserved pools. They make agreements with the villagers and pay a fee per head to fish in those waters. "Fish or no fish, that amount has to be paid before you even fish those pools," he said.
The anglers have laid down a few strict rules everyone has to follow. "No bait, strictly lures and all fishes big or small should be released," Momin said.
The process of C&R might appear simple but there are methods of handling a fish so as to minimise its trauma and stress.
"It is important that we have the right knowledge and tools to handle the process of release," said Binny Sangma who is employed under DRDA and also runs a tour and guide service in Tura. The process is done with the help of tools such as clippers, pliers and using barbless hooks that minimise the damage done to the fish. "No fish means no angling and for people like us it is very important as we enjoy the sport immensely," he added.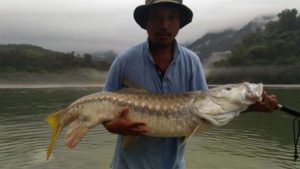 Sangma started lure-angling and C&R about five years ago, inspired by his brother-in-law Bhuto Marak, one of the most respected anglers in the Northeast who has been working hard to promote the sport here. He said he practices C&R so as to preserve the exotic golden and red-fin mahseers that are among the most sought-after freshwater species in the angling world. "The idea behind releasing your catch is to let the fish get bigger and stronger so we can fight it another day and to preserve this magnificent species for the future generations," he added.
According to him, once people understand the concept of C&R, all illegal means of fishing would stop. "Presently, dynamite fishing, poisoning and gill nets are rampant in the Garo Hills," he said. He added that consistent practice of the conservation method would help boost tourism as the Garo Hills has a big potential for angling tourism, provided the aquatic life is preserved and stricter laws against illegal fishing are implemented. The practice could also function as a source of revenue for the rural sector. "Angling is a billion-dollar industry that we can tap into," he added.
"I would say there has been a positive impact of our actions as we have a group of anglers from Tura known as ACT (Angling Club of Tura) working hard to promote the sport and the idea of C&R," Sangma said. The club has opened a number of C&R centres in Bansamgre, Songmagre, Nongalbibra, Udugre and other areas with the help of the local community. "We were able to collect about ₹30,000 in six months at Bansamgre C&R centre and about ₹18,000 at Chibragre reserve. So, if the idea clicks, we have endless potential to contribute to a renewable means of income for the rural sector," he added.
Shira stated that they have been trying to spread awareness about conservation and preservation of the rivers of the Garo Hills through social media and have received a lot of positive feedback. It has also proved to be a source of livelihood for villages near rivers where they have facilitated the practice of C&R after paying a small fee to the village committee. "Most of us are under the impression that our rivers and streams hold an endless, ever-multiplying quantity of fish, but the unfortunate reality is that our rivers and streams are slowly and steadily being wiped out by pollution, harmful and unethical fishing practices, and destructive agricultural practices," Shira added.
The practice of C&R is not new. But it has attracted attention in the Garo Hills only in the last few years, as people have become more aware of the declining population of fish species due.