Brushes, Blends and Strokes
A pursuit of art, paired with hardwork, grit and passion paves the way for a naturally glamourous vocation says Esha Chaudhuri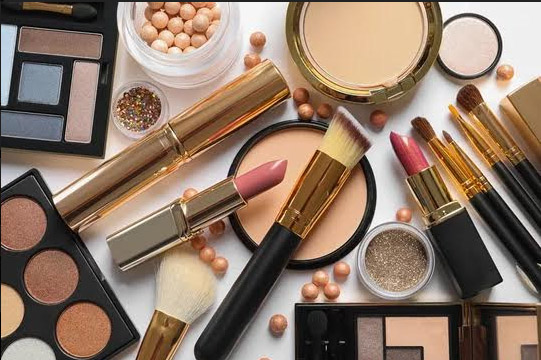 By

Esha Chaudhuri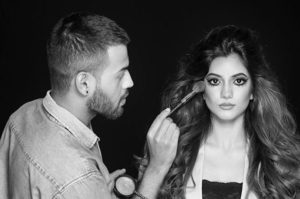 It's all in the strokes of the brushes, the tint of the eye, radiance of the skin and highlighting of the jaw whether smokey, minimal or dramatic, are all looks donned by celebrities for a red carpet event, movies, shows, or even by regular people for occasions and for a little glam up every now and then. All of it ties up to the goodness of the cosmetic products available in the market and the magical brush strokes to enhance beauty by makeup artists. Badapbor Hynniewta, Larikordor Syngkon aka Lee Middleton, and, Camellia C Nongtraw bring to us their stories of art and passion in the world of glitz and glamour. 
Step by Step
37-year-old, Hynniewta, a resident of Jaiaw, Shillong speaks with Sunday Shillong on how he kick started his career in the makeup world, "My journey began way long back because of my

interests in fashion particularly makeup and hair. This interest and passion translated into a career when I did my professional hair course from Javed Habibs after which I worked for some time at salons in Bangalore and Delhi. Incidentally, I got an opportunity to do a Diploma course from HABIA, UK, sponsored by Meghalaya state government."
Presently, a Senior Lecturer of Fashion and Celebrity Makeup in Pearl Academy, Delhi; Hynniewta says, "Later, I worked with icons such as Javed Habib, Sundri Salon, MAC Cosmetics, Il&FS Skills Development of India, Delhi." In his words,  "I teach and help new aspiring individuals to start their dream and journey and take the first step into the world of Fashion and in my free time, I freelance for hairstyling and makeup for my clients."
28-year-old Camellia C Nongtraw from Nongrimbah, Laitumkhrah describing her course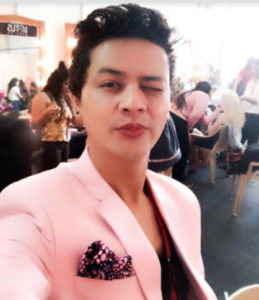 in the makeup world says, "I was never formally introduced to the makeup industry. Growing up with a stylish mum taught me that we should take care and look our best, not to impress anyone but for ourselves to feel good. The feel-good-factor is not only for women, but for men too." She says, "My journey into this field (of makeup industry) was not planned. However, when I step out of the house for work, I do wear light makeup every day, and I also do my own makeup and hairstyling on certain occasions. The first time, I tried my hand at a friend's bridal makeup. Of course I was thrilled but was also excitedly nervous. I only had basic makeup. They offered bringing their own products for a trial to which I agreed. The bride and her wedding guests loved my work and that's how it started – through word of mouth."
She further adds, "I started a makeup page on Instagram by posting different makeup looks of myself. I also had a very supportive friend who led me to model for her beauty shop and even recommended me for shoots. Later, I started getting appointments and it wasn't a big success but with patience and hardwork, today I'm a freelance makeup artist."
Another inspiring story is that of Larikordor Syngkon aka Lee Middleton, 27, from Mawkhar. "I was always fascinated with art. I started drawing and sketching at the age of 4, and it became the reason why I love doing makeup today. I was introduced to this industry about 7 years ago under the tutelage of Arif Mukhim when I started doing my friends' makeup and then based on recommendations a network was built. Later, I began promoting myself through my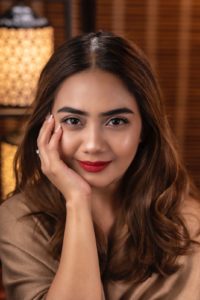 Instagram page, where most of my work is officiated" describes, the freelance makeup artist.
In the Limelight 
All artists in the makeup world thrive through collaborations with leading fashion and makeup houses in the field, furthering their cases for photo-shoots and ad films starring leading celebrities. Commenting on this, Hynniewta says, "Working with big, medium and/or small brands are all equally important as I feel one can learn immensely, in these varied setups." He further adds, "People say working with big brands is good and I agree, it definitely increases the value of one's profile, has perks, training and opportunity for networking and also handsome pay packages, but small brands offer a chance to learn and explore various local style and trends too." 
On his collaborations, Hynniewta shares, "Well, some of the collaborations were with Myntra, Vogue Magazine, Style Cruz magazine, Divaniindia. Also, some major fashion events like Lakme India Fashion Week, Amazon India Fashion Week, to name a few. I also conduct master classes. One such was a beauty booth event organized by the luxurious DLF Emporio, Delhi among six other leading makeup artists in the city to interact with the creme de la creme. My most recent work is for a music video project with T-Series called "Yaadein".
Speaking on her collaborations, Nongtraw illuminates, "There have been a few. I have done a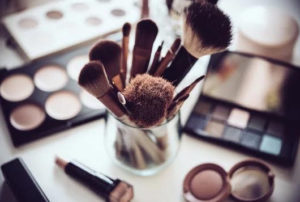 couple of advertising shoots in Shillong; Asylum Films the Director of the upcoming film 'Dhaakad'; I have worked with a Short Series called "Soulmate". This was also shot in Shillong. I have also worked with actors like Priyanshu Painyuli and Anshul Chauhan. In fact, I also had a stint with Nykaa before the opening of the Nykaa Bar at Guwahati."
On his ventures, Middleton says, "I was privileged enough to have worked with celebrities like Neelam Kothari Soni, Andrea Tariang, Meba Ofilia, and others from the entertainment and pageant world."
Based on his exposure in the makeup world, Middleston elucidates, "Just as the fashion industry is growing day by day, so is the demand of makeup and hair products in the market. All, of different age groups and genders, wear, it as it can enhance or change one's appearance. Makeup and hairstyling has always been a major part not only in the fashion industry but also in the theatre and film industry where it's used to create a particular character or an otherworldly being."
Tips and Tricks 
Sharing some easy makeup reminders, Hynniewta elaborates, "Always remember to apply moisturizer and a primer before putting any foundation and concealer, avoid putting too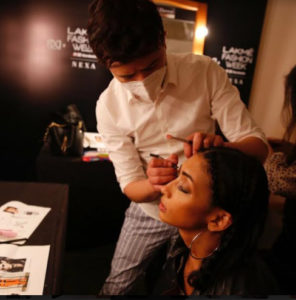 much foundation remember the lesser the better, and using a spoon as a mascara shield helps." 
Some makeup essentials as must-haves, Hynniewta details, "Face primer is a must have. Mascara, eyeliner, smudgy kohl pencil and some eye shadow with the right brush sets are important for a good look."
From her personal kitty, Nongtraw shares, "A quick makeup hack is the versatile lip tint – it can be used on lips, cheeks and eyes. Another personal secret hack is to do the eye makeup before face makeup."
Makeup must haves, according to Nongtraw, "For me, the primer, right shade of foundation, a brow palette, mascara, blush and of course a favourite lip shade."
To keep it fashionable in the cold, she adds, "The no makeup look is really in and winter is all about that natural dewy glow. A little blush, minimal smokey eyes and lip colour of your choice will do the trick."
For the month of festivities, some suggestions for a perfect winter look while also keeping it fashionable, Hynniewta explains, "Gold eyes and berry lips make for a gorgeous pairing. These contrasting shades work wonders in adding the right amount of dimension and bling to your winter makeup look. Set the stage by dusting a bit of gold." He further adds, "Sultry maroon eyes as maroon is one makeup colour trend that's not going away anytime soon. One of my favorite ways to rock maroon makeup is, on the eyes."
A handy hack by Middleton, "Take your lip liner or kohl pencil and using a lighter (I would hold it under the flame for a second) and cool down then straight on to the lips. This makes it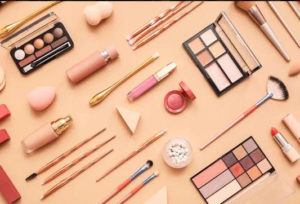 easier to apply because it makes it softer and also gives good colour pay off."
Giving a peek into his personal style, Middleton says, "I'm someone who loves wearing mascara, grooming my brows and keeping my lips moist. So, I would recommend having a mascara, brow gel and a lip balm for anybody who wants to achieve a very natural look."
On winter trends, he reveals, "Going by Harpers Bazaar winter makeup trend this year, plum for the lips is in, and I feel this shade really is a game changer this season; whether one likes it light or dark on the eyes, a plum shade on the lips is going to make it look seasonal." He adds, "Trends come and go and 2021 is the year we get to see trends rising up again. Since we have all been wearing masks throughout the year, the number one trend this year is going bold on the eyes and bushy brows. These are sure to amplify one's ensemble."
Art for all
Makeup like other art forms is fluid and has a space for one and all. However, for most parts, the industry has been associated with taboos and stereotypes. Sharing his views on this, Hynniewta affirms, "For generations, makeup has been seen as a "girls-only" enterprise, so we forget that it wasn't always that way. For millennia, stretching from 4000 BCE through the 18th century, men traditionally used makeup in myriad ways. It wasn't until the mid-1800s that makeup was relegated to one end of the gender spectrum when the influential Queen Victoria I of Great Britain deemed cosmetics vulgar, calling it "an abomination" during the Victorian era, creating strong, widespread associations between makeup, vanity, femininity, and "the Devil's work." 
On makeup being gender neutral, Hynniewta says, "For most of the women, makeup is the most important tool in their everyday beauty armory. From lipsticks to eyeliners to gloss, there are an extensive number of makeup items that can help make you feel better about yourselves. Makeup is mainly used to change or enhance the way we look, to feel more confident and also to hide our imperfections. Thanks to social media and the emergence of male beauty influencers like Manny Gutierrez, and Bretman Rock, makeup is in the early stages of becoming more gender-inclusive. This concept, however, is hardly new."
In agreement, Nongtraw says, "Exploring the world of makeup as a profession that contributes a lot especially to women's empowerment also comes with frivolous tag attached to it." In fact, "It has not been easy. Many tend to look at makeup artists as a silly job or try to bring down people wearing makeup – calling them "fake". She says, "Good makeup is an Art and also Science. It gives a partial explanation for life. We're enhancing God's beauty, irrespective of one's age or status; we're adding more confidence."
Joining the dots for the other artists and sharing a word on the art aspect, Middleton says, "Never give up on your dreams even if you're told that it's not good enough for you. Stay focused on the vision and keep the faith. Success is not final, failure is not fatal; it is the courage to continue that counts."
As per Mckinsey reports, the beauty industry had dwindled by 33% globally in the first year of the pandemic. The resilience of the industry, however, coupled by its consumerist appeal and the finery of the artists has ensured its steady bounce back.