By Esha Chaudhuri
With wings free and dreams galore, budding and ambitious women take to the world of lights and camera making it seem unchallenging. In conversation with Miss Shillong 2021, Sufanri Fella Lynkhoi, 1st Runner-up, Triheena Das, 2nd Runner-up, Ameda Giovana Kyndiah, and the Chairman of Shillong Fashion Society, Aldous Mawlong, Sunday Shillong explores what it takes to be in the world of fashion modelling, while also getting a sneak peak into the people that they are. A few snippets of the interview with Miss Shillong 2021 are as follows – 
When did it first strike you to take the path of modelling?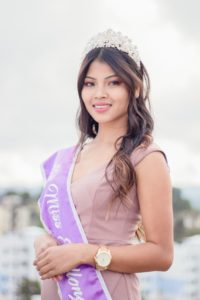 It was a coincidence. I took part in a challenge on Instagram that required the participants to post our best fashion attires and the winners would get hampers. To my surprise, I got a message saying that I've qualified for auditioning for a show called Phoenix Fashion Icon. I accepted it with much elation. I was determined to give it my best shot and then got selected in the Top 12. Later I was announced as 1st runner up in the contest and that's how my journey commenced.
2. Becoming a youth and fashion icon requires a lot of hard work? What's your story? 
Yes, my story includes hardwork but I only pursued what my heart beats for. My journey includes hardwork, and it is important but embodying passion for work, be it in any profession is what makes one reach great heights someday. This formula has given me much joy. Personally, I concentrate a lot on keeping my soul, body, beauty, and mind healthy. I have a proper and nutritious diet which helps me to stay fit, healthy and also have glowing skin.
3.Has the ramp way, ramp-walk always appealed to you?
 I find it very appealing with the spotlights on, with so much going on behind the scenes.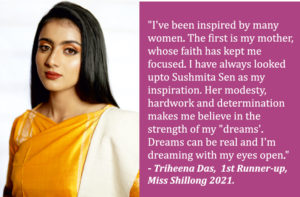 Finally, once I step onto the ramp and give my best, it gives me a sense of pride because it feels so surreal doing something purposeful by overcoming fears.
4.Apart from modeling, who is Sufanri behind the scenes and what are some of your other interests and life pursuits?
I'm from West Khasi Hills, Kyllang. I studied in St. Margaret's School, Shillong and later went to Chennai for further studies including my engineering degree. In my family, my father's a doctor and my mother a principal in a Government School in West Khasi Hills . I have four siblings.
I do enjoy travelling, swimming, reading and keeping fit.
5. Who has been an inspirational figure (reel and/or real life) to get to this point in your life?
Well, I can't specifically give credit to any one such person as there are many inspiring souls all over.. I get inspired by every soul that works passionately, courageously, and with tenacity in their respective fields.
6. How does being in the spotlight change your perspective towards life, if it does at all?
Being in the spotlight gives me the opportunity to meet many people from different fields, walks of life and with unique characteristics. This helps me learn and imbibe the good from them. Staying connected with people keeps me humble and tesches me to respect every mortal and their cultural beliefs.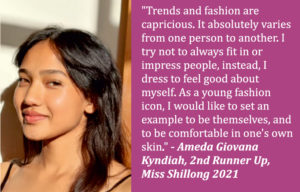 7. What role does Shillong Fashion Society play in your journey of winning Miss Shillong?
Shillong Fashion Society has given me a platform to march forward and exhibit my skills, potential and talent. It has played a crucial role in exploring the field of modelling.
8.The buck doesn't stop here, so what are some of the future collaborations that you're looking at? 
Yes, I'm working on a music video with George Shadap, some charitable work, and with Shillong Fashion Society for Meghalaya's statehood celebrations.
It's all too new and I'm absorbing it all. I'm also making use of every opportunity coming my way and I'm willing to give my best. I'm looking forward for what has been preordained by the Almighty.
9. Most often, modelling is only as a platform for an inlet into acting or towards Bollywood. Do you have similar plans?
As of now, I haven't thought much about acting but I'm willing to give it a shot if it comes my way.
10. For many young and aspirational people like yourself, what are some of the learnings that you'd like to share?
We live in a vast world that incorporates massive and infinite opportunities, and chances to explore. I would say explore more, according to your interest, and keep on trying new things for your betterment. Always have the courage and push yourself.
Tête-à-tête with Chairman of Shillong Fashion Society (SFS)
1. Tell us about the Shillong fashion society – background, objective and vision.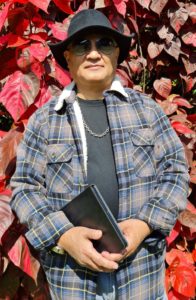 Fashion Society Shillong was formed in 1983, with like minded people to promote beauty and aesthetics in this region.The vision is to see the upcoming generations of youth empowered, to be the best of themselves through proper grooming and exposure.This will enable them to face job interviews as the primary modules are Career Counselling, Leadership Training, Personality Development, apart from skills in Grooming and Ramp Walk.
2. What are some of the major undertakings of the organisation?
We focus on Human Resource Development in such platforms like Pageants and Fashion Shows besides Musical Gigs.We promote designers,make up artists and performers. Employment is  generated for the lights and sound, photographers and videographers, stage decorators, and caterers.
3. We see beautiful faces and personalities winning the crown every year, what role does the society play in this? Do you scout and train them too?
We do scout, audition and train the contestants and we have been collaborating with other organizations as well.
 4.What would you want the young aspirational models to keep in mind while looking out for modelling as a profession? 
Modelling can be a profession if one is good enough.Otherwise it could be an option besides a regular job.
5. As the chairman of the organisation, what are your learnings and thoughts of fashion and modelling? How do you think more people can get inspired to join?
People can join and win if they fine tune their body, mind and soul and persevere. Naturally blessed with good looks and a dynamic personality can ensure a sure shot winner.
6. Some say modelling is a discriminatory profession – it only caters to a certain body and skin type. What do you think of this perception?
I do not agree with the perception of discrimination. People of Shillonh have always possessed what it takes in terms of beauty, style and suaveness. A platform was all that was needed to showcase this talent.
People are born with different looks, personalities and physiques. Each one is unique and when it comes to pageants and a combination of the best of the above comes to play, surpassing caste, colour or creed.
7. What are some of the lesser known aspects of Shillong Fashion Society?
We are mostly a non-profit organization and we strive to host events of a high standard. We've had a number of celebrities acknowledge and attend our events from Bollywood icons like Moon Moon Sen, Zeenat Aman, Former Home Minister of Meghalaya, James Marvin Pariat.
Charity is also a part of Fashion Society's regular gesture. It has donated to Jyoti Stroat School for the Blind, Missionaries of Charity, The Jaiswal Presbyterian Orphanage, Childline, SOS Village at Umiam and the Jowai Presbyterian School.
This year, Fashion Society Shillong hosted the Miss Shillong 2021 Beauty Pageant, celebrating 38 years, at the St Anthony's School Auditorium,Shillong, held on November 30th, 2021. Out of 40 entrants, initially10 were shortlisted then scaled down to Top 5,who sashayed down the ramp in the Active Sports Round and the Evening Gown Round. In this glitzy event, Sufanri Fella Lyngkhoi walked away with the prestigious title of Miss Shillong 2021, followed by Triheena Das,1st Runner- Up and Ameda Giovana Kyndiah as 2nd Runner-Up. Following up close was Angela Mary Lyngdoh and Stella Rica Khongsni.