Tale of Kaket Henchiata alias Kakon Bibi
Role of Ethnic Minorities in the War of Liberation of Bangladesh
By Pradip Kumar Dutta
Bangladesh is observing its Golden Jubilee year of Independence. As history and lived experiences suggest, freedom does not come free and so was the case of Bengalis of the then East Pakistan. They fought a bloody and devastating war and then won their laurel of Independence paying a heavy price. As per figures, three million of them were annihilated, two to four hundred thousand women and young girls were subject to war time sexual violence and genocidal rape, ten million of its citizens had to abandon their homes and were displaced as refugees by crossing over to India, with massive destructions of cities and properties beyond official figures. Moreover, ten million others were internally displaced in search of safety. As a political ally, India came in support of Bangladesh to fight the Pakistani occupational forces while Bangladesh Muktibahini also referred to as Mukti Fauj translating to freedom fighters or liberation army was the guerrilla resistance movement consisting of the Bangladeshi military, paramilitary and civilians during the War of Liberation that transformed East Pakistan into Bangladesh in 1971. Among the many freedom fighters, the story of one Kaket Henchiata or Ka Ket Hyniewta in modern parlance, but more popularly known as Kakon Bibi stands as the pivot of the story. A legendary woman, a forgotten hero, and a freedom-fighter under Bashtola sub-sector, whose valourous contributions to the liberation movement stands indebted.
The Bangladesh Forces fought tooth and nail to drive the heinous enemy away. Traditionally, Bangladesh is a land of Bengalis, 98% of the population of that denomination, but also comprising 2% of ethnic minorities inclusive of 20 different tribes and ethnicities, namely – Chakma, Marma,Tripuri, Khasi, Garo, and Santhal. Many of them fought hand in hand and shoulder to shoulder with their Bengali brethren to liberate their Motherland from the clutches of the occupational forces, the West Pakistanis. At the time, the Pakistani Army considered themselves to be an elite force, with a superior ruling class, higher placed than Bengalis and other East Pakistani ethnicities. Fighting with the Muktibahini some freedom fighters belonging to ethnic groups fared exceedingly well and earned praise from all quarters. In this context, the narrative then focuses on a Khasi woman's course as a valiant freedom fighter of 1971.
Kaket Hennyata or Kaket Henchiata was born in a village named Nayrai/Natrai, a Meghalayan Khasi village close to the then East Pakistani border. With porous borders at the time, inhabitants from both sides of the border found easy access to and fro. Though the year of her birth could not exactly be ascertained it has been estimated as 1932, while others cite it as 1915. As a young girl, she fell in love with a West Pakistani soldier of East Pakistan Rifles by the name of Abdul Majid Khan who was posted near the border in Tengratilla area. A baby boy was born to them whom they lost at a very young age. Their marriage lasted for a brief three years when Majid was transferred first to Doarabazar and then to Sylhet. Initially, they communicated through letters but gradually the communication faded. Thereafter, she got married to a Bengali, Shahid Ali from Derai area. Unfortunately, her Khasi way of life did not suit the sensibilities of the groom and this marriage too witnessed its fated end. Being married twice into Muslim families, she had changed her name to Noorjahan Kakon Bibi, and was, from there on as Kakon Bibi.
Meanwhile, as the War of Liberation gained momentum, Kakon Bibi found it difficult to earn a living and make ends meet. On occassions she was apprehended by Pakistani collaborators and tortured. Being a strong willed tribal Khasi woman as she was, she was looking for avenging the wrongs. She met an affable freedom fighter Rahmat, who would take her to meet Maj Mir Shawkat Ali the Sector Commander of Sector 5, one of the 11 sectors into which the whole of Bangladesh was divided to facilitate handling of the Muktibahini task forces. Maj Shawkat took her into the fold of freedom fighters, gave her the place of his sister, imparted basic military training to her and deputed her to the Bashtola sub-sector. She was entrusted with the tough responsibility of intelligence gathering in the disguise of a beggar. Her task was to collect information on the Pakistani bases, hideouts, bunkers and movements.
It was a momentous task, definitely no cakewalk. Bibi gave it her all and a lot of intelligence started pouring in. Unfortunately, in the middle of on her missions, she was caught by Pakistani rajakars and was subject to physical and sexual torture. However, this did not break Bibi's spirits. She was later sent to a Pakistani camp, where she was interrogated. Her wits helped her. On being interrogated by their officials, she said that she was the wife of Pakistani soldier Majid Khan and had come in search of him. When tallied with official records, the information matched. Even though Majid was not stationed at that camp, the Pakistanis believed her and issued her an Identity Card. In reverse assignment, the Pakistani forces requested her to collect information for them. Being quick witted, she agreed and this gave her free access to different places within Pakistani camps. She started to work as a double agent. To the Pakistanis she provided basic information, that too mostly known to them, while divulging valuable information to Maj Shawkat proving advantageous to the Muktibahini. This, however, could not be sustained for long. Before being detected she defected in November of 1971. Till the final victory on 16 December of 1971, she partook in frontal battles too and was wounded in her knees, scars that she bore until her last days. The war was over and the beneficiaries of the Freedom struggle conveniently forgot about her and her contributions. She went back to her life leaving behind the glories of her heroic role in the Great War of Liberation.
In aid of all those women subject to war time rape, the Father of the new Nation Bangladesh Bangabandhu pronounced them as Veeranganas (women warriors) and took to their guardianship, especially in cases of those whose families denounced them; life was not a bed of roses for them after the liberation of their Motherland. Ascribing to orthodox and patriarchal notions, most women were shunned and ousted from their homes. Few shelter homes were prepared by the Government but it could not cater to all. Kakon Bibi's life was no different. For a quarter of a century, Kakon Bibi along with other freedom fighters were relegated to the background.
After the end of an autocratic military regime of 17 years, and as limited Democracy was being restored in the country, good senses started prevailing. Progressive elements of politics and socio-cultural circle started coming out of their shell to which they shrunk after the hooliganism of 1975, even resulting in the criminal murder of the Father of the Nation. Gallant and heroic deeds of freedom fighters resurfaced with Taramon Bibi,another great Freedom Fighter from Rangpur area who fought gallantly, and received the State recognition and honorific title of Bir Protik. After Kakon Bibi's heroic deeds were brought to light by enthusiastic supporters and activists of Bangladesh Freedom Struggle, the then Prime Minister promised that she would also be similarly honoured. So, it was expected that Kakon Bibi would also be declared a Bir Protik. Unfortunately, things didn't go as expected due to the existent red-tapism.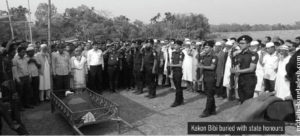 However, her name was included in the list of freedom fighters and she received recognition and honour from her countrymen for her courageous  sacrifice for the country. Hasan Murshed, a renowned researcher on Bangladesh Freedom Struggle and the 1971 Genocide recorded her interview which is well preserved and gives one a candid picture of the Freedom Fighters' activities in Bangladesh's War of Liberation. The interview was taken in 2017 and in March 2018, the fighting soul breathed her last in Sylhet Osmany Medical College Hospital. Kaket Henchiata alias Kakon Bibi was perhaps the most valiant amongst the Khasi participants of Bangladesh War of Liberation. As a day marking fits victory and efforts of many, this is a tribute to Bibi, still in the hope that the Government of Bangladesh under Sheikh Hasina will honour her with a posthumous honorific title of war gallantry.
(Pictures courtesy – Daily Sun)