Daniel Syiem on a Triumphant Decade, Life Experiences and Winter Fashion
Authenticity, honesty to one's calling wrapped with layers of tradition, and values running deep is what unleashes a world of creativity and ultimate freedom.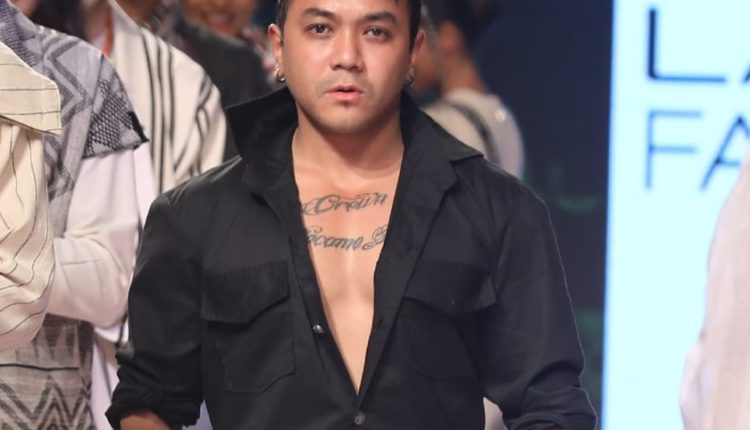 Interviewed by Esha Chaudhuri
Embedded in traditional roots and beliefs but blossomed into a contemporary brand, a mix of tradition and upbeat trends is what distinguishes Daniel Syiem's brand of styling. A chat over a cup of tea,
Sunday Shillong
unravels Daniel Syiem, the designer, the person, and his clothesline that has created waves globally. A journey of a local boy, to a renowned fashion designer worldwide, celebrates a decade of his success all based on homegrown values and learning. 
Hello Daniel, not many would need an introduction to who you are. What is it that has changed in the name "Daniel Syiem" aka DS today?
DS: As we've recently celebrated 10 years, as I look back, I feel it was very experimental especially based out of Shillong and the lack of exposure. Now, having travelled, showcasing our work on various platforms, DS the brand has grown a lot – market presence and appreciation from all parts of the globe. 
Personally, I've refined my skills and I'm more in touch with the industry, its trends globally and locally. I'm not a formally trained designer, I've learned being more clinical with my work.
How has your journey in the fashion world shaped you as a person 10 years before and after your clothing line?
DS: Ties in with the previous answer. My horizons have expanded as a professional in the field after having been represented on prestigious platforms of many fashion weeks namely, Lakme Fashion Week, Calcutta Fashion Week, Assam Fashion Week, London Fashion Week, Couture New York Fashion Week, Toronto Fashion week, Nehru Centre in London, and in Rome.
Everyone is very stereotypical in the fashion industry coupled with hard work and stiff competition. For the kind of work that we do, I'm often told, "People will use you" but I have never experienced anything like that. 
Everyone goes through his or her share of ups and downs but the industry is not that bad as it is made out to be. 
The biggest challenge that I faced was when I resolved to launch a fashion line of my own; a line that was to be based out of Shillong instead of Mumbai. I chose so, as I wanted to be close to my roots and beliefs to accomplish my dreams.
Your collection has evolved over the years; however, it's always maintained the ethnic Khasi weaves and textiles. What are some of the common public responses?
DS: The label represents sustainable fashion that is 100% organic, working with the local weaving community and supporting them. When we began, not too many were a part of this. In fact, very few were working with local weavers but now sustainable fashion has taken over. It is what the fashion industry swears by.
Daniel Syiem's Ethnic Fashion House (DSEFH) tells a story – the design, collection unfolds our way of life and the story of our people.
As your clothing line DSEFH has recently turned 10, what are your observations on "fashion"? What does it mean to you?
DS: I took up designing as a career and started the fashion house with Janesse, my partner in the business house. Initially, I did face some backlash and reluctance as fashion wasn't a favourable career option and not popular in the Northeast. I went with my gut as designing was 'my thing' since I was a child. I'd draw sketches of clothes and dresses, and even dress my sister up.
I recall my father had asked me to pursue it as a hobby instead of a profession. One event was a game changer when in my college years; I showcased my work in a competition and received positive feedback. It boosted my confidence. Later, I studied at Pearl Academy of Fashion, Delhi but then I dropped out of college, began driving a taxi, worked at a local café in Shillong. It was at this point, when I received a call for looking after club management in one of the renowned nightclubs, and one of its first in the city of Shillong. 
All of this led me back to my calling – Fashion, for it was at this very club that a regular customer connected with me and got me talking with the local weaving community. It was then that when I touched one of the fabrics I felt a special connection to it. My family has always been oriented towards social activism. So, I wanted to use the medium of fabric to take that legacy forward. 
Fashion is about who you are as a person, and getting in touch with yourself. Not a show of colours and beyond. 
It is a common observation that Daniel Syiem is seen as a "home boy" and "down to earth". What part of your personal values do you bring to your clothesline?
DS: The values that I've learned growing up with my grandmother – humility, fairness and being just is what I bring to my work. "
Tip Briew Tip Blei
" has stuck by me. The work that I do represents this authenticity.
Tell us about your creative process and how do you handle aspects of copyrights, particularly in this fast paced industry?
DS: My creative process involves working under pressure (laughs). I work best under pressure. My work begins 2-3 weeks before the show and my inspiration comes from different sources.
I've not had any issues with copyrights so far. I've never experienced it. A lot of other designers face this; especially designers like Rohit Bal and Sabyasachi's sarees. Having said that, designers do re-create styles time and again but we all do maintain copyrights.
10 years since DSEFH, what are some of your learning in hindsight and if there are some handy tips you would like to share with budding designers? 
DS: My advice to budding designers is that technical aspect is one factor that I feel is crucial, especially more so, since I don't possess it and I do think that if I did, I would have saved time and resources from the experimenting phase.  However, in my defense, I started at a time when it was affordable. Now, things are tougher. My career at DSEFH, I owe it to Janessaline Pyngrope (Janesse), who has been the backbone of my brand. She makes a great team member!
What future partnerships and projects can we expect to see from you and your Brand?
DS: Recently, we've launched our online portal, and our signature line has been exhibited with 10 iconic looks. There are other expansion projects and we definitely plan on growing the line further.
Many young girls and boys aspire to walk for your label. What message would you like to convey to them?
DS: Modelling is again very competitive on its own. I want the young adults to know that the stereotype associated with a certain body type is not existent anymore. We've worked with plus size models too. It is all about the confidence and right attitude. It is so versatile based on one's individuality and persona.  
December and January are months of festivities including celebrations, and people in Shillong wear their best. What are some winter fashion tips to keep it chic?
DS: Don't wear an evening gown with an overcoat (giggles). On a serious note, I think everyone has their own style and they should be proud of it and not blindly follow trends. Wear what you enjoy and what suits you and build on it. 
Winters and Fashion go hand-in-hand. What are some of the best looks this year?
DS: Capes and hoodies are my all time favourites for all across genders and keeping it casual is in this season. My all time mantra is "Be yourself". 
Drawing immensely from his earthy way of life and creativity, DS makes a fashion statement by being himself and displaying his roots with pride. A (not such a) secret ingredient to stay en vogue!