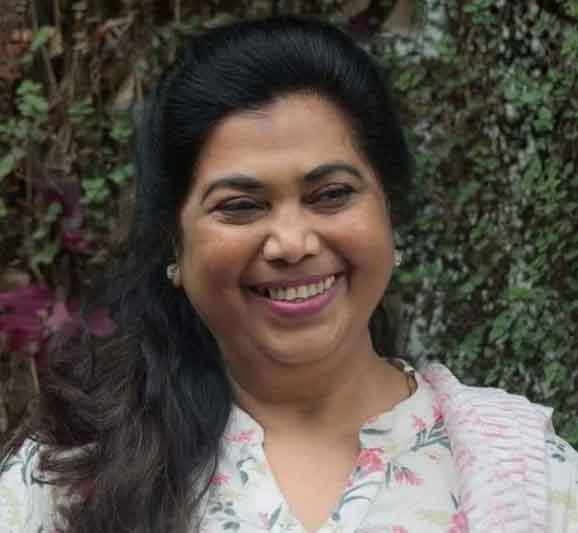 Dr. Ratan  Bhattacharjee 
 "No tears in the writer, no tears in the reader. No surprise in the writer, no surprise in the reader" wrote Robert Frost. This is the secret of Anuradha Sharma Pujari's popularity who won the long coming Akademi Award 2021 for her masterpiece 'Eyat  Ekhon Aranya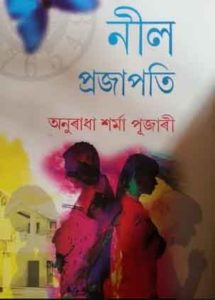 Asil' surpassing her outstanding work Mereng.
Her other masterpiece Mereng published  in  2010 is a story of a strong woman named Mereng or Indira Miri, that inspires its readers to turn to ancient Assam tracing the seeds of the Assamese Renaissance similar to Sunil Ganguly's 'Protham Alo' that dealt with Bengali Renaissance. However, Eyaat Ekhon Aranya Asil which is translated by Prof Bhaswati Parasar as The Forest Wails reflects an important issue related to the merciless destruction of nature, where one can draw an account of the nostalgic past of a bygone green era. In this book, Pujari blends diverse genres offering an innovative narrative structure to voice the apprehension of an apocalypse. As a student of sociology at the Dibrugarh University, Pujari has depicted nature in its pristine form from her campus days in the novel Nahoror Niribili Cha (Shadows of Nahor) in 2005, for which she received the Basanti Bordoloi Award. However, her efforts catapulted in Eyaat Ekhon Aranya Asil when she bagged the Sahitya Akademi Award.
Her shift to fiction began with her  popular column in 'Letters from Kolkata' in Asom Bani weekly, which earned her fame all over the Northeast with her novel Hriday Ek Bigyapan ( English trans The Heart's a Showbitz) inspired by the doyen of Assamese literature and journalism, Homen Borgohain who called it 'A Contemporary Classic' selling thirty-two editions in the next ten years. First published in 1997 in Assamese, the novel posed some pertinent questions on modern urban life that few Indian novels have been able to address, except for that of Sankar in Bengali literature. One remarkable experience that shaped her world vision as a writer was the invitation from American government as a writer cum journalist to visit the continent and consociate with some of the notable people of the media world, including the Editors of New York Times and Washington Times in New York, California and Florida, and partake in the workshops of  Columbia and Iowa Universities.
As a novelist, Pujari also drew attention to different social issues through her works such as Nil Prajapati (Blue Butterflies) 2013 dealing with  the complexities of love among married couples and crisis in the minds of youth in Son Harinor Chekur( Race of the golden deer)2012, Sahebpurar Borosun (Rains of Sahebpura), 2003  exposing an adventurous journey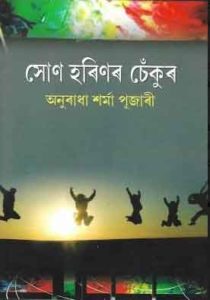 of social workers especially in a village named Sahebpura. Just like Emily Dickinson, reading was her way to leisure in the lonely hours of childhood after her father's sudden accident caused a long separation with her parents when her father was taken abroad for treatment leaving behind a huge library of books. Bringing out the emotive aspect from her life, Pujari also wrote Jalachabi published in 2014 tranalated into English twice, Ashes Still Whisper by Prof Bhaswati Parasar and by Dr. Santana Saikia as  In The Shadow of Light depicting the dark side of Alzheimer's that created an emotional distance between old parents and their children.
Her works are majorly centered around idealism in her novels which syncs with what Claude Mckay said : "Idealism is like a castle in the air if it is not based on a solid foundation of social  and political realism." Besides, Pujari through her works, also represents all facets of life, the prismatic hues and the multidimensional perspectives, very distinctly.
 As of today, she is known as one of the most eminent female editors in Assamese language, in Northeast India, whose golden pen has not stopped for the last three decades preserving the dignity of The Third Estate. Her fiction being the stunning saga of popularity, Pujari as a writer, has enjoyed the exhaustion of the twenty eighth edition of her book Kanchan and eighth edition of her Sahebpurar Boroxun. Interestingly, journalism grew on her and later became her passion after completing her diploma at the Birla Institute of Liberal Arts and Management Sciences, Kolkata. Later, decades of journalism also brought her the Asom Renaissance Award.
Ratan Bhattacharjee is a faculty member in the Department of English, Dum Dum Motijheel College, Kolkata, a Trilingual poet and columnist.