TURA, Jan 13: In a tragic incident, one of the police vehicles escorting Home Minister Lahkmen Rymbui collided head on with a bike leaving the rider dead and seriously injuring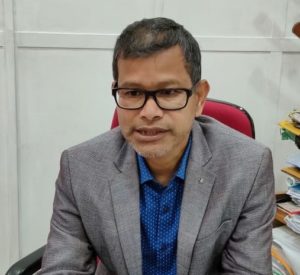 the pillion rider at Kera on the Songsak road in East Garo Hills on Thursday.
The home minister was on his way to Williamnagar to attend a high level meeting in Garo Hills relating to law and order.
It was informed that the accident took place at around 1:30 pm, while the home minister was en route to Willaimnagar and the deceased was heading in the opposite direction.
According to police, the home minister who was part of the convoy was scheduled for a review meeting with the Superintendent of Police when the police escort Gypsy belonging to the East Garo Hills district Executive Force (DEF) collided head on with the biker, leading to his death.
The deceased has been identified as Joakim Marak (45) of Dimit Rongtatgittim of Dobu of the same district, while the pillion rider, who sustained grievous injury, has been admitted to Williamnagar Civil Hospital.
Police inform that an inspection of the accident
site points to the fact that the bike was on the wrong side of the road as the collision appears to have taken place on the right side of the divider before the bike rolled over to the left.
Superintendent of Police Bruno A Sangma informed that immediate assistance is being provided to the family of the victim and further action would follow after the enquiry report. A case has also been registered, Sangma revealed.