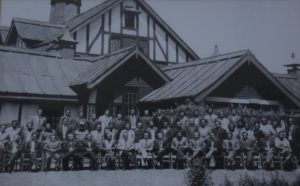 Shillong's colonial history evokes a sense of curiosity as the remnants of what once was, still remain visible today – one of them being the heritage structures that enwrap the city of Shillong.
In this episode of Shillong's Iconic Structures, we bring to our readers the old Meghalaya Legislative Assembly building located at Khyndai Lad.
The foundation stone of the main structure was laid by the second Governor of Assam, Sir William Sinclair Morris on September 28, 1921.
The heritage building is known to have housed the composite Assam Assembly since 1937.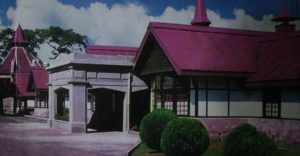 The old building was a marvel in itself. Wooden in structure, its designs and architecture were similar to other heritage buildings in the city. It housed approximately 26 to 27 rooms of different shapes and sizes like rooms for the ruling and opposition parties, the Speaker's and Deputy Speaker's chamber, chambers for the Chief Minister and Leader of Opposition, the Secretary's chamber, the Assembly reporters' room, and the officers' rooms — all connected to the two-storeyed session hall through a passage.
Like many heritage structures in the city, the Assembly too houses a big lawn with a lamp pole at the centre and is surrounded on all sides by the above-mentioned rooms. The lawn is one of the few parts of the building that was left untouched by the ravaging fire of 2001.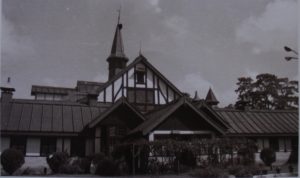 One of the priceless jewels of the old Assembly building was its library. This circular-shaped room with an inverted cone-like rooftop had a huge collection of books, including proceedings and debates of the House of Commons and House of Lords.
Over the years, many changes and renovations were made to the building. From its seating arrangements to the sound system – all of these were unfortunately destroyed in the fire of 2001.
On the evening of January 9, 2001, the fire reportedly broke out in Room No. 13 which was occupied by the personal secretary to the Speaker. The fire reduced this iconic building to ashes within a few hours, concurrently turning the Shillong sky into crimson red.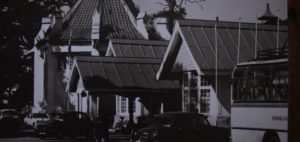 The first House of 60 members assembled for the first time on March 25, 1972, at the old Council Hall, an Assam-type structure located next to the Presbyterian Church that currently houses the Assembly Library.
This old Assam-type structure served as the old Council Hall built originally for 36 councillors. It was built sometime back in 1935.
At present, the old structure constitutes the Assembly Secretariat while the House proceedings are convened at the Arts and Culture Auditorium within the premises of Brookside Bungalow in Rilbong. To know more about the history of this heritage structure, watch the full episode on our Youtube Channel @TheShillongTimes as we take you on a trip down memory lane.