SHILLONG, June 18: Seeing how BJP state president Ernest Mawrie now has stakes in West Shillong Constituency considering his plans to contest for the seat in the assembly polls next year, the party chief has come out with strong objection to any move to relocate residents of Harijan Colony to Mawbah, which falls under West Shillong.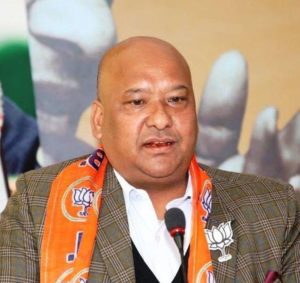 The government had earlier proposed to relocate Harijans to a plot of land around Reid Chest (TB) Hospital in Mawbah; but the proposal subsequently met with resistance and objection from the stakeholders' end.
The BJP president told media persons here that the party will not agree to any idea of shifting the residents to TB Hospital, Mawbah, where the medical college is suppose to come up.
"The land is for medical college. We need to have the medical college there as till date, we don't have even one," Mawrie said, while adding that if the government needs help, the party would approach the Union Health Minister for necessary funding and sanction.
"The government should stick to this place for the construction of the new medical college," he emphasised.
According to him, a medical college would significantly help aspirants who have to travel to foreign countries like Ukraine to pursue their studies.  "The proposed medical institute will also help in employment generation," he said.
Earlier, sitting MLA of West Shillong Mohendro Rapsang had communicated with Deputy Chief Minister Prestone Tynsong registering opposition to the idea of relocating Harijan Colony residents to RP Chest (TB) Hospital area in Mawbah.
The state government has so far identified only one plot behind the TB Hospital for relocation. The Urban Affairs department is on the job of identifying more lands for the purpose.
As far as the Harijan Panchayat Committee (HPC) is concerned, it is awaiting the government blueprint on the proposed relocation before contemplating its next move.
The HPC agreed to the relocation from Them Iew Mawlong provided the government gives 200 square metres of land for each family in the European Ward and also bears the full cost of the construction of their houses.