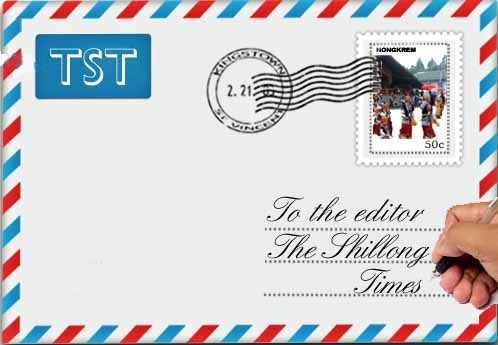 Editor,
Controversies seem to follow MeECL everywhere. Of late, sources have brought to light that the work for billing of 6 lakh consumers at the exorbitant rate of Rs 6 per consumer per month had been recently awarded to an Agra Based company M/s. Inventive Software Solutions Pvt Ltd also called as UGO billing. What is interesting is that the above said work has been awarded without following any tendering process and without taking any cost estimation from reputed firms which is highly irregular and illegal.
It is alleged that this was done on the instructions of none other than the Principal Secretary, Power, Govt. of Meghalaya and the work order was hurriedly issued by the Director (Distribution) and not by the Chief Engineer as is the general practice. It is also alleged that the same firm had supposedly earlier agreed to work on a free of cost basis in order to establish its credentials in the Smart Meter billing field in MeECL. It is estimated that this firm has already been paid against the submitted bills of around 1.5 Cr which MePDCL will have to bear from it's own pocket.
It is also interesting to note that the meter readers of MePDCL who are drawing their salaries from the MePDCL are at the service of M/s Inventive to help UGO billing team with providing meter readings. This means that for all practical purposes, UGO is being paid this hefty amount just for generation of bills. With the MeECL already facing a huge financial crisis and just about surviving with the constant financial support of the Government of Meghalaya to the tune of over Rs 2000 crore which has come to the rescue of MeECL in the last eight months, it appears that MeECL has made it it's modus operandi to spend lavishly since the State Government is always ready to bail them out. It is also interesting to note that the MeECL already had its own billing system ELVIS and dBASE, which could have easily been upgraded with just a fraction of the amount spent on UGO billing.
Yours etc.,
Banshanlang Lyngdoh
Shillong – 1
Save our rivers
Editor,
Through the columns of your esteemed daily, I wish to draw the attention of the general public towards the pathetic condition of the rivers in our State of Meghalaya. In India, the rivers are considered holy and are worshipped. However, bathing in the rivers, dumping industrial waste, sewage from our houses, etc. has made our rivers really sick especially the Umshyrpi and Wah Umkhrah Rivers. The rivers, which act as the life-line of our state as well as nation, have become poisonous beyond imagination especially in some localities like Polo, Rilbong, Laban, and 4th Furlong etc. This water reaches us in one form or the other. We use the same water in our day to day lives. It may or may not always be purified 100%. The chances of toxins and disease-causing germs entering our body are huge. In addition to poisoning our health, contaminated river water is a threat to plants and animals as well. Therefore, there is a desperate need to save our rivers.
The demand of the hour is efficient sewage disposal system. If there are proper places to dump garbage/ sewage, it won't be thrown in the river. Secondly, more cleaning projects should be launched and more and more people, including youth, NGOs and Government should participate in cleaning the rivers.
Finally, spreading awareness is extremely important, especially in villages, towns and cities established near the rivers. Until and unless the inhabitants are made to understand the causes and effect of polluting the rivers, they will not take proper precautions. Every individual has to change his or her habit of disposing waste. One has to take the responsibility and the initiative to save the rivers from getting sick and eventually dying.
I hope, I was able to put my point across and that the readers will take appropriate action to save our rivers.
Yours etc.,
Prasenjit Dey,
Via email
Environmental catastrophe
Editor,
It was an interesting column written by Fr. Barnes Mawrie SDB on the Shillong-Dawki national highway that was once and till date the lifeline for villages lying towards Riwar Mihngi area of Pynursla. The writer has also put his points across related to the construction of the most crucial highway that also connects people of neighbouring villages with Bangladesh. The people-to-people relationships through trade and commerce have been there since time immemorial. However, what is very important is to note the wanton destruction caused by the firms who were contracted with this project in four to five phases at an astounding amount of about Rs 1,251 crores taken as a loan with central assistance. The road today is not worth talking about notwithstanding the fact that the MLA of the area also holds the post of Deputy CM. The opposition AITC of Pynursla had raised this matter in some vernacular papers and have been critical in the way the entire land acquisition was done and the construction being undertaken. It is ironic that the CM says he wants communities to engage with the government but in this case the entire project was undertaken without consultation with the various traditional heads which is why it is a failed project. Hope the Central government listens and demands answers from the authorities of the state.
Yours etc.,
Khraw Syngkrem
Pynursla
Pedestrians have a right to footpaths
Editor,
I can't agree more with B.Dutta's letter, titled "Stop turning parking spaces into shops" (ST 8, July 2022). Despite there being a dearth of parking space as pointed out by the writer, a number of shops have appeared at designated parking lots, thereby eating into the parking spaces for vehicles. Encroachments by hawkers who spread their wares on pavements and just about any free space they get is a common sight in Shillong. Every nook and corner, a sidewalk like the one at the entry gate of Civil Hospital has barred pedestrians from using the sidewalk as vendors have set up their food stalls there; at times just on the road, rubbing shoulders with vehicles as is being witnessed in Motphran. These pose a lot of inconvenience to drivers and even passers-by.
It has become a trend, as nowadays one does not need to rent a shop/stall because a gunny bag spread on the pavement, a thermocol box placed on a chosen spot or even a van loaded with delicacies can station themselves wherever they choose to. I have nothing against any of the hawkers and vendors but I certainly am against those who ignore and trample upon the convenience of others to suit their purpose. I have my rights on the pavement for which now I am being denied because my fellow brethren are busy running their businesses. Shillong is witnessing encroachments on the roads, pavements and parking places as well. Shouldn't the government pay heed?
Yours etc.,
Jenniefer Dkhar,
Via email