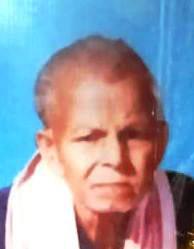 By Dr. Dipendra Kumar Mazumder
The tagline for the 75th Independence Day of our motherland, celebrated as Azadi Ka Amrit Mahotsav, is Har Ghar Tiranga, but it is a surprising coincidence that the first Independence Day of our motherland was celebrated with  Har Ghar Diya; albeit spontaneously, without any official appeal for it, in a village in Assam. What is more amazing, is that the sacred flame, from that date, had been preserved for 57 years by one citizen of India, till his death.
What he did is a testimony of the exceptional love of a common peasant, for the Independence  of  his motherland.  His tender mind's resolution of doing something, which eventually became a mission of his life. A second instance of what he did is probably not to be found anywhere else in India.
It is also an interesting memoir of  the  impact of the Indian Freedom Movement, on a youth, who because of  his humble economic and educational background, could not have contributed in any other way, to celebrate the freedom of his motherland, but was nonetheless as jubilant as any other citizen of India.
On 15th August 1947, Podoram  Mohonto of  Dipila village near Mongoldoi of  Darrang district of Assam, was then of 25 years. The people in his village lit earthen lamps or Diyas in the evening, that day, in celebration. He too was enthusiastic about lighting the  Diyas  in his courtyard.
He had enough reasons to be thrilled with the Independence that his motherland had just gained. Though he could not complete his matriculation, he knew the history of his locality well. His village was close to an area where a historical event popularly known as Pothorughator Ron (Battle of  Pothorughat) which took place in 1894.
After the annexation of Assam in 1826, by the British, via the Treaty of Yandabo, surveys of vast areas of the state began. On the basis of such surveys, the Britishers began to impose revised land taxes, which were unbearable for its farmers. 
Across Assam, its peasants began protesting this move, by organising Raij-Mels, or peaceful congregations of the public. Whenever and wherever there was a Raij-Mel, the British administration would come down heavily on it, perceiving it as a breeding ground for sedition. On 28th January, 1894, when the British officers refused to give a patient hearing to the farmer's grievances, tempers flared up with a police baton-charge followed by an indiscriminate firing, that killed 15 peasants and wounded 37 more, at a  Raij-Mel in Pothorughat, according to official British records as mentioned in the Darrang District Gazette, 1905. However, the unofficial records claim more than 100 peasants were killed. That was twenty five years before the Jallianwala Bagh massacre of 1919.
The sole bread earner of  his family, his father, was a farmer and their family income was very meagre but pestered his father to allow him to preserve the flame from one of the Diyas that he had lit in the evening of 15th August 1947, in a kerosene lamp which they used, to light up their home at night. His father was reluctant initially, but succumbed to his son's earnest plea, eventually. The young man kept that flame alive for a few weeks but then it became impossible because his father could no longer afford to bear the cost of kerosene that was required to keep that flame alive, 24×7. Young and feisty Mohonto was adamant to keep this tradition ongoing and found a way out. The haystack from their fields after the grains of rice had been thrashed out of them, providing him with an alternative. He started weaving those into plaits (Jumuthi) and he shifted the flame from the kerosene lamp to it. Now, he could keep that flame alive in a more economical manner.
He required a safe place to keep it, so he constructed a small cubicle attached to his thatched house and kept the  smouldering jumuthi there, safe from any external interference. He figured how much of the plait was consumed by the flame and thus knew what length of the plait he would have to provide for, if he was not there to tend to it, for a day or two. 
It had by now,  become  the  purpose of his life, to keep it alive at any cost. During the monsoons when gusty winds and accompanying torrential rains posed a threat to the flame, he would bring it inside and keep it beside his bed.
He eventually got married and had children, but the sacred flame remained his most priced belonging and he cared for it likewise. His children too, tried to dissuade him from keeping the flame alive any longer, but he was determined to do so and he kept his promise, until his last breath.
His wish was that his funeral pyre should be lit with that flame which was so dear to him and so it was. Mohonto was born on 10th August, 1922 and breathed his last on 20th December, 2004.
The author is a faculty member at the National Academy of Broadcasting and Multimedia, New Delhi