From the headquarters of the Assam province during British rule to the capital of undivided Assam post-Independence, Shillong has witnessed unprecedented changes for over a century until the formation of Meghalaya in 1972.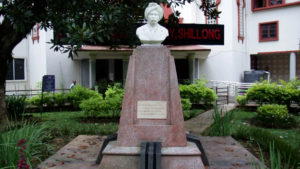 Shillong's journey as the capital of Meghalaya was a result of decades of administrative reforms, before and after Independence. As the state celebrates its 50th anniversary this year, let us take a look at how state-owned buildings evolved with the handover from one government to another.
In this episode of Shillong's Iconic Structures, we are featuring one of Meghalaya's famous structures –the State Central Library-cum-U Soso Tham Auditorium, which was established in 1954. It is located in the centre of the city, opposite All Saints Church.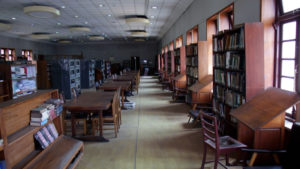 Spread across 16,123.41 square metres of land, the State Central Library premises includes many important buildings like the library-cum-auditorium, the Directorate of Arts and Culture, the office of the Khasi Authors' Society, the Captain Williamson Sangma State Museum and its annexe, which is currently under construction.
The artistic mural at the main gate is explanatory in nature as it exemplifies Meghalaya's richness in the form of its very many living root bridges, caves, monoliths, pitcher plants, waterfalls, the clouded leopard and indigenous tribes.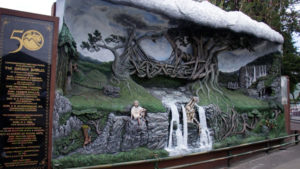 The library premises also houses the life-size statues of former Prime Minister Indira Gandhi unveiled by former PM Rajiv Gandhi in 1985 and freedom fighter Subhas Chandra Bose, installed in 1998, besides the memorials of Meghalaya's freedom fighters — U Tirot Sing, Pa Togan Sangma and U Kiang Nangbah.
Being a centre of art and culture, the premises also accommodates three large monoliths with a rooster on top – symbolising the cultural heritage of the Khasi and Jaintia tribes of the state. Next to the monoliths stands an old Army tank, used during the 1971 Indo-Pak War and is now a showpiece at the State Central Library.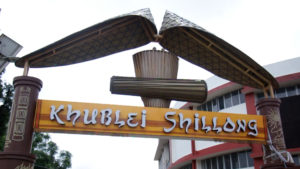 Apart from its historical significance, the serenity of the compound attracts visitors from near and far. Surrounded by tall and age-old trees, the place wears a park-like look with well-tended lawns with shrubs and trees with a variety of flowers, offering a congenial atmosphere for study and relaxation.
(Watch the full version of the story only on our YouTube channel @TheShillongTimes.)