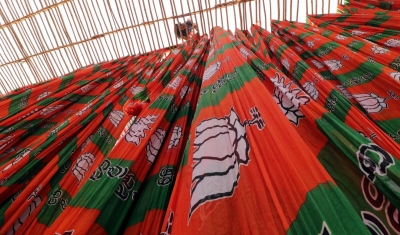 SHILLONG, Aug 17: Miffed with the internal rumblings, the BJP's Meghalaya in charge M Chuba Ao has called for the immediate resolution of the ongoing feud within the party.
Party legislators Sanbor Shullai and Alexander Laloo Hek have agreed to cooperate.
Speaking to The Shillong Times on Wednesday, Ao said he has always tried to work for the betterment and growth of the BJP in the state.
"Despite receiving innumerable complaints from the grassroots to the top level about the state president, I have always tried to keep the party united," he said, insisting he has no interest in replacing State BJP president Ernest Mawrie with someone else.
He said no political organisation can escape groupism, differences of opinions and misunderstandings but these cannot go on forever.
"I have laid down some dos and don'ts for the party workers such as keeping things in-house and not going to the media all the time. Every decision should be in consultation with me or the two MLAs but this has been lacking," Ao said.
He alluded to some contradictory statements issued by Mawrie.
"One day he announced 10-15 MLAs are in contact with the party. A few days later he said a sitting MLA might not get the party ticket. Such contradictory statements can demoralise the party workers, aspiring candidates and even the MLAs," he said.
Ao denied some statements on the issue attributed to him in the media.
Shullai and Hek had met him after reports based on his purported statements were published.
"We came to an understanding that the things going on right now should be settled immediately and both said they will fully cooperate with the state president," he said.
On Mawrie's plans to contest the 2023 polls, Ao said he would like him to become an MLA from the West Shillong constituency.
"It is totally on his hands whether he can give full time to his constituency or he will help other BJP candidates win the election. The West Shillong constituency is a general seat and thus not easy," he said.
Ao said he has been advising Mawrie as a mentor but he often does this his way without any consultation, for which he has been warned several times.
Tenure depends on party leadership: Mawrie
On the other hand, Mawrie said that his term as the State BJP president will end in 2023 and the higher authorities in the party would decide whether he should retire or continue.
"If the central leadership finds I am not suitable, it will ask me to leave gracefully. My fate does not depend on somebody's statement," Mawrie said on Wednesday.
Ao had asked Mawrie to "gracefully retire" for causing "substantial damage" to the party in Meghalaya.
"I always give statements that we are united and there are no differences, but I cannot deny others their right to express themselves. It is their statement and not the party's," Mawrie said, adding that the party high command would take a call on why Ao made the statement.
Asked if the BJP central leadership contacted him, he said, "They called me yesterday after I sent the report on the statement in the papers. It is an internal matter and they will settle it."
Mawrie asserted no one has sought his removal as state party chief after Ao's statement.
He requested his party colleagues to come for discussions if they have any grievances or issues.
"The door is open for discussions with me. If people see anything wrong, they should discuss it before going to the media," he said.
Shullai, a minister and BJP's South Shillong MLA had said Mawrie should be allowed to complete his term. A change of guard at this point in time would be suicidal for the party, he had said in a statement on Tuesday.