PA Sangma Int'l Medical College & Hospital-na pangchakaniko songa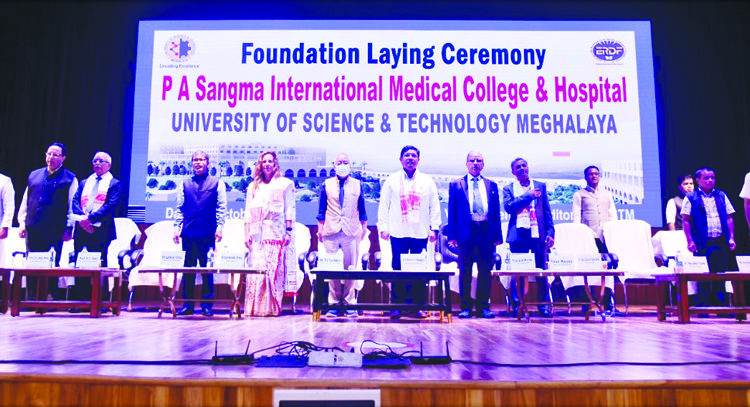 SHILLONG: University of Science & Technology Meghalaya (USTM)-o 'PA Sangma International Medical College & Hospital'-ko rikna Sombar salo, pangchakaniko Meghalaya a·dokni Chief Minister Conrad K Sangma-ni jakchi songe on·angaha aro ia pangchakaniko songe on·anio USA a·songni Global Leader Rhonda Vetere, Meghalaya a·dokni gitcham Governor RS Mooshahary, Education Minister Lahkmen Rymbui, AIIMS-ni gitcham Director Dr RC Deka, Srimanta Sankaradeva University of Health Sciences-ni Vice Chancellor Dr Dhrubajyoti Borah, AMU-ni gitcham VC Lt Gen Zameer Uddin Shah, USA-ni Prof of Medicine Dr Abdul Wase, USA a·songo donggipa EO-ni Managing Partner Faisal Masood, Jirang MLA Sosthenes Sohtun aro dingtang dingtang dilgiparangba dongpae bak ra·angtokaha.
Ia PA Sangma International Medical College aro Hospital-ko rikani bidingo USTM-ni Chancellor Dr Mahbubul Hoque, kobor ra·timgiparangna talataniko on·angengon, ian ge 200 palang donggipa super speciality hospital ong·gen aro ia hospital-o pilak dakgipa sanna banani cholrang donggen ine parakataha.
Ia hospital-o kangal cholgrirangna maming tangka paisa gri indin sanna bananirangko on·gen aro Meghalaya a·dokni manderangna indin dangdike on·gen ineba Dr Hoque parakataha.