Woman stakes claim to vacant land in Shillong
After DC's letter, woman petitions court stating she inherited vacant land at Fire Brigade crossing from her grandfather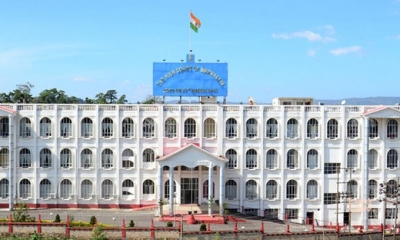 SHILLONG, March 14: A woman has filed a writ appeal in the High Court of Meghalaya claiming that she inherited the almost triangular plot of vacant land at what is known as the Fire Brigade crossing in Lummawrie, Laitumkhrah, from her grandfather.
The appellant protested the issuance of a letter by the Deputy Commissioner that required her claim to be adjudicated by the Dorbar Shnong and its headman. They are contesting her claim.
It was submitted on behalf of the Dorbar Shnong and its headman that in 1935, the relevant plot of land was donated by U Mon Lyngdoh to the Shillong Municipality on the condition that if it were converted into a park, it would bear the name "Rev U Mon Lyngdoh Park" and that the heirs of Lyngdoh would have the right to erect a monument in his memory in a corner of the land.
"However, the land is not suitably identified in the letters exchanged between Lyngdoh and the Municipality in 1935 and it is submitted by the appellant that the land that is referred to as 'the piece of vacant land opposite to Swiss Cottage' in Lyngdoh's letter of March 11, 1935 is a completely different parcel of land where a park now exists," a division bench of Chief Justice Sanjib Banerjee and Justice W Diengdoh said in an order.
The respondents claimed that the land donated by Lyngdoh to the Municipality is the exact almost triangular plot of land in the heart of the relevant crossing which the Dorbar Shnong has been in possession of for more than 80 years.
The court said the disputes as to the title to land cannot be conveniently addressed or adjudicated in summary proceedings under Article 226 of the Constitution of India which are, generally, decided on affidavit evidence.
"The parties will have to be relegated to an appropriate forum where the title may be decided in accordance with law. However, during the interregnum, the use of the land will have to be monitored and, for such purpose, the respondent Nos. 4 and 5 (Dorbar Shnong and its headman) are requested to produce any material that may better demonstrate that the land donated by Lyngdoh in 1935 is the same land that the appellant now seeks to lay a claim to," the court said.
For such purpose, the court said relevant revenue records or municipality maps of the area may be produced. It will also be open to the appellant to rely on whatever records that the appellant may be able to bring, the court further said.