By  Esha Chaudhuri
"How many people have you told I'm fine 
When really you were broken a million pieces?" 
Writes Lyzander Sohkhlet in his recently launched book Teen Bugs that encapsulates the notion of teenage dysphoria. Shaped by experiential episodes from his life, Sohkhlet, all of 17, converses with people over a cup of traditional tea and Marie biscuits to unearth answers to the questions of life. Sunday Shillong explores the length and breadth of the very idea that Sohkhlet delves deeply through his book.
The book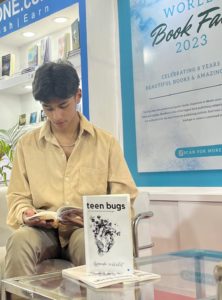 Written for emotionally distraught teenagers, Sohkhlet embarks on a journey gathering wisdom from strangers on park benches, to women in old aged homes, to seek answers from whom he calls 'libraries of knowledge'. The book is a compilation of such responses and advice largely translated from Khasi to English. Navigating through the themes of Love, Heartbreak and Hope, Sohkhlet embarks on a journey to find answers for his friends and people his age, who have somehow somewhere lost their way in life. The three themes are integral yet umbrella concepts that affect a teenager, like bullets.
Sharing the objective of the book, Sohkhlet elucidates, "Well, as a teenager myself, I often found myself grappling with the challenges of growing up and navigating the complexities of life. And I realised that there were so many people out there who had already been through it all – the ups and downs, the trials and triumphs – and had come out the other side with a wealth of wisdom and insights to share. So, I decided to set out on a journey to meet and interact with complete strangers from all walks of life – from elderly people in old aged homes to strangers on park benches – and ask them to reflect on their own teenage years and the lessons they learned along the way. It was an incredible experience, and I was blown away by the depth and breadth of the advice and stories I heard. As I wrote down their responses, I found that they had a certain poetic quality to them – a kind of raw, unvarnished truth that seemed to lend itself to verse. So, I decided to compile their advice and stories into a book of poetry – Teen Bugs.
Shedding light on the philosophy behind the title of the book, he explains, "The two words, Teen and Bugs, draws a connection between the struggles and challenges that teenagers face and the transformation that occurs in the life cycle of a bug. Both bugs and teenagers are going through a difficult and often misunderstood phase of growth and change. Both are going through a transformational phase of growth and just as a caterpillar transforms into a butterfly, teenagers are in the process of transition."
In the chapter of Love, he captures the essence of the need for acceptance, being wanted, being seen and being chosen. Lyzander redirects the conversation from a lens of practicality but with sensitivity.
As we progress to the chapter on Heartbreak, Lyzander dwells on the enormity of the emotion of pain. This directly conjugates with issues of mental health as talking oneself out of a dark place can be challenging, especially so without a pool of experience and know-how of managing emotions. Touching upon emotionally sensitive issues of being understood, to learning the art of patience in relationships to self love, Sohkhlet also accentuates the concept of expectations. The following lines grasps its ethos: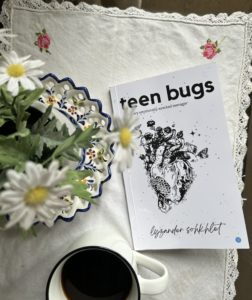 "being understood is a love language 
and you were the only one who understood me
is that why I search for you in everyone else?"
In the final chapter of Hope, Lyzander reinvigorates and reinstalls our faith in love, albeit scarred but conveys such messages through forgiveness, survival and an infinite pool of lessons. 
"you can't choose a happy ending
you can create it"
Ideas of resilience, inner strength, acceptance and detachment are expressed through an allegory of the museum of art where Sohkhlet analyses that some will come to pass time, some out of genuine curiosity but eventually all leave, which is alright; because
 "eventually, caterpillars fly too
you are not who you are yet"  
On the question of how Teen Bugs emerges as a contemporary yet relatable account of emotional storms, Sohkhlet explains, "Teen Bugs' unique approach to language and grammar sets it apart from other poetry books. When the book was first published, no effort was made to correct any grammatical errors or typos. I made a deliberate choice to leave the book as it was, with all its imperfections and flaws. The reason for this was to convey the message that not everybody is perfect, and that as teenagers, it's okay to make mistakes and learn from them. I believe this is the USP of the book"
For All – young and old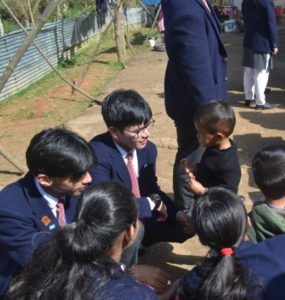 What is interesting throughout the book is that while it is target oriented (teenagers) there's a message for all, irrespective of their age. The central themes are those that we, as people, navigate throughout our lives, some perfecting the art of 'managing' them, some merely scraping through, while others seek help for the same.
Finding it a 'good fit' for all, Sohkhlet says, "As a Gen Z, I believe that Teen Bugs can be an insightful and valuable read for anyone, not just fellow Gen Zs. The book provides a platform for the voices and experiences of people from different walks of life, which can offer readers a unique perspective on their own struggles and challenges. The advice and wisdom shared by the strangers that I interviewed in the book can be helpful for anyone who is struggling with the ups and downs of life. It's important to realise that we are not alone in our struggles and that others have faced similar challenges and come out on the other side."
As the book's format of presenting the stories is in poetry form, it adds a level of accessibility and creativity that may appeal to a younger audience, trusts Sohkhlet. "I honestly believe that Teen Bugs has the potential to be a source of inspiration and guidance for anyone looking to better understand themselves and the world around them," he asserts.
Among the many encounters, Sohkhlet expands on what he enlists as one of the most interesting encounters that he had during his research for the book. "It was when I visited an old age home, when I was nervous and approached an elderly lady, Mary, who was sitting in a wheelchair and asked if she would be willing to spare some time to talk with me. She looked up at me and smiled, saying she would be happy to chat. She ordered a pot of hot tea and Marie biscuits; and shared revelations about life that changed my perspective towards life."
Knowing Lyzander 
This inner calling for expression and discovering this fire within was another personal journey of growth and learning for Sohkhlet. At the age of 13, he began writing publicly as he was enraged over speculations of a dam that was to be constructed on the Umngot River.  "As a child, I often found myself lost in my own mind, unable to articulate my innermost feelings to others and as I grew older this feeling of isolation intensified, which changed the day I decided to pen down my thoughts. As I poured out my thoughts and emotions, I felt a sense of release and freedom that I had never experienced before. Now, writing is not just a form of expression for me but a way of life"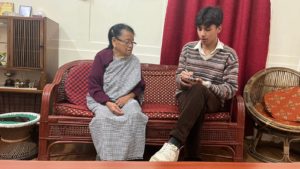 An avid writer and columnist, Sohkhlet advances his views on numerous current events that he feels strongly for. As a young visionary of palpable change, he says, "An issue that frightens me the most, especially in our state, is the general lack of political awareness. It is alarming that many people are not actively engaged in politics or are not interested in understanding how our political system works. I believe that this lack of awareness can have serious consequences as it makes it easier for those in power to manipulate and exploit the system for their own benefit."
Beaming with purposeful ideas and willpower, apart from his educational pursuits, a futuristic Sohkhlet is presently chalking out a plan for his startup in the beverage industry. Sohkhlet ends on the note that he's indebted to his support system inclusive of his family, friends, and his school and its principal, Rajeevan P. He hopes that the readers of his book will not view it as a collection of advice but also a window into the lives of others. "Through the stories and experiences shared by the strangers I met, one can gain valuable insights and perspectives on various aspects of life, including love, heartbreak, hope, and self-discovery," says Sohkhlet.
About the Author: 
Born and raised in Shillong, Lyzander, a past pupil of St Edmunds School, Shillong and a student of Army Public School, Shillong, started his writing career at age 13. In 2021, his articles were featured in The Telegraph. Lyzander was later interviewed by BuzzFeed, where he talked about his life, being one of India's youngest writers.
A lucid read, Teen Bugs captures the essence of embracing imperfection as opposed to the glorification of a celluloid idea of perfection which in Sohkhlet's opinion is impossible to achieve.