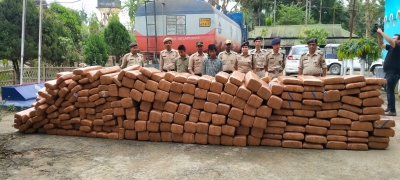 Agartala, March 30:
 The Tripura Police on Thursday seized 3,660 kg ganja valued at Rs 7.3 crore and arrested two persons in this connection, an official said.
A police spokesperson said that a police team led by Sub-Divisional Police Officer Kamal Debbarma intercepted an Assam-bound ten-wheeler oil tanker at a check gate at Pecharthal in Unakoti district, and recovered 3,660 kg ganja.
The police have arrested the driver of the vehicle, Priyalal Debbarma, 27, and his assistant Paresh Debbarma, 42.
A case has been registered under the Narcotics Drugs and Psychotropic Substances (NDPS) Act 1985.
The fresh seizure was made two days after Border Security Force (BSF) troopers seized 1,385 kg of marijuana valued at Rs 2.8 crore in western Tripura and arrested three drug peddlers in Sidhai.