Punjab police widen search for Amritpal Singh as fugitive leader suspected to be hiding at a religious site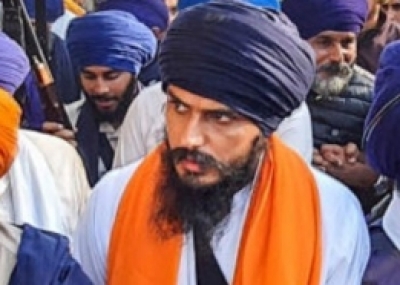 Shillong, April 2: Punjab police have detained a person associated with fugitive pro-Khalistan radical Amritpal Singh who has been missing for over two weeks now.
The suspect was detained on suspicion of giving Amritpal a mobile so he could make videos that were released recently.
According to sources, the IP addresses used to disseminate the video and audio have been linked to a number of other nations, including the UK, Canada, the US, and Dubai.
Amritpal Singh disputed rumours that he was negotiating his surrender on by releasing an audio clip in which he also urged the Akal Takht, the highest Sikh body, to call a 'Sarbat Khalsa' congregation once more. Amritpal Singh requested that the chief priest of the Akal Takht to address matters pertaining to saving Punjab on Baisakhi April 13.
On March 29 and 30, Amritpal Singh posted two videos requesting the Akal Takht leader to hold a Sarbat Khalsa.
These video clips were recorded at a religious site and forwarded to Amritpal's international handlers, who then disseminated them on social media. The mobile phone that was taken from the arrested person may have been used to make these clips. In order to apprehend those who shared Amritpal's footage on social media, the Cyber Cell of the Punjab Police has requested assistance from central agencies.
In the meantime, the Punjab Police widened their search for Amritpal Singh to include 'deras' and other potential hiding places in the Hoshiarpur district, where some suspects had abandoned their car after being chased.
When it was discovered that Amritpal and his associates had stayed at three different 'deras' over the course of last week, the Punjab Police conducted raids at a number of these religious sites scattered over three districts, including Jalandhar, Hoshiarpur, and Amritsar.