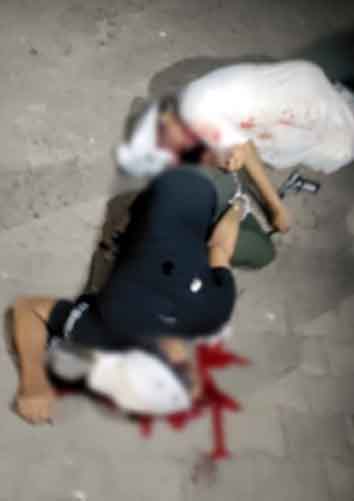 Shillong, April 17: Atiq Ahmed, a hardcore gangster with alleged links with Pakistan ISI and his brother Ashraf were killed on Saturday evening. They were buried on Sunday evening in Prayagraj, Uttar Pradesh. The post-mortem was completed before the remains were given to the family.
The three persons, who are accused of killing the Ahmed brothers in a daring shootout, were taken into prison by the police on Saturday and were sent on a 14-day judicial remand.
For a number of crimes, including the murder of Umesh Pal, a witness in the 2005 BSP MLA Raju Pal murder case, Atiq and Ashraf were being held by the Uttar Pradesh police. Atiq was also accused in murder of Raju Pal.
The killing of duo sparked unrest throughout the state, and in order to maintain control, the administration enacted Section 144 and shut down the internet.
After a post-mortem, Atiq Ahmed's body was buried alongside his brother Ashraf in the Kasari Masari cemetery in Prayagraj's old city. The last rites were performed by his sons.
Asad, Atiq's son, was also buried in this cemetery on Saturday. On Thursday, Asad died during a police encounter.
The postmortem report showed that a total of 13 gunshots struck Atiq and Ashraf.
Atiq Ahmed took eight bullet wounds. According to the autopsy report, bullets were discovered in his head, neck, chest, and waist, in that order.
According to the autopsy report, Ashraf was shot in the neck, back, wrist, stomach, and waist. Three bullets were found in his body, and two more tore through him.
On Sunday, a district judge ordered the three attackers to be held in judicial remand for 14 days. Atiq and his brother were being transported for a medical examination last night when they were killed by the shooters, who have been identified as Arun Maurya, Sunny Singh, and Lavlesh Tiwari.
According to the UP Police, the attackers pretended to be journalists and were armed with microphones, cameras, and media credentials. According to the FIR, one of the gunmen grabbed up his weapon and fired at Atiq Ahmed and Ashraf as soon as they began speaking to the media while dropping his microphone and camera.
Both victims were killed by the assailants using Zigana pistols, a semi-automatic handgun made in Turkey. In the presence of a police squad, the shooters fired over a dozen shots in just 22 seconds.
Since Turkish handguns are prohibited in India, there have been rumours that they have been smuggled or illegally imported.
These handguns cost between Rs 6 and 7 lakh. It is a semi-automatic pistol made by the TiSAS firearms company in Turkey. When a shot is fired, a semi-automatic pistol automatically empties the chamber and loads new rounds into the chamber.