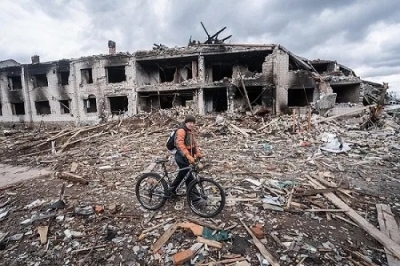 Shillong, April 21: According to a report by the state-run Tass news agency, quoting the defence ministry, a Russian warplane inadvertently discharged a weapon into the city of Belgorod near Ukraine on Thursday, resulting in an explosion and destroying structures.
Vyacheslav Gladkov, the regional governor of Belgorod, reported that the explosion that followed left a 20-meter-wide crater on one of the city's main streets. Additionally, he declared a state of emergency.
A Sukhoi Su-34 air force aircraft "accidentally discharged" aviation ammunition while flying over Belgorod, a city located just across the Ukrainian border, according to the Russian defence ministry. The explosion injured two women, according to Vyacheslav Gladkov.
The weapon was not identified by the defence ministry. Russia reportedly stated that an investigation has been opened and that the blast caused some structure damage, according to Tass.
Images from the explosion site revealed a number of wrecked cars and a structure with smashed windows.
Since the commencement of the current war with Ukraine in February 2022, explosions have rocked targets like fuel and munitions warehouses in the Belgorod region and other southern Russian regions.