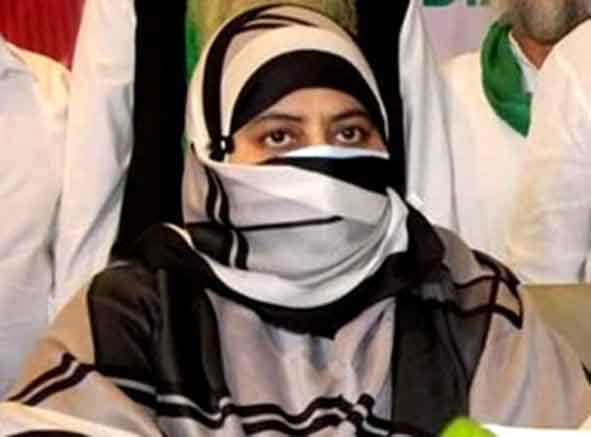 Lucknow, April 30 :In the past two months, she has emerged as an enigma of sorts.
After the killing of her husband Atiq Ahmad, brother-in-law Ashraf and son Asad within a span of two days, she has become a subject of infotainment in the media and 'stories' about her are tumbling out with alacrity and alarming regularity.
Shaista Parveen, 51, is a woman of many faces.
Many know her as a devoted homemaker and mother while others claim she is an astute businesswoman who has been handling her husband Atiq Ahmad's finances ever since he was jailed in 2017.
The police claims that she is a mafia don in her own right and adept at running her husband's gang. She is perfectly clued in about the loyalty quotient of the gang members and guards her sons against such elements.
Her relatives insist that she is deeply religious and remains behind a veil. They say that she is in 'iddat' – a period of mourning after her husband.
"She is fiercely concerned about the welfare of her surviving four sons and will probably surrender when she is sure of the safety of their lives," said a relative on condition of anonymity.
Shaista's two sons, Umar and Ali, are in jail while her minor sons Ahzan and Aaban are in police custody in a juvenile home.
Shaista did not attend the funeral of her husband, son and brother-in-law and the police checked all burqa-clad women during the burials.
Police in plain clothes have also been deployed at the Kasari Masari graveyard, where Ahmed, Asad, and Ashraf are buried. Police officials suspect that Shaista Parveen and Zainab, (Ashraf's wife) may try to visit the graves of their husbands.
Police teams have been frantically searching for Shaista who is now an accused in the Umesh Pal murder. Raids are being carried out across states and the rumour mill is working overtime with stories about her presence, rather absence.
A senior STF official said, "The fact that she has been able to evade dozens of police teams searching for her, shows that she should not be underestimated."
Born in Damupur village in Allahabad West constituency, Shaista Parveen is the eldest of four sisters and two brothers. She completed her schooling at Kidwai Girls Memorial Inter College in Prayagraj and went to college. Her father Harun Ahmad is a retired police constable, her two brothers are posted as madrasa principals.
In 1996, Shaista was married to Atiq Ahmed. The couple have five sons.
Shaista's relatives say that she has been a hands-on mother and never missed a single parent-teacher meeting at the top English-medium school where her sons studied.
"With her face covered in veil, she always remained in the background and was rarely seen in public. There are no photographs of her, except a few from family functions," said the relative.
However, after Atiq and Ashraf went to jail, Shaista gradually started to assert herself. She held press conferences, joined All India Majlis-e-Ittehadul Muslimeen (AIMIM) in the presence of its chief Asaduddin Owaisi in September 2021, and later, joined Bahujan Samaj Party (BSP) in January 2023.
In fact, she was touted to be BSP's mayoral candidate in 2023 but the party retracted its decision after her involvement in the Umesh Pal murder came to the fore.
Shaista Parveen also took charge of the children as well the business after 2017, when Atiq went to jail.
This is evident from her signatures on academic documents and affidavits which were found in the rented house.
"She got involved in handling the illegal businesses only after Atiq, her brother-in-law Ashraf, and two eldest sons Umar and Ali went to prison in different cases," said former police officer Lalji Shukla, who served as SP (city) in Prayagraj (then Allahabad) between April 1998 and September 2003 and retired as Inspector General of Police (IG) in 2015.
He added that she remains a revered figure in the family and gang, and commands great respect among Ahmad's followers. "At a time when all the men in her family are either jailed or dead, Shaista is the only one who has the support and the calibre to take command of the gang and its assets," he said.
According to police, Shaista Parveen has four criminal cases registered against her at Colonelganj and Dhoomanganj police stations of Prayagraj.
The first three cases filed at Colonelganj police station, date back to 2009. They are filed under different sections of the IPC, including 420, 467, 468 and 471 and section 30 of the Arms Act.
Sources also claim that Shaista is now protecting benami properties (those in someone else's name) and shell companies worth hundreds of crores for her sons. The exact net worth of the empire is yet to be determined though.
"In the past three years, properties worth over Rs 416.92 crore belonging to Atiq and his kin have been seized. Illegally-constructed properties by the family worth over Rs 752.27 crore have been demolished by the police and other district authorities. Additionally, police have also discovered properties worth over Rs 1,169.20 crore while probing cases against Atiq and his associates," said a senior police official.
"Till she is arrested, Shaista Parveen will remain an enigma for all. Her story — when it is told — will be on the 'most wanted' list," said the police official. (IANS)