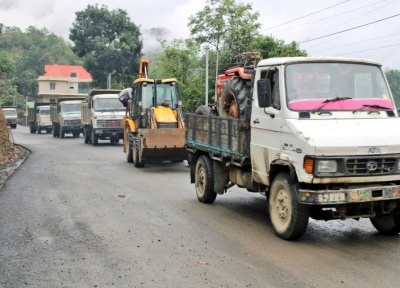 Imphal, May 18:
 The Army and Assam Rifles are providing security to Manipur-bound goods trucks in efforts to maintain the continued supply of essentials to the violence-hit state, defence sources said here on Thursday.
In addition, the movement of vehicles is also being monitored by drones, according to a defence spokesperson.
Since May 15, around 130 vehicles carrying essential items, food grains, medicines and other vital things entered Manipur through various highways, the spokesman said.
He said that during the ethnic violence in Manipur, supplies to the non-tribal Meitei community-dominated Imphal valley were cut off due to a road blockade, as well as fear amongst transporters.
As a consequence, the supply of essentials in the state was dwindling and beginning to reach critical levels, the defence PRO said, adding that the Army and Assam Rifles stepped in to assure protection to vehicles carrying such goods to and from the Imphal valley and other parts of Manipur.
On Monday, a convoy of 28 vehicles, including trucks, fuel tankers carrying rice, sugar, pulses and fuel, moved under the escort of CRPF and Manipur Police from Noney district to Imphal.
Another set of 100 vehicles were moved on Tuesday and Wednesday.
Prophylactic domination of the area was provided by the Assam Rifles to ensure safe passage to the convoy which reached Imphal valley safely by afternoon.
Security Forces remain committed to restore normalcy and the commencement of movement of the vehicles on the Imphal-Dimapur National Highway (NH37) is another step towards it, the defence sources added.
The ethnic violence in Manipur since May 3 claimed the lives of 73 people and injured 250 others, while 1,800 houses were destroyed, while a large number of government and private properties were also damaged.
IANS