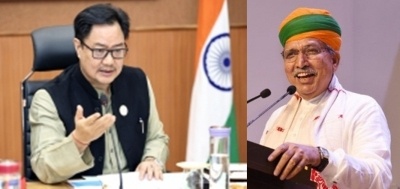 New Delhi, May 18:
 In a major cabinet reshuffle, Prime Minister Narendra Modi has appointed Arjun Ram Meghwal as the new Minister of Law and Justice, and moved Kiren Rijiju to Earth Sciences, a communique from the Rashtrapati Bhavan said on Thursday.
On the advice of PM Modi, President Droupadi Murmu has approved this change in the cabinet.
According to this new change, till now Rijiju, who was holding the responsibility of the Union Ministry of Law and Justice, has now been assigned the Ministry of Earth Sciences.
Meghwal has been given independent charge as Minister of State in the Ministry of Law and Justice along with his current ministry.
IANS