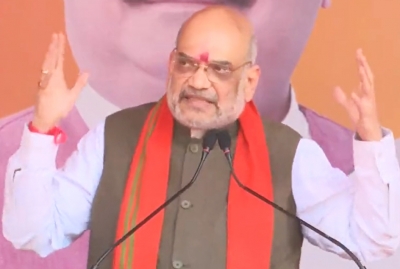 Shillong, May 31: Union Home Minister Amit Shah will travel to Moreh on Wednesday, a border area in Manipur which is situated on the border between India and Myanmar, in an effort to defuse tensions following a month of ethnic hostilities that have claimed over 80 lives.
In an effort to stop the rising ethnic violence, Shah met with several Kuki and Meitei leaders, senior security officials, and the Manipur cabinet on Monday after arriving in Imphal late at night. He also conducted an all-party meeting on Tuesday night, one of nine sessions he had during the day, with the goal of reestablishing peace in the state.
Around 10 am on Wednesday, Shah arrived in Moreh, a town severely affected by the continuing unrest, where he was scheduled to meet with Kuki civil society organisations and evaluate the effectiveness of the existing security measures.
Later he is scheduled to go to Kangpokpi district, which is primarily inhabited by Kukis but also contains a significant number of Meitei villages. One of the areas most severely impacted by the fighting has been Kangpokpi, where homes and religious sites have been destroyed.
Conflicts have persisted in several areas of the state despite Shah's efforts to mediate a settlement. Insurgents and security personnel engaged in gun battles in Sugnu, Kakching district, according to reports. Civilians were hurt in a separate incident in Sagolmang, Imphal East.
The racial unrest first broke out after a "Tribal Solidarity March" nearly a month ago. In response to the Meitei community's desire for Scheduled Tribe (ST) recognition, hill district tribes organised this march. The state recently saw a startling revival of skirmishes and gunfights, shattering a relative period of peace that had lasted more than a fortnight.