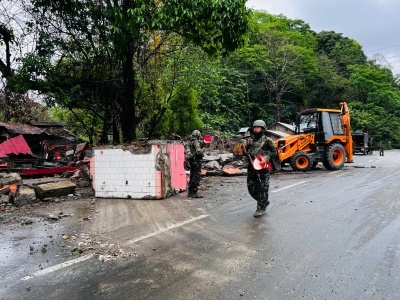 Shillong, May 31: Amid ethnic violence in Manipur, central intelligence agencies fear that looted arms and ammunition have likely been supplied to militant groups operating in Myanmar.
Manipur struggles with ethnic unrest as a result of confrontations between the Meitei and Kuki tribes, as well as incidences of looting and arson reported in the last few weeks.
The administration anticipates at least 4,000 weapons were looted on different dates.
According to sources, looting occurred in warehouses, armories belonging to different forces, and reserve battalions. The real calculation of the entire quantity of weapons will be finished in a few weeks.
According to a senior officer, the stolen weapons include sophisticated AK series rifles, M16 rifles, submachine guns, carbines, and most recent models of handguns.
"It is feared and likely that some of the stolen weapons have been given to extremist organisations located in Myanmar. It is impossible for any community to conceal or store 4,000 guns" a top police official said.
Since the Manipur border is porous, it is expected that some of the weapons have already been given to these groups.
The agencies have also learnt that some of the organisations stirring up violence in the state are in contact with militant organisations in Myanmar.