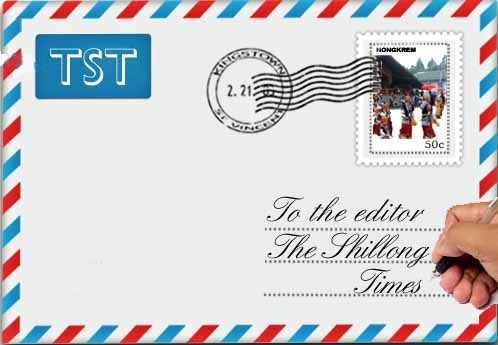 Editor,
The Shillong Times has been awash with articles on education these past few weeks and it's heartening to read the readiness of the government to reinvent this department. The areas of concern must be addressed with an aggressive, hands-on, time bound approach. The state has everything to catapult itself on the onward bound march, provided all put their shoulders to the wheel. And it is here where the genuineness, honesty, sincerity and doggedness will show when policies are translated into action on ground!
However, where is the Education Commission that was promised to be set into motion forthwith to spearhead the new policies? No mention at all by the Minister in the front page headlines, "New state education policy may abolish SSLC exam' and 'School dropout a concern' (June 8, 2023).
In both the reports, observe carefully what the Advisor to the Education Department says, "The education minister and I…" and, "The minister agreed to my suggestion…." Do I detect a pompousness? Even if the statements are true! When a leader is able to carry the team with him/her, such words as "we, us, our', etc., spill out. It's never a One Man Show! Just my thoughts!
Later, in the closing paragraph referring to the new policy, the advisor says, "We are going to customise our policy which is favourable, friendly and possible to be executed. "I'm scratching my head trying to comprehend the meaning! I wish your reporter quizzed him on this!
In closing I put this question to all. Is the state so bankrupt that we cannot choose result- driven people from the education field; people with a proven track record in education system, to take the state forward?
Yours etc.,
Kevin Phillips
Shillong – 19
$10 bn economy & equitable distribution of property
Editor,
The vision of Chief Minister Shri Conrad K. Sangma to make Meghalaya 'aspire to emerge as a robust $10 billion economy by the year 2028' is achievable and worth encouraging, provided certain corrective steps are put in place by initiating other revenue generating investments and more importantly, economically empowering all children of the family, to ensure a faster growth of the State's economy to achieve the above target.
With government jobs reaching a near saturation point the State Government's policy to guide the youth to inculcate an enterprising spirit of entrepreneurship, of risk taking and profit making and exploring their potentials with new and sometimes radical ideas is part of the process to reach that goal.
However to take this path it is important for the Government to take some bold decisions to break with certain traditional practices that are out of sync with the needs of the times. The introduction of a law on Equitable Distribution of Ancestral and Self Acquired Property will encourage our Hynniewtrep and Garo youth to use their inheritance as collateral for bank loans to invest in economic activities. If those coming from families with adequate wealth and resources, invest in economic activities it will have a multiplier effect, as I had written earlier. This will create more employment avenues for the indigenous unemployed youth of the state.
Further, as more and more of our indigenous youth take up economic activities in the state and have greater control of the States' economy. The wealth of the state will remain within the state and add to its' economic strength and prevent it from draining away outside the state as has been happening all these many years.
This small step of equitably distributing the ancestral and self- acquired property in the family, combined with the immense talent of our youth and abundant resources available in our state, will have a far-reaching impact on the economic growth of Meghalaya and will go a long way in helping to fructify the dream of our Chief Minister.
Yours etc.,
Michael N. Syiem
Via email
Climate crisis in Garo Hills
Editor,
Climate change is an issue that requires urgent attention because it has a range of adverse effects on the environment and people's well-being. The Garo Hills region of Meghalaya in India is no exception. In this area, several factors contribute to climate change, including deforestation, slash and burn cultivation, illegal timber logging, illegal stone quarrying, mining and the burning of fossil fuels.
One of the significant impacts of climate change in the Garo Hills region is the increase in temperature, which leads to heat waves, hotness, and high humidity. These extreme weather events can cause dehydration, heat exhaustion, and even heat stroke, particularly among vulnerable groups such as the elderly, children, and people with pre-existing health conditions.
Another impact of climate change is the drying of natural water bodies, springs, streams, and tributaries of major rivers. The reduction in water resources can affect agriculture and livestock rearing, which are major sources of livelihoods in the region. Additionally, the reduced availability of water can lead to conflicts between communities over access to water resources. As a result, climate change exacerbates poverty, particularly in rural areas.
Moreover, climate change has made rainfall patterns and intensity unpredictable, leading to a shortfall of monsoon showers. The reduced rainfall during monsoons affects agriculture, which is the backbone of the rural economy. The paddy fields solely depend on nature's rains, and with less water, the farmers' productivity is at risk, causing food insecurity.
Monsoons are a crucial source of rain in many regions of the world, and they play a crucial role in supporting agriculture, recharging water reservoirs, and supplying drinking water to communities. However, climate change is making monsoons increasingly unpredictable, leading to several significant impacts on the environment.
In the Garo Hills region of Meghalaya, North East India, the shortfall of monsoons due to climate change has reduced the availability of water for irrigation and drinking. This deficit in rainfall is leading to crop failures and food shortages, resulting in increased poverty and malnutrition. The agricultural sector is being adversely affected as crops like paddy solely depend on rainwater, leading to cracks on the soil surface or flooding during heavy rains.
The variability of rainwater due to climate change can also affect human health, especially in areas where water scarcity is a recurrent problem. During drought seasons, people may have to walk long distances to find water, with many sources being contaminated, leading to water-borne diseases. Additionally, the decrease in rainfall can lead to the depletion of water in the soil, leading to the drying up of vegetation and forests, threatening biodiversity, and reducing habitats for wildlife.
Moreover, the excess or shortage of rainfall can also lead to flooding and landslides, causing damage to infrastructure, crops, and loss of human lives.
In summary, the shortage of monsoons due to climate change is causing several problems in the Garo Hills region, affecting the water availability, food security, agricultural sector, and human health. Tackling these issues through long-term and effective measures like agricultural adaptation, afforestation, and sustainable water management can mitigate the impact of this human-induced climate crisis and help the region become more resilient to the impacts of climate change.
Lastly, the increase in temperature and reduced rainfall leads to the drying up of the soil, causing cracks on the soil surface, fundamentally affecting crop yields. The cracking paddy fields can result in crop failures, leading to food shortage in the region.
To address these issues, it is crucial to adopt measures that mitigate climate change. Reducing greenhouse gas emissions and promoting the use of renewable energy sources can mitigate climate change. Additionally, enhancing water conservation measures, such as rainwater harvesting, can ensure that communities have access to water even during droughts. Adopting climate-smart agricultural practices can help farmers improve their yields and reduce their vulnerability to climate change.
In conclusion, the adverse impact of climate change on Garo Hills is a reality that requires broad-based support from all stakeholders. Immediate and targeted action can mitigate these adverse effects and support the region's transition to a more sustainable economy.
Yours etc.,
Samgar R Sangma)
Program Head, CEPARD
Garo Hills