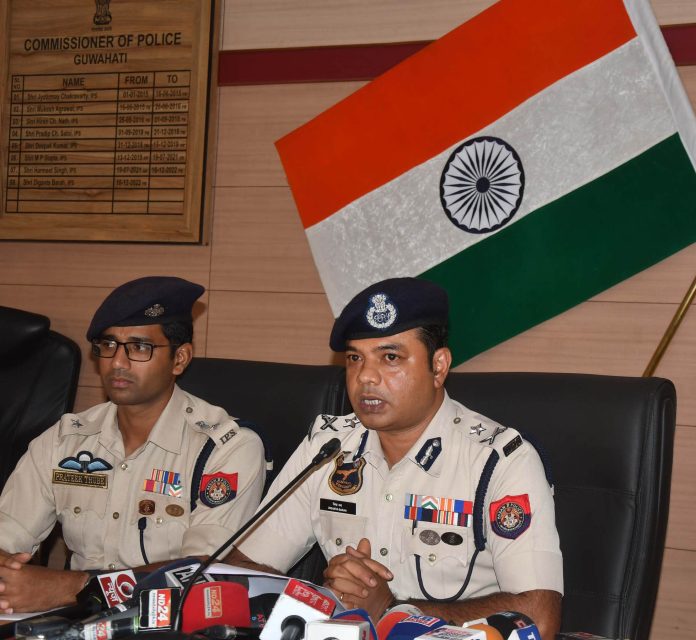 Guwahati, Sept 15: The crime branch of Guwahati Police have launched a major crackdown on fake customer service centres across multiple locations in the city and arrested three masterminds and detained 191 persons, including 47 women.
Notably, police teams have conducted raids at multiple locations of the city in the intervening night of September 14 and 15 with the objective of dismantling scam call centres that had been operating for the past two years.
Police have so far recovered and seized 164 desktops, 90 laptops, 26 mobile phones and other electronic gadgets during the raids.
It may be mentioned that based on intelligence inputs received, a confidential inquiry was conducted and the masterminds of the cyber scam were subsequently identified as Debajyoti Dey alias David (31), originally from Karimganj district and currently a resident of Jayanagar here; Rajan Sidana (39) from Ludhiana, Punjab and Divyam Arora (31) from Delhi.
"The locations of few such call centres from where the cyber criminals had been operating have also been identified. Accordingly, multiple police teams under the leadership of senior police officers were formed and simultaneous raids were conducted against the individual targets as well as the scammer gangs operating from the call centres. During the raids, eight such call centres have been busted," an official statement said.
Two of the masterminds who tried to escape from Guwahati after getting a hint of the police action, were apprehended late at night at a place near Bhabanipur in Bajali district with the help of Bajali police.
"These scammer gang members impersonate as legitimate customer service representatives to deceive individuals and cheat them of their money or personal information making various false claims about bank accounts being compromised, computers having a virus or computer or social media account being hacked, etc," official sources said, explaining their modus operandi.
"Further, these gangs of scammers initiate contact through unsolicited phone calls, claiming to be from a well-known company or organisation, such as a bank, government agency or even a popular online service provider. They ask the victims to install remote desktop software and thereby take access to the victim's personal computers and thereafter steal personal information by planting malwares on the targeted victim's devices," sources said.
These scammers have also opened fake toll free numbers (TFNs).
"Upon receiving such calls, the trained call takers engage the caller in such a way by going through the prepared transcript of such conversation resulting in forcing the gullible victims to part away with their hard earned money or personal information thereby duping gullible Indian and foreign nationals," sources said.
Sources further said that the scammers operate mainly at night. They choose innocuous looking buildings to establish such scam call centres to avoid the attention of people or law enforcement agencies.
"They recruit gullible educated and unemployed youths (both male and female) in the name of providing employment at the call centres and engage them in the scamming operations," sources said.
"Employees detained in such call centres during the raids are found to be from states like Punjab, Delhi, Uttar-Pradesh, Bihar, West Bengal, Assam, Meghalaya, Manipur, Nagaland and Tripura," they informed.