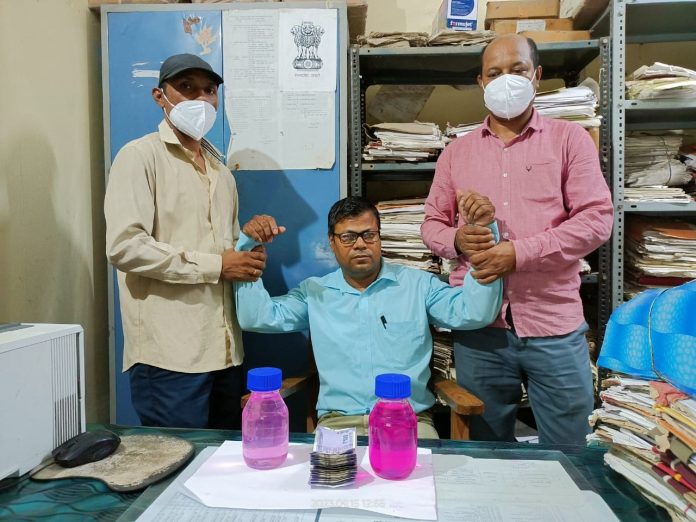 Guwahati, Sept 15: A team from the Assam directorate of vigilance and anti-corruption arrested yet another government employee in a bribery case after laying a trap in the office of the circle officer in Bajali district on Friday.
Official sources said that a complaint was received at the directorate of vigilance and anti-corruption, Assam, alleging that Choukat Ali, a junior assistant in the office of the circle officer, Sarupeta revenue circle, had demanded Rs 25,000 as bribe from the complainant for processing land sale permission.
Unwilling to pay the bribe, the complainant had approached the directorate for taking necessary legal action against the public servant.
Accordingly, a trap was laid and Ali was caught red handed at 12.35 pm PM, immediately after he accepted Rs 4,000 as part of the demanded bribe from the complainant.
The bribe money has been recovered from his possession and has been seized accordingly, in presence of independent witnesses.
The vigilance teams, after gathering sufficient evidence against the accused public servant, arrested him. In this connection, a case has been registered at ACB police station under Section 7(a) of Prevention of Corruption Act, 1988 (as amended in 2018).
Necessary legal follow up action is underway, sources said.
Notably, this was the 76th arrest in trap cases this year by the vigilance directorate.
In a similar trap, three days back, a district agricultural officer in Darrang district was caught red-handed in his office after he accepted bribe for nominating the name of the complainant for training.