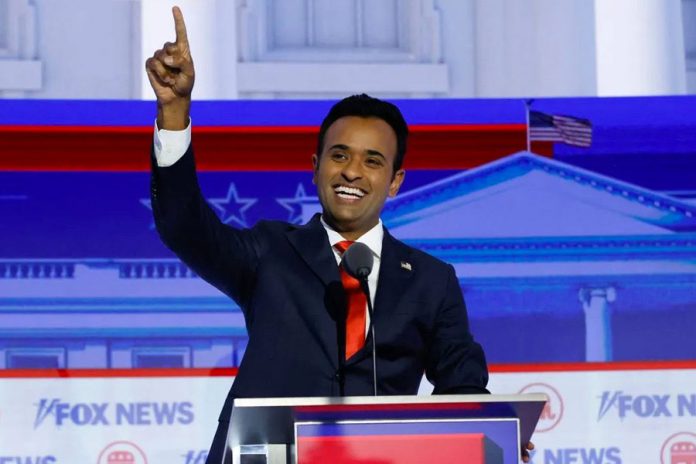 Shillong, September 18: Vivek Ramaswamy, the Indian-American Republican presidential aspirant, responded to polls indicating an increase in his unfavorability, attributing it to his age. He expressed that some people find his ascent at the age of 38 too young for a U.S. president.
These comments followed a Fox News Poll that revealed a 12 percent rise in unfavorable views of Ramaswamy since August. This shift occurred shortly after his prominent role in the first Republican presidential debate, where he faced strong competition from rivals Chris Christie and Nikki Haley.
During an appearance on 'Fox News Sunday' with host Shannon Bream, Ramaswamy stated, "We have been taking intense criticism, Shannon, over the last several weeks since I performed well on that second debate, and this is part of the process. So I invite the open debate."
He added, "The reality is many people are annoyed by my rise and believe that a 38-year-old is too young to be a U.S. president."
Ramaswamy cited historical examples, noting that Thomas Jefferson was 33 years old when he authored the U.S. Declaration of Independence, emphasizing that age should not be a limiting factor.
While former President Donald Trump remains the frontrunner in a crowded GOP field, Ramaswamy consistently holds the third position in most polls, trailing behind Florida Governor Ron DeSantis.
Following the first GOP debate, 28 percent of 504 respondents in polls believed that Ramaswamy performed the best. He confidently stated post-debate that only two candidates, himself and Trump, would remain in the race.
Ramaswamy, with a net worth exceeding $950 million, swiftly raised over $450,000 within the first hour after the debate, with an average donation of $38. He also became the most Googled Republican candidate, followed by his rival Nikki Haley, as reported by Fox News.
Despite some labeling him as "annoying," Ramaswamy remains steadfast in his belief that his campaign is on a path to success. He asserted, "We came from 0.0 percent to where we are now. I think we're on track to win this election."