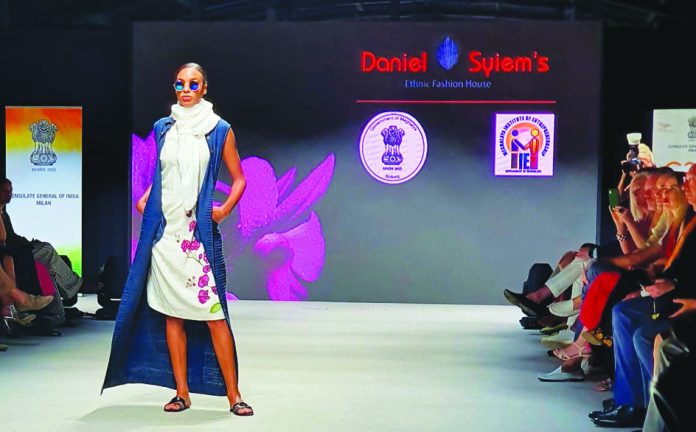 Under the aegis of Meghalaya Institute of Entrepreneurship, ace designer Daniel Syiem,s co-founded Shillong's first fashion house Daniel Syiem's Ethnic Fashion House.
By Our Reporter
The fashion capital of the world, Milan, Italy, saw the best of North East Indian fashion, at the recently concluded 17th Edition of the North East India Festival organized by the Consulate General of India, Milan, Italy & North East Institute of Fashion Technology (NEIFT). Eight designers representing the eight states of North East India- Assam, Arunachal Pradesh, Manipur, Meghalaya, Mizoram, Nagaland, Sikkim and Tripura showcased their collections at this event.
Daniel Syiem who has co-founded Shillong's first fashion house Daniel Syiem's Ethnic Fashion House (DSEFH), along with Janessaline Mary Pyngrope, showcased his collection- 'The Orchid's Tale', presented the mesmerizing traditional costumes of the three main tribes of Meghalaya- the Khasi, Jaintia and Garo, followed by the modern translation of the traditional fabrics in his unique inimitable way. His collection received huge applause at the event for its ethos of displaying slow fashion, heritage fabrics in a contemporary, modern way.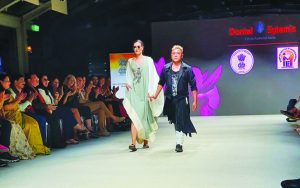 This collection displayed Daniel's evolution as a designer and the expertise of 25 plus years in the field of fashion. In a continued effort to highlight his state's culture through sustainable fabrics he brought together the eye-catching, colourful 'Dakmanda' fabric of the Garo tribe, the 'Thoh sa ru' of the Jaintia tribe and the rustic 'Ryndia' of the Khasi tribe to create a beautiful contrast of colour, texture and design in his collection.
This collection was inspired by the gorgeous orchids of Meghalaya. The natural beauty, culture, traditions, artistry and fabrics of the state are a badge of honour It has statement pieces like kimono-style jackets, structured tops using 3 to 4 individual pieces to create one statement look with tribal accessories.
The collection depicts the spirit of the designer and the resilience of these fabrics & cultures. This is slow fashion, where artistic talent of weavers, handmade textiles, environment friendly creations that can be worn and preserved for years are fighting to survive despite mass produced fast fashion that end up in land-fills.
A leading fashion designer from the North East India Daniel has captured audiences across the world… London, New York, Rome, Bangkok Fashion weeks to name a few. DSEFH has been working for more than a decade to revive and highlight the heritage fabrics of Meghalaya, in particular, 'Ryndia' by working with weavers and artisans.
This collection was presented by Meghalaya Institute of Entrepreneurship (MIE), Govt of Meghalaya.