The Asiatic wildcat, also known as the Indian desert cat, faces threats such as hybridisation of the species with the domestic cat, roadkills and expansion of infrastructure projects that fragments its habitat. In conversation with Mongabay-India correspondent 

Shuchita Jha

, wildlife biologist 

Sumit Dookia

 who has been studying the Asiatic wildcat for over a decade discusses why the species hasn't been a focal point in conservation priorities and possible ways to conserve the species.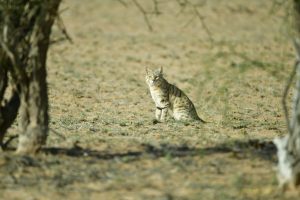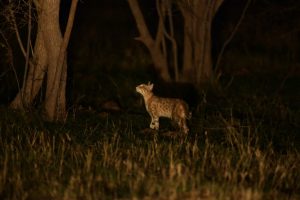 Known for its black or reddish-brown spots, the Asiatic wildcat (Felis lybica ornata), commonly known as the Indian desert cat, faces a number of anthropogenic threats, which is leading to a decline in its population. Wildlife experts have confirmed that the threat of hybridisation with domestic cats, poses a risk of loss of genetic material and endangers the population of the species.

Once abundantly present across the Thar Desert, with scientific records tracing its presence back to some regions in the states of Madhya Pradesh, Uttar Pradesh and Punjab, the sightings of the cat have become few and far between in the country. Though its range spans Southeast and Central Asia, Afghanistan, Pakistan, India, Mongolia and China, the population status across the habitat is ambiguous.

The Asiatic wildcat plays an essential ecological role by preying on insects such as grasshoppers and small herbivores such as hares and ground-nesting birds, thereby helping regulate the populations of rodents, locusts and other potential pests. These ecosystem services benefit local communities by protecting crops and maintaining a balance in the environment.

However, scientific studies about the species are limited and in the absence of a census it is difficult to determine the current population, as well as the scale of decline in numbers, especially in India. Yet, it is categorised as a species of least concern in the IUCN Red List, indicating low extinction risk because they are plentiful in the wild and hence not a focus of species conservation.

Only a few scientists and wildlife experts have studied this lesser cat for a long period of time.

Sumit Dookia, Assistant Professor, University School of Environment Management, GGS Indraprastha University, New Delhi, one among these researchers, who has been studying the Asiatic wildcat for over 15 years, shares his insight and findings from his long-term research.

Q: How and when did you decide to study the Asiatic wildcat?

A: I was nine years old when I first saw an Indian desert cat (Asiatic wildcat) at my maternal grandparent's place in Khunkhuna, a village in the Nagaur district of Rajasthan. The cat is locally called rohi minno (male cat that lives in the scrubs) or roni minni (for females). I was fascinated with the creature as it emerged from the shrubs, dashed more than 100 metres in the blink of an eye and disappeared into its den in the winter. I then started to spot these cats frequently and learnt to identify them with their prominent spots and sand colours.

My interest in biodiversity, particularly zoology, further grew when my father, a zoologist, offered deep insights to my most basic questions as a child. I grew up exploring the wilderness in the Gogelao Enclosure, near Nagaur, a vast 700-hectare natural landscape where wildlife thrives on a piece of land donated by a local Marwari family, just two kilometres from my hometown.

My encounters with local wildlife led me to pursue a career in zoology and I focused my doctoral thesis on the Indian gazelle in 2002. However, during this time, I realised that the sightings of the Indian desert cat had gone down drastically, with just one or two individuals being sighted in a year within the Gogelao Enclosure. I thought that this was a worrying trend.

While the IUCN's Red List Assessment categorises the desert cat as 'least concern', scientific studies on this feline remained scarce. Even during my doctorate, I could only pinpoint a handful of places where sightings of the cat were relatively frequent. This realisation spurred me to embark on landscape-level studies, seeking a deeper understanding of their habitat preferences and ecological relationships.

Q: How does the Asiatic wildcat differ from its European cousin?

A: The Asiatic wildcat is often referred to as the Afro-Asian wildcat due to its more predominant distribution across Asian regions compared to African territories. It differs from its European counterpart in terms of the size and colour of the pelt.

The Asiatic wildcat is much smaller than the European wildcat and has yellow or reddish fur, with small black or reddish-brown spots. Some might have stripes too. Depending on where they live, their colours can vary. For example, wildcats in drier places have paler fur, while those in wetter areas have darker, more distinct patterns. In contrast, the European wildcat tends to have a more muted and consistent fur pattern. The changing of colours and patterns shows its excellent adaptability according to the varied ecosystems where it thrives.

Q: How do these cats interact with local species such as the desert fox, given that they share dens and water resources?

A: The Asiatic wildcat coexists with many other small carnivores of similar size like the desert fox and red-footed fox, Bengal fox and even jungle cat in a few areas in the Thar Desert. It is possible because all these animals have different niches in the greater similar-looking habitat from far away. They are territorial and occupy abandoned dens of the foxes and can be seen in these defended territories. They share the same water source with wild as well as domestic animals in remote areas and coexist.

Q: What are the main challenges in studying the species' distribution, collecting data and using camera traps in the wild?

A: The Asiatic wildcat's elusive nature turns studying them into a task similar to finding a needle in a haystack. The foremost challenge in studying the Asiatic wildcat lies in pinpointing optimal observation sites and strategically placing non-invasive camera traps. These tools aid in photographic documentation and validate sightings of the shy feline. Over the past 15 years, despite persistent efforts, I've only managed to identify a handful of sites with consistent wildcat sightings.

Whenever I'm on the field, I scan areas based on the shared sighting information, employing methods like scat searches, and setting camera traps near waterholes, and off-road drives. My starting point always stems from insights provided by local field volunteers, whom I have been working with for the past 25 years.

Q: In several years of documenting the Asiatic wildcat, what are the trends you've observed about its population?

A: I have sighting location data for this cryptic cat species from more than 42 spots in five districts of Western Rajasthan. This number has now reduced to 16 spots over the years, which means the population has become locally extinct in 27 localities. Estimating the population at a landscape level is a colossal task, yet it is essential, especially as many small populations face extinction due to habitat loss. Another concerning issue is the hybridisation of these cats with domestic cats.

Some populations in Jalore, Jaisalmer and a few other orans in Rajasthan are under close observation now. It is evident that the Asiatic wildcat represents a separate population, potentially even at the sub-species level, and is predominantly found in the Indian subcontinent. However, without a comprehensive population estimate and an inventory of these issues, the IUCN Red List Assessment for this species cannot be justified.

Q: While big cats and charismatic species get ample conservation support, how does the Asiatic wildcat fare when it comes to funding and resources for conservation?

A: Our conservation and population monitoring programmes have predominantly had a single species focus, which can be myopic, as this approach tends to overlook the species coexisting with these more popular ones.

In my endeavour to survey and document the Asiatic wildcat, I haven't received much external funding. The notable exception has been the consistent financial support from GGS Indraprastha University in New Delhi, through their Faculty Research Grant Scheme. This grant has provided me the freedom to delve into various aspects of the landscape. I've conducted two to three surveys annually over the past seven years in western Rajasthan. Through these efforts, I've gathered significant data on the wildcat's feeding ecology, breeding patterns, habitat preferences, and distribution across several districts.

Unfortunately, the Asiatic wildcat has long been overlooked in conservation priorities, both at the state and federal levels. This becomes more evident when considering landscape-level conservation efforts for the species.

Q: As renewable energy projects, such as solar and wind, expand in the uncultivated desert areas of Rajasthan, do they have an influence on the wildcat's behaviour?

A: Yes. The recent boom in renewable energy projects poses a significant threat to the cat's natural habitat. The Asiatic wildcat is predominantly a species of uncultivated areas. It feeds on a diverse array of native fauna that thrive on the untouched terrains in the natural vegetation while perennial shrubs in these regions provide the cat with breeding space as it utilises abandoned fox dens to protect its offspring.

However, solar plant projects often entail large-scale removal of indigenous shrubs and trees, transforming vast landscapes into controlled grasslands. Such uniform habitats created by humans usually lack the rich biodiversity necessary for the survival of small carnivores. The mushrooming of these energy projects not only amplifies the problem but might also jeopardise the survival of this wild ancestor of our domestic cats.

Q: What conservation measures would you recommend for the protection and population revival of the Asiatic wildcat?

A: Hybridisation with domestic cats is a major issue for the Asiatic wildcat, but we have not seen any major steps being taken in any conservation planning to address such a clearly identified problem. There is an urgent need for genetic screening of different populations of the Asiatic wildcat, which will help identify the genetically pure individuals.

We will also have to start landscape-level conservation projects for this species. The available habitats should be identified and some sort of legal protection needs to be granted to these open habitats either under village commons or conservation reserves, which will be helpful for any further habitat diversion or conversion.

It has been seen that wherever any good hedge is available around agricultural fields, the sighting probability increases. This shows that hedge rows are an integral part of the habitat of the Asiatic wildcat and local communities should promote growing hedge rows around the fields.
Mongabay-India/IBNS-TWF