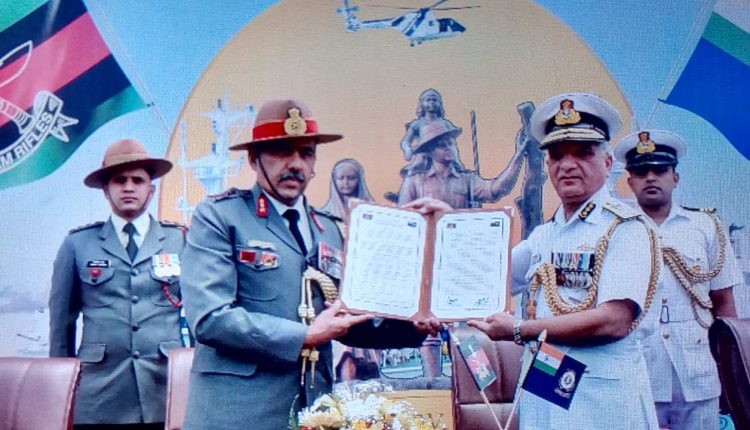 Assam Rifles, Indian Coast Guard sign 'Charter of Affiliation'
SHILLONG: Assam Rifles, the oldest paramilitary force in the country and the Indian Coast Guard, the youngest armed force signed a 'Charter of Affiliation' on Wednesday  at HQ DGAR, Laitkor, here.
Both the forces are border guarding forces – one guards the coastal frontiers while the other guards the Indo-Myanmar Border.
Affiliation has been carried out between 3rd (Naga Hills) Battalion of Assam Rifles and Indian Coast Guard Ship 'Shaurya'. This initiative will facilitate greater understanding of operational ethos, sharing of best practices from each other, building camaraderie and utilisation of each other's assets for operations, training, sports and adventure.
The signing of the "Charter of Affiliation" was preceded by a joint wreath-laying ceremony at the Assam Rifles War Memorial and a combined 'Guard of Honour' led by Captain  Ruchi Pathak of Assam Rifles.
The event was attended by Lt Gen Sukhdeep Sangwan, Director General Assam Rifles and Director General Rajendra Singh, Indian Coast Guard along with host of officers and men from both the Forces.
Both the Director Generals expressed their gratitude to Ministry of Home Affairs and Ministry of Defence for clearing the routes for this historic affiliation
.