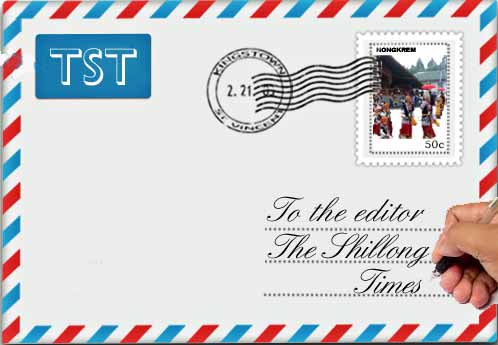 Self-created missed opportunities
Editor,
Apropos Jerome's K. Diengdoh's letter "Was CAU a misplaced priority?" (ST July 16, 2019,) my humble reply is No. It certainly is not. Though the respected writer had also gone through "CAU : The missed opportunity", by H. Chikhanthang (Ex Principal Secretary) (ST June 29, 2016) I do like to write on paragraph 4 of the letter since after the publication of which there had been a temporary ceasefire (politicking) between the NPP and the Congress.
Paragraph 4 reads as follows: The views of different departments, such as Personnel, Planning and Finance etc's departments were sought for. They agreed to one point, that the state has no man power of its own to fill up the technical posts particularly at the higher levels. As such setting up of the said university (CAU) would lead to influx of scientists and other staff as well from outside the State. That in my opinion threw a spanner in the works and derailed the whole idea of setting up university in the State.
Let the public also learn that the then government at Delhi had by their love and interest for our state taken pains to approach the state government not once but twice. So it only sums up the fact that the main cause for a golden opportunity missed was the scientists' influx and fear psychosis of the bureaucrats. I have used 'influx' but unwillingly as no such word of scientists influx could be detected in any dictionary. I do not have a smart phone with which to search for the word. The other cause, though small was the government of the day granting too much executive powers to bureaucrats.
Thank goodness we in the late 60's were blessed with professors from Dacca and Calcutta, the seat of learning of people like of Bose whose friend was Fermi with Boson and Fermions statistics. Let us also not neglect the 2015 approach of the NDA to Manipur CAU to amend an Act to club Nagaland with Manipur. Meghalaya with two BJP MLA's is being eyed by the Delhi people as not a green pasture same as our Kerala. So the last nail to the CAU coffin was hit hard.
We in Meghalaya are not so lucky. The Scientists' Influx Fear Psychosis (SIFP) syndrome is not only utterly frustrating but very painful, in which a golden opportunity of 2009 was thrown to the winds. Equally, unlucky were we, when the German Salvatorian priests had already acquired land for Agriculture University and Engineering college in 1912. Unfortunately, World War I broke out and the nervous King George VI of the beleaguered CommonWealth sent back our priests to the Fatherland. So a golden opportunity was lost in our Motherland twice one due to SIFP and one due to World War I. Twice unlucky is Meghalaya!
Yours etc.,
Khyriem,
Shillong -14.
National Register of Citizens
Edditor
Union Home Minister Amit Shah's statement on Wednesday in  Parliament that the Narendra Modi government will detect 'all illegal infiltrators living on every inch of our country and deport them as per international law' is a welcome decision. It is to be remembered that National Register of Citizens(NRC) is part of the Assam Accord and was also part of the BJP's election manifesto based on which the government has come to power. Therefore all infiltrators living in India presently will have to be deported from the soil of our country. Once the Assam accord is completed and implemented, the government can take up other areas as well to identify the infiltrators and deport them without fail to their concerned countries.
There are countless numbers of infiltrators staying in the country, and they want to become citizens of India. Most of these infiltrators are from Bangladesh and Myanmar and other countries. India has always accepted all those who wanted to live in India and even given asylum to many. But things have changed. We are now overburdened with increasing number of population and managing this burgeoning population is a tough task let alone the task of looking after them. China is the only country having the highest number of population. But geographically speaking, China is almost three times bigger than India. Curiously, China has adopted and implemented strict family planning schemes. Unfortunately, India is growing at an uncontrolled speed. Not only the government, but everyone also must be responsible for this alarming growth. Basically, newlyweds should decide to adhere to the one child norm for the welfare of our country.
Our Home Minister wants all the infiltrators to be deported from India because people in this vast country enjoy more freedom and it is dynamic and divergent as well. So, outsiders especially from other countries wherein individual freedom is limited, want to flee to India, and since our country's security is at risk due to the illegal influx of people from other countries, government must apply a sudden brake to welcoming or giving permanent citizenship to such people. Further, in most cases terrorist organisations are hand in glove with these infiltrators and if the government thoughtlessly wants to give them permanent citizenship, it may spell doom for India. This was how the terrorist organisations carried out their plans to strike Europe through the refugees who were fleeing to Europe from war-torn Syria.
So, nationwide NRC is needed to wipe out all kinds of infiltrators who belong to other countries. Only this type of stern action and decision can bring welfare to the nation. Wherever there is laxity of discipline in government level, then there is definitely a slump in the progress of the nation. So, the government has to ensure that urgent completion and  implementation of NRC is done to make India safe and secure.
 Yours etc.,
TK Nandanan,
Via email