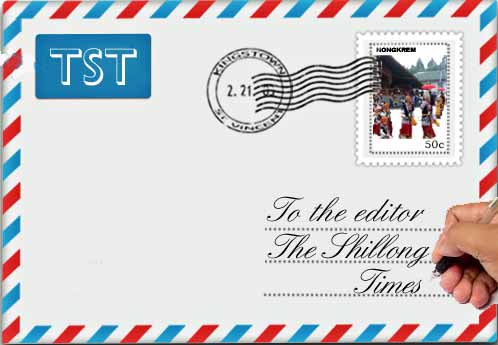 Practical knowledge about garbage
Editor,
It is because of wrong upbringing that our children throw garbage in open drains. Unlike in western countries, they don't feel even a twinge of guilt; they just do it. They senselessly spit around; they also just throw away any waste materials anywhere they like. Therefore, our streets, our footpaths and our alleys are strewn with various kind of pouches of chips, gutka, zarda and plastic bottles, pots and so on. Don't we see the white-washed walls full of red spots only? Who has done that? Children or adults? Yes, the adult folks. They habitually spit out chewed betel nut. So how can we expect our children to not make a nuisance of their surroundings?
I believe all studies of "health science" in schools for decades have only gone waste. Whom do we blame? Again, what did all students learn from their "environmental science" which is a compulsory subject, probably from class four? But they don't know till now that throwing piles of garbage in the drain is going to clog the environment! All these nauseating habits and the ground realities must make our parents, our teachers, educationists and leaders sit up.
A lot of things are amiss so let's come down to earth. Here one strongly feels, instead of teaching bulky books on health and environment, let the children be first inculcated with the values of health and environment by "practical methodology". The drains and riversides should be their "outdoor classrooms". The mountain of plastics and throw-away furniture should be their "pages" of the book. Let them be encouraged to clear that accumulated garbage themselves, of course assisted by teachers and other elders. They must be informed what Nature wants from us and what we have done. Truly, this all can make them understand who all are responsible for wreaking havoc with NATURE. The fact about the adverse impact upon our personal and public health and finally the ecology should be well hammered into them. Just three to four outdoor cleaning drives can bring about a sea change in their mindsets, I am quite sure. And this will change their behaviours and lifestyles too.
Truly, seeing is believing. That believing only ignites the fuel of conviction which can finally propel us ahead for the right action with utmost determination.
Yours etc.,
Salil Gewali,
Shillong-2
Plastic nuisance
Editor,
Efforts on the part of citizens to cut down on the use of plastics is very laudable but one area over which we citizens have no control of is in the area of the plastic wrapped goods that we buy online or from shops whether it's clothes, food or multiple other items – I doubt whether we can cut down on our purchases so what do we do? Burn the stuff? Again that is not the solution.
We have to get after the Central government to get after the manufacturers to change the way they wrap their goods but this is a big problem as it will involve profit reduction.
But, anyway, I think it's a question of one step at a time and, at least, the first step has been taken in Shillong but will require involvement of a large number of people and organizations which, fortunately, we are beginning to see.
Well done all those involved but to quote Robert Frost, "The woods are lovely dark and deep/ And I have promises to keep/And miles to go before I sleep/ And miles to go before I sleep".
Yours etc.,
D.M.Pariat,
Camp – Aberystwyth,
Wales.
Disrespect for dignity of the House
Editor,
The recent outburst by Gambegre MLA, Saleng Sangma on the floor of the House over microphone malfunction reeks of impropriety. How could a leader use such profane language when leaders have to show exemplary etiquette in speaking so that the young are not misguided and do not follow this trend in future. John C. Maxwell's saying bears repetition. He says, "A leader is the one who knows the way, goes the way and shows the way".
Yours etc.
Bidansal M. Sangma
South Garo Hills
Why pamper ex-MLAs?
Editor,
The news item in The Shillong Times, "Ex-MLA to get enhanced pension," (ST Sep 7, 2019) makes one feel the helplessness of the common people of the state more deeply. For instance, the teachers have always been suffering the hardships of not being given salary at the end of every single month on a regular basis. Time and again the teachers are forced to take to the streets to demand for the dues that are rightfully theirs. Like the teachers, the MTC employees are not paid their salaries on time and on a monthly basis. It's been seven months now and they have not got their salaries yet. Imagine the state of mind of these people. How are they to make ends meet and support their families especially in times like these when the prices of commodities including food items are on the rise? Therefore it irks to read that while people who are doing their jobs daily are denied their salaries on time, the State Government is much more concerned about the well-being of those MLAs who are no longer providing their services to the State and its people.
While the State Government is quick to recognize the need to enhance salaries as, "reasonable and commensurate with the prevailing economic conditions," one fails to comprehend the need to not only enhance their additional pension but also to provide them with a Driver's Allowance of Rs. 10,000 per month by the Government. One only hopes that the Government feels the earnest pain, hardships and difficulties of the teachers, casual employees, daily wage earners, etc and work towards easing their day to day lives. All that these employees are asking for are what is rightly due to them. Is it fair that those who are still in service be made to suffer while others who are no longer with the Government are given more perks and facilities? Shouldn't the people of the State be treated at par and measured by the same yardstick as far as their employment is concerned irrespective of who they are?
Yours etc.,
Jenniefer Dkhar,
Via email