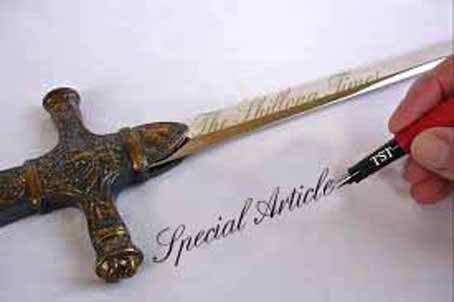 Shillong: Do We Care Enough
Patricia Mukhim
A pledge was taken on October 2, Gandhi Jayanti by several thousand students at the Soso Tham premises that they would respect and protect the environment, especially the rivers, streams and forests; that they would not litter and would also prevent others from littering. This last point merits emphasis. A billboard put up by Meghalaya Police at several prominent locations says, "Littering is a crime in Meghalaya. Anyone found littering would be fined Rs 5000." The other day while on an interaction with the students of St Anthony's College, a question was raised about whether littering is really a crime in Meghalaya? And if it's a crime then why is the city full of litter? My answer to the young man was, "Yes littering is a crime if you're caught in the act." Meghalaya Police cannot be everywhere. There are more litterers than there are policemen. Hence it's a civic duty of each one of us to stop people from littering by video-graphing them while in the act; confronting them as was done by a few people recently and also by reporting them to the police. Granted that this is a needless punishment to ourselves as it involves our time but that's how Democracy works. If everyone looks the other way while a crime is committed then we don't deserve Democracy.
At a recent cleaning drive at Police Bazar (Khyndailad) The Shillong Times led Operation Clean-Up team comprising school and college students and environmental groups moved in all directions to do a thorough cleaning up. The students are a very committed lot. Students of Kiddies Corner and Seven Set School tackled the Keatinge Road and boy what a challenge that was. The drains were all choked with plastic and liquor bottles. The students cleared every blocked drain! Is that their duty to do so? No! They did it as a 'Service' in line with the Prime Ministers Programme Swacchta hi Sewa (Cleanliness is a Service). There are a whole line of food vendors who don't care a hoot that the drain running past their front yard was no longer flowing; that in the event of a heavy shower the grimy, blackish water would  flow into the street and people would have to walk on that dirty water much to their chagrin. It's pathetic that people who run businesses in Police Bazar don't seem to consider it their responsibility to keep the place clean and hygienic. Their contention is that if they have paid the Shillong Municipal Board (SMB) then they have fulfilled their civic duties. But the SMB only picks up garbage on the surface. They don't clean drains. That is the work of the PWD and its not done regularly.
It is also strange that the Meghalaya Urban Development Authority (MUDA) which has a parking lot for tourist taxis in Keatinge Road takes absolutely no responsibility to maintain the cleanliness of the place. Some of those involved in the Clean-Up and were sweeping the garbage nearly touched the night soil (human stool) lying around the place. Besides the whole parking lot reeked of urine! But that's expected since there are no paid toilets around and taxi drivers sometimes stop there overnight and eat and sleep and do their ablutions there. MUDA needs to take serious note of this because it is one of the busiest roads used by students of Lady Keane School and College and the RB Anoopchand School. It is high time that the Deputy Commissioner makes the institutions and business establishments adopt that road and maintain its cleanliness. Of course the road needs urgent repairs too. With so many food vendors operating in an absolutely filthy environment one wonders what the Food Inspectors of the Health Department are doing. Typhoid in Meghalaya is common today and the bacteria spread through food and water. Our health and that of our young ones who seem to have a penchant for street food is gravely at risk and we just look on and do nothing! We have become inured to what's happening around us.
The place in front of OB Mall is teeming with food hawkers. Their responsibility seems to be only to prepare and sell food. The cleaning has to be done by the SMB every morning. In the night or post midnight after the hawkers have left the place, it looks like a different planet. You begin to wonder if we have any regulatory system in place. It is of course fashionable for young liberals to say, "We love street food…its oh so tasty and why should anyone stop us from having it?" Well, no one stops anyone from having street food but we all own this city and we do have a huge problem with the garbage left behind by the hawkers. Every city in the world has street food vendors but no one is allowed to operate in a laissez faire manner as we in Shillong have allowed them to. Bleeding heart activists argue that the food vendors are earning a livelihood. And we always come up against this gargantuan wall of hawkers' livelihoods versus citizens' right to clean food and above all a walking space. In fact one question to ask the Food Inspectors is whether they ever check the food of street vendors? How often do they check food served in hotels/restaurants? If they regularly check food in these established eateries then why are food hawkers let off so easily?
Several slogans were seen on October 2, saying, "Let's restore Shillong to its earlier sobriquet – Scotland of the East. I am not so sure if we can ever do that and if we wish to do so then it's important for all of us to develop a stakeholder-ship in this city. We keep blaming the SMB, MUDA and other agencies but now it's high time to assume some civic responsibilities and to ask the right questions. Recently the hawkers were apparently given some training by an agency that tried to educate them the virtues of wearing gloves while serving food and to wear aprons while cooking and to generally don a swish look like the street food vendors in Bangkok and elsewhere do. But that seems like a wasted venture because not a single food hawker imbibed the training given. Changing attitudes in a country like India is not easy; it's not easy even in a place like Singapore but it's the stringent fines that people responded to. If littering is a crime according to Section 102 of the Meghalaya Police Act and entails a fine of Rs 5000 then can the Police not enforce that Act in Police Bazar where littering is a daily affair? The dynamic SP East Khasi Hills, Ms Claudia Lyngwa might like to take a walk at Khyndailad at around midnight on Saturday just to see how the Meghalaya Police Act is being dumbed down by the "poor" hawkers!
What I find difficult to understand is this: If the city is providing you a livelihood then don't you owe something to the city? And if that is not how you see this city then aren't you simply an opportunistic, exploitative interloper? Do you have a right to be a citizen of this city? Citizens have a duty and responsibility towards their city. If a hawker sets up shop, he/she should sign a bond with the SMB about cleaning up the space every evening and dumping the garbage in the Municipal trucks parked at a particular place in the area. No commercial activity can be carried out arbitrarily.
And this same logic applies to the hawkers of Laitumkhrah too where things are even worse and now fish is not only sold on what is a drain but is also being cleaned and pared right there. The leftover scales and entrails are to be picked up by the SMB. The question then is: Why is the SMB so lenient? Can it not apply sections of the Environmental Protection Act here or even the Meghalaya Police Act? This is not how Shillong should be treated. Looking around us it would appear as if our attitude is "Shillong, We Don't Care." If we don't care, this city will die a slow death and then where will we migrate? Let's answer this question loud and clear!