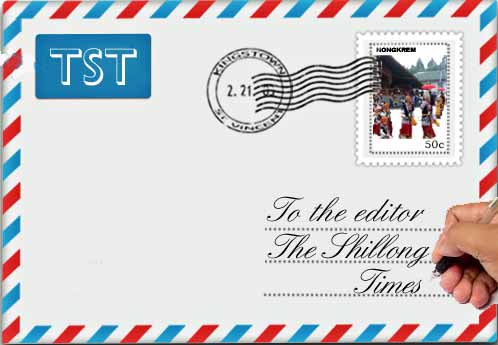 Iconoclastic controversy rages on
 Editor,
This is with regards to the iconoclastic controversy over the removal of Ganesha idol at NIIT, Shillong at the behest of the JSU (Jaintia Students Union). The stated objection of the JSU was that the idol could undermine the institute's secular fabric and "incite communal sentiments" among the students and staff belonging to other faiths. The Union suggested an alternative placement by the bust of a renowned personality from fields of science, humanities or literature. The students' stand is right since it is a Government Institute. If NIIT is a Hindu Institute they have the right to install whichever idol they want, just as a Christian institution, say MLCU can install the bust or statue of Lord Jesus Christ if they want to.It may never happen, and am not sure if there is one already. From what I heard, am surprised that MLCU seems to detach itself from anything Christian, let alone staying true to the legacy of Martin Luther. It prompted someone to say that MLCU should stand for Modernistic Liberal Culture University.
The point is that at least I compared two institutions, unlike what the LRO (Legal Rights Obstructionists, pun intended,) did, comparing a national institute to a hospital(Civil hospital), and an idol with a book (Bible). The cliché 'do not compare apples and oranges' does not even fit here. It should more appropriately be "do not compare apples and motorbikes." Such is the naivety of the LRO's line of argument. More jurisprudence is clearly required on their part. Their comparison of an idol and a book is simply odd. An idol, statue or bust is ceremoniously installed and it has a conspicuous presence which is imposing on one and all. The ostentatious nature and monumental importance of an idol therefore warrants a democratic consensus and approval of all stakeholders for its installation. Not so with a book. The book is totally inconspicuous, not imposing nor overbearing on anyone. You can ignore it and leave it unread. You can have a Bible in your home and not be a Christian. I keep the Quran next to me in my study, and am not Muslim.
Secondly, regarding the legal rights of citizens such as those from niamtre/niamtynrai, it must be upheld, but not by denying the rights of the majority Christian patients at Civil Hospital, who need their bibles and their pastors and evangelists to visit and pray for them. Pastors and evangelists should not force their ministry on anyone from niamtre/niamtynrai, against their will. But if they want prayer, and are above 18 years of age, who can decide for themselves, then even their families or anyone or any group cannot deny them this basic right. The same right extends to children of Christian parents too to choose their faith, that is if they are adults. I have been a counselor and encourager to many over the years, and this is what I have seen. Even strong men cry when they are sick, and away from home. Times of sickness are most crucial for anyone's mental, emotional and spiritual equilibrium, and during such times, moral and emotional support is most required. Pastors and counselors must in fact double their efforts in this regard, and the role of hospitals is to ensure that the rights of others are not infringed upon.
Yours etc.,
Edelbert Kharsyntiew,
Via email
Indo-Bangla ties
Editor,
Unlike our neighbor on the west – the belligerent and grumbling Pakistan, another neighbouring country in the east, Bangladesh has started tapping the endless possibilities and potentialities of a cordial relationship having been established between India and Bangladesh. On Saturday Bangladesh Prime Minister Sheikh Hasina signed seven pacts including one for setting up of a joint coastal surveillance system. Moreover, both the Prime Ministers held productive and comprehensive talks to further broad-base bilateral ties between the two countries.
In the discussions, Hasina also raised her concerns over roll out of National Register of Citizens (NRC) in Assam, an exercise carried out to identify genuine Indian citizens living in Assam and weed out illegal Bangladeshis. The issue of Rohingya refugees also figured in the talks. It is indeed heartening to know that the two PMs agreed on the need to expedite safe, speedy and sustainable repatriation of the displaced persons to their homes in Myanmar. They also jointly launched a project to import LPG from Bangladesh for distribution in the Northeastern states.
It may be good to recall the Bangladesh government's zero-tolerance policy against terrorism in sharp contrast to the policy of Pakistan. The increasing cooperation between India-Bangladesh is a shining example of neighbourly relations for the entire world especially for Pakistan, which has been following a policy of belligerence against India. With the abrogation of Article 370, their attitude towards India has further changed and gone myopic, and now just like everything looks yellow to a jaundiced eye, Pakistan finds only faults with India over whatever good things have been done.
Sheikh Hasina, on the other hand is wise enough to look to a futuristic journey with India and she eyes a good future for her country as long as Bangladesh remains friendly with India. She is also astute enough to understand that real development comes when there is peace and friendship with the neighbouring countries. Now more bilateral ties must be established to exchange further cooperation between the two countries. Taking a cue from this shining example of cooperation between India and Bangladesh, Pakistan must shed its anti-India attitude and start accepting India as it is. Without prejudiced minds, leaders of Pakistan must come and sit for constructive dialogues with India in order to find solutions to the nagging problems. There is nothing that cannot be solved through reconciliatory talks if they believe in the policy of give and take.
Yours etc.,
TK Nandanan,
Via email