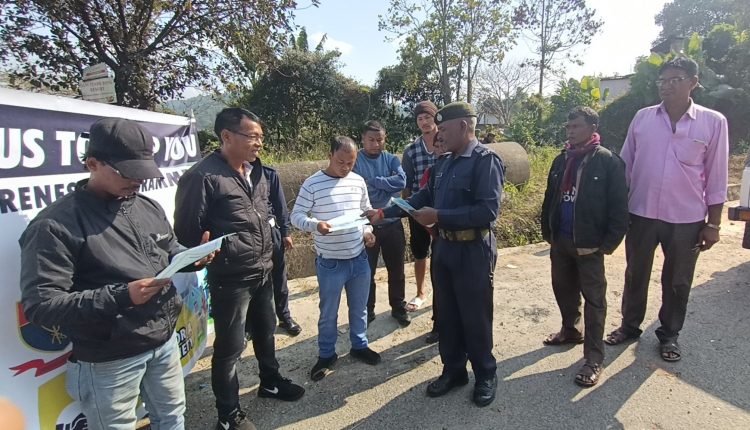 Ri Bhoi police launches awareness drive on traffic rules
NONGPOH: Ri Bhoi Police as part of celebrating the Road Safety Week on Thursday organised a mass awareness drive at Nongpoh about the importance of observing basic traffic rules while driving in order to prevent accidents as well as for the safety of the pedestrians.
During the awareness drive, traffic personnel from the Nongpoh Police Station were also seen sensitising and distributing traffic guidelines pamphlets to the drivers plying through National Highway 6 at Nongpoh, followed by a road rally to Umsning.
Speaking to media persons during the awareness drive, Ri Bhoi Deputy Superintendent of Police, Traffic Branch, Orville I. Massar said that as per his observance, accidents cases were reported almost daily in the district while stating that most of these accident cases were fatal in nature.
'We want the drivers to adhere and observed the basic traffic rules while driving for their own safety as well as for the safety of the pedestrians' Orville said adding it is very disheartening to learnt most of the drivers do not comply to this basic rules of traffic while driving.
Orville also said that during surprise checking conducted from time to time, it was found that most of the drivers do not comply to basic traffic rules leading to an accidents and lost of precious lives. Using mobile phones while driving, overspeeding and drunken driving are few examples of violations of basic traffic rules which lead to major accidents in the district, Orville lamented.
'Though many may not like it, but we have to be strict from now onwards on these issue and we want the people at large to give us support by cooperating and following the guidelines of basic traffic rules while driving' Orville further said.