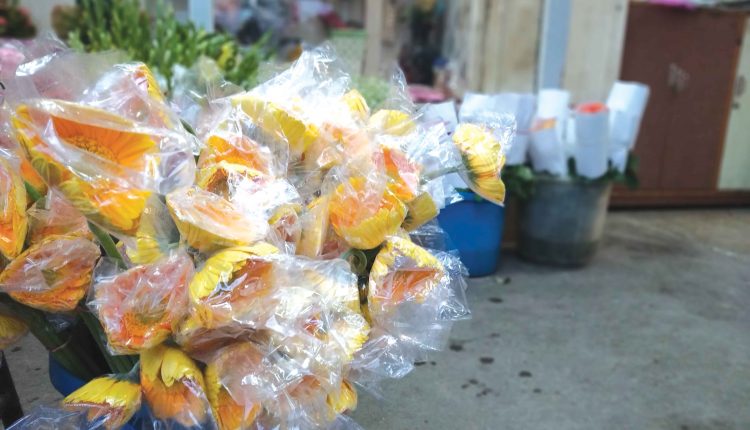 Abbigail Rynjah is running Rynjah Floral Shop since 2016. The small rectangular shop stands just on the main Rynjah market point. The space is inadequate but not asphyxiating. The sunlight beaming through the door is enough to keep the flowers fresh.
Flower business was never in Abbigail's scheme of things as she had already chosen banking as career. It was not until 2016, almost six years into her job in a state-run bank, that she realised that employment security is a thing of the past.
"I suddenly lost my job and did not know what to do. As a resident of Umpling, I knew that there was no flower shop in the area, which includes Rynjah. I decided to start a florist shop. But I was not completely aware of the challenges associated with the business," narrates Abbigail sitting at the counter. The heater inside in a corner shares its warmth with those spots which have been neglected by the afternoon sun.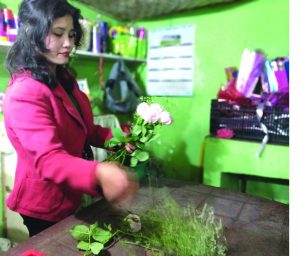 One of the challenges that Abbigail is referring to is procurement. Abbigail and many other florists in the city get their flowers from outside the state despite Meghalaya being rich in biodiversity and known for its wide variety of flora, from local orchids to a variety of flowers.
"My supply comes from Bengaluru. Flowers are expensive here and unavailable most of the times," says the 36-year-old shop owner. She places order at least thrice a week. In peak season like Valentine's Day on Friday, demand for flowers, especially roses, is high raising the frequency of orders.
Bengaluru is a favourite destination for florists here. Other places from where flowers are imported are Ooty, Pune and rarely Kolkata. Bashanlang Rani, the owner of Bliss Fresh Flower in Umsohsun, says for the peak season, the supply chain has to be smooth as the demand goes up. "I had tried to get supply from the government outlets here but only a few prominent shops get flowers from the Department of Horticulture. However, I get flowers from the department's outlets in Tura and Williamnagar," he says.
Rani took over the shop from Zopar, a florist chain in the North East that has an outlet in the city, in 2013. The shop sells orchids bought from the local market. "I have a polyhouse in Pynthor. But water is a problem and so I cannot maintain it anymore," he replies to a query on whether he has tried to grow flowers for sale.
It is the same for Essentials, probably the oldest florist in the city, and Ferns 'n Petals, a prominent shop in Laitumkhrah.
Zopar, which once had 22 shops in the North East, has its own supply chain. "The flowers are grown by us in Meghalaya and Mizoram. The shortfall is met by importing flowers from southern India," says its managing director Rajiv Prasad.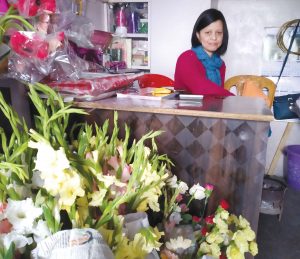 The company was earlier registered in Bengaluru but at present it is based in Shillong. Prasad says that the flower shop chain would import about a decade ago but "it is not worth exporting anymore because you get lesser amount of flowers and payment pattern was not so good".
On whether Zopar has ever thought of buying from the government, Prasad says the company used to supply to the state department at one time. "The government doing something is very difficult. Subsidy to farmers did not prove sustainable… I think government policy needs some changes. Unless the farmer puts his own money into it (horticulture) he will not take it seriously. Often you will find farmers are not interested (to grow flowers)," he adds.
Bhakupar Lyngdoh, who owns the franchise of Ferns 'n Petals, says the shop imports 70 per cent of the requirement from Ooty and Pune and seldom from Guwahati and Kolkata.
Lyngdoh points out that the climate is favourable here but when it comes to the commercial aspect, growers here do not have the skill. "It is not that people are disorganised here but just that they lack technical skill. For that matter even I do not call myself a florist. I am a farmer too. I grow flowers a variety of flowers which are sold in the shop too," he says.
A senior official in the Department of Horticulture informs that the government does help growers and provide them a platform in the form of flower shows and exhibitions where farmers and florists can interact. On shops importing flowers from outside, the official says it is for cut flowers. "Maybe during winter when flowers grow slow here the traders procure from outside. The farmers now have many options like various shows where they can go for direct sales. They have their own clients," he adds.
Some of the not-so-famous flower shops in the city completely depend on local supply. For instance, Wankynti Khongsit has local suppliers as well as a garden at home in Mawkriah. "The government helps us with seeds and polyhouse. There is one polyhouse in Mawkriah that we use as a storage house. But I don't buy flowers from the government," says Khongsit, who has a shop in Police Bazar.
There is a need for infrastructure development so that local farmers can go for large-scale sales. Also, more interactions between the parties concerned are imperative to improve sale of indigenous flowers in the local market.
~ NM
Photos by ST