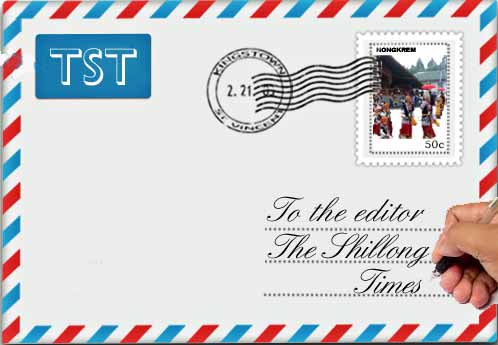 Who will hold the police accountable?
Editor,
The new Home Minister, Mr Lahkmen Rymbui is known to be a gentleman-politician. He has stated upfront that illegal coal mining will be strictly tackled. We have faith that he will do his duty as the Home Minister. We therefore ask as to whether those 'miscreants' (about 12 of them against one person) who beat up a non-tribal man in Jaiaw for no reason at all, other than he is a non-tribal have been arrested? How many more assaults, killings and mindless persecution do the non-tribals living in Shillong have to put up with? As non-tribals our dignity and self esteem have been stripped to the bones. Each time there is a governance crisis it is the non-tribal residents who are put on notice. The miscreants have taken for granted that their acts of lawlessness will unpunished and that even if arrested they will be quietly let off through political pressure.
Why only talk about the police in Uttar Pradesh or Delhi? The police in Meghalaya have not been able to file a charge sheet on a single case of assault and killing of non-tribals to date even when crimes happen in broad daylight. What does this suggest? It tells us that the police are in a silent conspiracy to protect the locals, notwithstanding the gravity of their crime.
The non-tribal residents of Meghalaya have never taken their case to the National Human Rights Commission. They have not made a representation to the Union Home Ministry at any time in the past. They have just borne their humiliation with frustration. The worst part is that they live in constant fear. Should the High Court as a dispenser of justice not take up cases of assault suo-moto because they are of a communal nature and they violate the rights of a section of residents of Meghalaya? Not every non-tribal is a Bangladeshi or an illegal immigrant. At Byrnihat another group of vigilantes are checking every person entering Meghalaya. Who has given them permission? Such things did not happen in the past. Why is this MDA Government allowing it? Is the MDA Government hand in gloves with the 'miscreants?' Is the police force so incompetent that they cannot identify the 'goondas?' What kind of a lawless state is this?
Mr Lahkmen Rymbui has just taken over but the police force is a permanent fixture. They should be held accountable for every crime that goes unpunished in this city. We appeal to Mr Rymbui who has done quite well as the Education Minister to kindly pull the reins on the Police Department and hold them accountable for every crime where the perpetrators get away.
Yours etc.,
AK Singh,
Via email
Kudos to DC office staff   
Editor,
As citizens of the country and state, we often have a lot of grievance towards  delays with regards to processing of various documents by government departments. However, contrary to this popular notion, I was pleasantly surprised when my grievance regarding a delay in obtaining a government certificate from the Deputy Commissioner's office was promptly attended to by them. This has changed my outlook towards government functioning now. Kudos to the office staff who attended to this matter!
My stand towards government office functioning has changed to a positive one. May good service to the public continue to be the 'Mantra'.
Yours etc.,
Angela Lyngdoh.
Shillong -14
No Hindu terror this!
Editor,
How Pakistan is treacherous and heinous can be gauged from the revelation by the former Mumbai police commissioner Rakesh Maria who has claimed in his memoir that Pakistan had planted fake documents on the 10-member 26/11 terror squad in a bid to mask the attacks-which claimed at least 174 lives-as an act of 'Hindu terror'. His long-awaited book 'Let Me say It Now' was released on Monday.
Maria writes about the investigation helmed by him in the 26/11 Mumbai terror attack, 'Fortunately, it didn't happen so Pakistan terrorist Mohammed Ajmal Kasab was caught alive. Had Kasab not been caught alive, his body would have been found with an I-card bearing a fictitious Hindu name.' He further writes, "If all had gone well, Kasab would have been dead with a red string tied around his wrist like a Hindu. We would have found an identity card on his person with a fictitious name and the media would have blamed Hindu terrorists for the attack" Maria's book also mentions that Pakistan's ISI and the Lashkar-e-Tayyeba(LeT) were bent upon killing Kasab by hook or crook after he was caught alive by ASI Tukaram Ombale.
It may be recalled that in one of the most horrific terrorist attacks in the country's history, 166 people were killed and over 300 injured as 10 heavily-armed terrorists from Pakistan created mayhem in Mumbai on November 26, 2008 attacking at the crowded Chhatrapati Shivaji Terminus railway station, Cama hospital, Nariman House business and residential complex where a Rabbi, his wife, and six others, including five Israeli citizens were killed by terrorists who first held them hostage. The two-year–old child of the Rabbi couple, Moshe, survived the attack. Other sites attacked by the terrorists were Leopold Café followed by Taj Mahal Hotel and Tower and Oberoi-Trident hotel. Later it was confirmed that the 10 terrorists had sailed to Mumbai from Pakistan's port city, Karachi. Their voyage to Mumbai involved hijacking fishing dingy and killing four of the five  crew, leaving one occupant to ferry them to Mumbai coast. In May 2018, former Pakistan Prime Minister Nawaz Sharif also asserted that terrorists sent by Pakistan were responsible for the deadly 26/11 Mumbai terror attacks that claimed over 160 lives. Kasab, the lone terrorist captured alive, was hanged to death on November 21, 2012.
Thus, it is a proven fact that Pakistan in collusion with the terrorists has been promoting terrorism world-wide, and are hell-bent on sending terrorists to India to unleash a reign of terror, thereby destabilizing India. In addition to India, a few countries in the world like the US, Israel and Russia have known the nature of Pakistan, which is not led by ideal principles but by aggressive antagonism. India should expose this disgusting attitude of Pakistan and do everything possible to isolate Pakistan from the world community so that it is forced to stop fostering terrorism in its soil to harm other countries.
Yours etc.,
TK Nandanan,
Via email