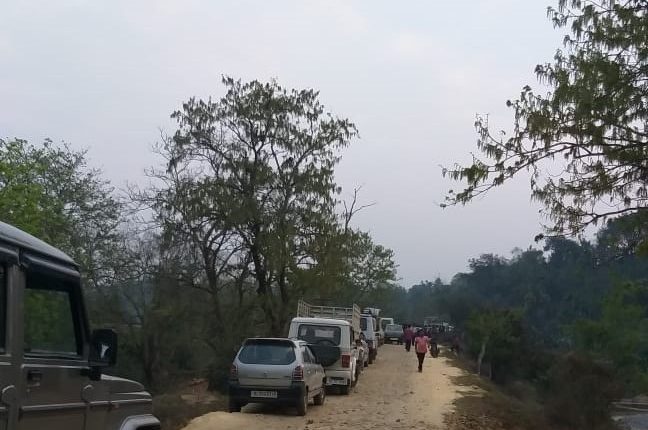 Baghmara commuters impacted by bridge damage
TURA: Dozens of vehicles heading towards Baghmara, district headquarters of South Garo Hills, were left stranded for hours after one portion of a dilapidated wooden bridge on the main highway near Rewak caved in due to the weight of a passing truck carrying rice on Monday afternoon.
Despite the route being a part of National Highway-62 the condition was such that no concrete structure has replaced the existing wooden bridge at Karukol village, 25 kms from Baghmara.
Lack of proper maintenance and checking resulted in a passing loaded rice truck ferrying its consignment to Baghmara to fall through the middle portion of Karukol bridge, 5 kms from Rewak, at around 2 O'clock in the afternoon. Hundreds of commuters coming to and fro between Williamnagar, Siju and Baghmara were left stranded for over two hours as they waited for a recovery truck to arrive and pull the truck out from the collapsed portion of the bridge.
Temporary restoration work has since been done to allow cars and other small vehicles to pass through but all heavy vehicles have been banned from using the road until further notice.
"We were worried because if the bridge had gotten totally damaged we would have had no option but to go back to Williamnagar and take the longer route via Tura, Dalu-Gasuapara to Baghmara, which would take us the entire day," informed some of the passing commuters.
It is worth mentioning that this is the only road that connects East Garo Hills with South Garo Hills and has recently undergone repairing of its tarmac while the other road from Baghmara to Tura continues to be in poor condition with expansion and widening taking place.