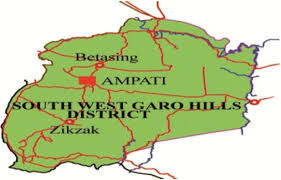 100 percent achievement of Direct Benefit transfer to beneficiaries account
TURA: In a major milestone aimed at eradicating cash handouts and providing financial independence to beneficiaries, South-West has become the first among the five Garo Hills districts to be recognized with the achievement of 100 percent Direct Benefit Transfer that ensures every job card holder of the MGNREGA project are paid their wages directly into their bank accounts.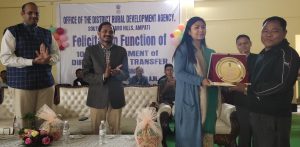 To celebrate this accomplishment, a special programme was organized at Betasing multi-facility centre of the district on Wednesday in which local MLA Miani D Shira and Meghalaya government's Commissioner and Secretary for Community and Rural development P Sampath Kumar took part alongside district officials.
"South-West may be the youngest district in the state but it has achieved a milestone. This has been successful due to the hard work and united effort put in by everyone and the direct benefit transfer will ensure every penny goes to the beneficiary," said Miani D Shira while addressing dozens of self help group members who attended the celebration.
Impressing about the need to bring socio-economic transformation, she pointed out that savings are very essential for its achievement.
Mentioning about the immense problems faced by beneficiaries, she recalled how people had to spend an entire day just to get a transaction done since there was only one branch of the state bank of India branch in Ampati which was always packed with customers.
"The setting up of Customer Service Points in areas where there is no presence of banks will immensely help in alleviating this problem," said the Ampati legislator.
The Commissioner of Divisions for Garo Hills and C&RD commissioner and secretary, P Sampath Kumar while lauding South-West Garo Hills district for this achievement also added that it was doing immensely well in other fronts, particularly on the health sector where full immunization of children have crossed over 90 percent.
"One of the most important factors of the direct benefit transfer is that it will lead to reduction in complaints over MGREGA payments because the salaries of the job card holders go straight to their account and they can even track their transaction history," clarified Sampath Kumar.
He spoke about the multi-fold rise in funding for MGNREGA in the state where there are 5 lakh rural households engaged in different kinds of work.
"Earlier the central funds were around 300 crores of rupees, but now we have touched 1200 crores. There is more money going to the villages and we need to save it," he suggested.
He announced that the government is going ahead with plans to ensure one woman in each rural household in the state is enlisted into a self help group within a time frame of one month.
"The VECs must play an active role to ensure its success as we want each SHG federation to act as a bank community whereby they are able to provide loans from the savings accumulated and gain from the interest generated," said Sampath Kumar as he mentioned about the United Nations 17 goals for sustainable development of which poverty alleviation happens to be an essential part.
"Our state is doing immensely well on this front of poverty reduction," he added.
Earlier, South-West Garo Hills deputy commissioner Ram Kumar S, revealed how the district began gearing up almost a year back to achieve direct benefit transfer.
Ramkumar S, who initiated the move for 100% direct bank linkage of the job card holders, said that not everyone is happy with the system and therefore there was a need to make them aware about it advantages and importance of having bank accounts. He also urged upon the BDOs to work out how two or three VECs can be converted to CSPs or mini banks so as to avoid the inconveniences faced by the villagers in going to the banks. He also informed that the process was on to bring other welfare programmes of the government under DBT.
Out of the three blocks, Betasing was the first to achieve 100 percent DBT coverage, while Chipra Kama VEC, which has achieved DBT since December, 2017 was one of the three best VECs in the district.